---
Overview
Are you fascinated with the human body and how it works? Curious to explore its different components, down to the fundamental units of life, and to examine human cells at the molecular level?
In the Anatomy and Cell Biology Major you can study the various systems that form the human body and the qualities of human cells, from structure to function, as well as their processes, from division to deterioration.
The program provides training in biology, chemistry, biochemistry, and physiology, along with concentrated training in anatomy and cell biology. Complementary courses allow you to customize your degree according to your subjects of interest within the various areas of anatomy, cell biology and related biomedical sciences.
---
Careers
The Anatomy and Cell Biology Major will provide you with excellent preparation for technical and administrative positions in university laboratories, research institutions, hospitals, and pharmaceutical and biotechnological industries. You may also wish to pursue graduate studies in the field.
You could become a professional:
Anatomist
Cell Biologist
Bacteriological or Pathology Technician
Biostatistician
Health Educator
Health and Social Policy Developer
Researcher
---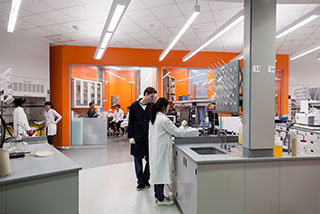 Student experience
The Department of Anatomy and Cell Biology combines a rich history in the teaching of anatomical sciences with leading research and ground-breaking discoveries in the field, like the development of Stem Cell Renewal Theory, going back over 150 years.
The department offers innovative teaching and research techniques and opportunities, with the goal of contributing to the advancement of knowledge and discovery in the fields of cell biology, medicine, proteomics, genomics, bioinformatics, and dentistry.
---
Courses
As an Anatomy & Cell Biology student, you can take courses like:
---
Possible minors
Minors are a great way to customize your academic experience. Many students use minors to pursue interests outside their major, while others choose minors to complement their degree.
Minors that complement this program:
---
Related majors
Discover related majors:
Ready to apply?
For this program, you'll need to apply to the Faculty of Science in the Biological, Biomedical & Life Sciences group.
See the full eligibility information for more information about deadlines and required documents for your application.