Workshop descriptions
Strategies for academic success
This one-hour workshop will introduce you to practical tips to enhance your academic success as a learner. Get effective learning strategies, time management skills, exam prep tips, and more to boost your success as a learner! No matter where you are in your academic journey, this workshop will help you on the path to achieving your academic goals.
> Download the participant guide.
> Visit additional resources on study strategies.
---
Skills for time management
Feel like there aren't enough hours in the day? In this workshop, you will learn strategies to organize your priorities, increase your productivity, and effectively manage your time.
---
Study SMART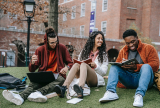 Want to make your study time more productive? This workshop will introduce you to active study strategies and help you reflect on effective study-time management to support your learning.
---
Learning in your second language
Learning in your second language provides you with an interactive opportunity to support learning in your second (or third, or fourth…) language. In this one-hour workshop, you will learn to recognize your challenges, identify personalized learning strategies, and develop peer support networks to enhance your academic experience.
---
Strategies for effective reading
This one-hour workshop covers strategies to help you make the most of your reading. By taking a strategic and active approach to reading, you'll boost your comprehension and use your time more effectively while reading as a learner.
---
Presentation skills
Want to feel more comfortable speaking in front of others? In this workshop, you will learn various techniques for preparing and delivering effective presentations. You will also learn how context, body language, and visual aids can improve your presentation skills.
---
How to find academic research positions
Looking for research opportunities? In this workshop, you will explore your academic and research passions, and come away with knowledge, resources, and strategies to approach professors and find a research group that will help you learn and grow.
---
Fostering positive collaboration
In this workshop, participants are introduced to some of the interpersonal skills that are essential to any career, academic or not. In particular, they learn about effective workplace productivity techniques, strategies for working collaboratively and individually, and tips to improve and apply their professional skillset.
---
Strategies for multiple choice questions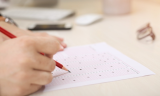 Do you take multiple choice exams? Do you want to learn how to approach multiple choice questions? This workshop will introduce you to strategies for succeeding at multiple choice exams in any subject.
---
Exams: Preparing for success
Unsure about how to prepare for your finals? This one-hour workshop will help you get ready! We'll be going over study strategies, effective time management, and resources for maintaining balance while you navigate this exam season's challenges.
---
For questions about these workshops, email learning.tls [at] mcgill.ca
Additional resources
Looking for other types of support? Check out these resources to support your academics and wellbeing.