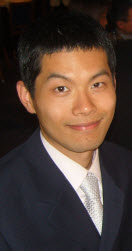 Let me introduce myself. My name is Johnny Cheung Hei Sit, BScN '07, and I am the president of the McGill Nursing Alumni Association. 
Every year the Ingram School of Nursing disburses scholarships and awards to help students attend conferences. This support allows students to devote more of their time to their education, worry less about finances, and benefit from the ideas and energy that are shared during conferences. These awards are made possible by the donations of our generous McGill nursing alumni and I would like to take this opportunity to thank everyone who has contributed. It may not seem like much to you, but your donations provide enormous support. Your generosity makes awards possible and in this way promotes excellence at the Ingram School of Nursing.
I hope to meet you in the near future at one of our events. If you have any suggestions for our Association, please send us an e-mail (alumni.nursing [at] mcgill.ca). Meanwhile, if you change your address or any of your contact information, remember to update your profile on the McGill AlumniOnlineCommunity Web site (https://www.alumni.mcgill.ca/UserLogin.php).
I would like to extend a heartfelt thank you to the previous team of dedicated volunteers for their faithful service and hard work on behalf of all alumni. In addition to Rachel Boissonneault (BScN '01), they are Sasha Dyck (MscA '08), Josette Perrault (BN '06) and Taunia Rifai-Archer (BScN '10).
At the same time, let us welcome our current team of volunteer alumni. We all look forward to serving you and working with you in the years ahead.
Johnny Cheung Hei Sit
President, McGill Nursing Alumni Association
---
Contact us:
Our Mailing Address:
McGill Nursing Alumni Association
680 rue Sherbrooke West, suite 1800
Montreal, QC H3A 2M7
Email: alumni.nursing [at] mcgill.ca
Tel.: 514-398-2358