Meet Our Lab Team
Our laboratory includes members from Brazil, Iran, Russia, Taiwan, China, the United States and Canada and it keeps changing. 
Research Associate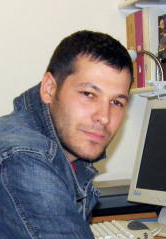 Oleg Matusovsky obtained his master's science degree in Biochemistry and Biotechnology in Far Eastern State University, Russia. He then worked as a visiting scientist at the Institute of Molecular Biology (Austria) studying enzyme kinetics of myosin light chain phosphorylation and completed his PhD in Biochemistry in 2006 at the Institute of Marine Biology, Russia. Dr. Matusovsky had two years of postdoctoral training at the Institute of Biomedical Aging Research in Austria, and one year at McGill University's Meakins-Christie Laboratories. He continued his work as a research associate with Meakins-Christie, where he improved skills in various biochemical, biophysical, and physiological methods to study muscle contraction on the molecular level. In2016 he joined Dr. Rassier's laboratory and is currently involved in several projects including high-speed Atomic Force Microscopy to study the dynamic behaviour of molecular motors in various conditions.
Contact: oleg.matusovskiy [at] mcgill.ca
Post-Doctoral Fellow
Yu-Shu Cheng is a Postdoc Student in Muscle Physiology and Biophysics at McGill University. His research focuses on the relationship between myosin-actin cross bridge and the mechanisms of the structural myosin interact with actin filament in the skeletal muscle. He holds a Master of Science in Cellular and Molecular Biology from the Illinois Institute of Technology (IIT) and a Ph.D. from McGill University.
Contact: yu-shu.cheng [at] mcgill.ca
Ph.D. Student
Daren Elkrief is a Ph.D. student in the Physiology department. He graduated from the University of California, Santa Barbara with a BSc in Molecular Biology. He recently received his MSc from McGill in Kinesiology, studying the effects of aging on the neuromuscular junction. He is currently using the atomic force microscope to assess the molecular contractile properties of the skeletal muscle Actin-myosin ATPase.
Contact: daren.elkrief [at] mail.mcgill.ca 
Ph.D. Student
Fatemeh Ostadan is a Ph.D. candidate in the Experimental Medicine department. Her BSc and clinical background are in Orthotics & Prosthetics. She has 8 years of work experience in this field at the Iranian Red Crescent/Cross Rehabilitation Center in Tehran, Iran. She received her MSc from McGill University in Rehabilitation Sciences, studying the effects of aging on the susceptibility to motor memory interference induced on the primary motor cortex(M1). She is currently working on skeletal muscle dysfunction in Cystic Fibrosis. To assess muscle abnormalities in this disease, she is using different methods; Computed Tomography measurements to assess muscle quantity and quality in CF patients and maximum force generation and force re-generation measurements in single muscle fibers in CF mice.
Contact: fatemeh.ostadansafar [at] mail.mcgill.ca 
 Master's Student
 Xiaoyu Jiang  (Annika) just graduated from McGill with a BSc in Physiology and Mathematics. Her research focuses on mathematical modelling and simulation. Last year, she finished a project on modelling calcium transient in Oligodendrocytes in CNS. Currently, she's joining Dr. Dilson Rassier's lab for developing computational models in muscle activity.
Contact: xiaoyu.jiang [at] mail.mcgill.ca
Summer Student
 Yutong Han is a BSc student in the Physiology and Mathematics program, minoring in kinesiology at McGill University. She is currently working on the inter-sarcomere dynamics and force generation in myofibrils.
Contact: yutong.han [at] mail.mcgill.ca