Quaker Practice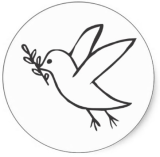 During the school year, Quaker faith meditations take place online every Wednesday at 7:00 pm ET via Zoom. Send them a message on their Facebook group's page and keep up with any scheduling and platform changes.
What to expect: The essence of the Quaker tradition is that there is something divine in every person. Thus, no need for priests, hierarchy, or dogma; there are atheist Quakers, Buddhist Quakers, Christian Quakers, and more. Quakers meet in stillness and silence: the goal of this practice is to discern our highest truth so we can speak and act from it. Sometimes, it feels right to share something from that encounter with the group. If so, we speak it aloud.
Mindfulness Meditation
On campus
*All Campus activities have been suspended for the foreseeable future. Check out the Student Services website for any updates.
At MORSL
A series of 4 classes in meditation techniques is being offered for free in Fall 2020. Details and links to registration can be found on our website. You can watch excerpts (approx 30 minutes) from all four sessions that were recorded in Winter 2020 on our YouTube channel. Stay tuned as we expand our series with additional instructors and various techniques!
On-demand guided meditation audio. We currently have two selections as mp3 files for you (approx 13 minutes here and approx. 25 minutes here) facilitated by MORSL Gnostic Volunteer, Rev. Jonathan Stewart, a Montreal freelance writer and editor who's been meditating in different traditions for 20 years. Jonathan has meditated and studied everywhere from Christian monasteries to a variety of Buddhist retreats, and he's taken the MBSR course to see it from a secular perspective. His primary passion is the Western Wisdom Traditions and he is the meditation facilitator and Deacon for the Montreal parish of the Esoteric and Gnostic Apostolic Johannite Church, and has taught classes at Presence Meditation studio.
Meditation techniques classes including short meditations incorporated into the lessons. See our Classes page and browse to the desired class. 
Off campus
Sundays, 11:00 AM - 12:00 PM (ET): Join MORSL's Gnostic volunteer, Rev. Deacon Jonathan Stewart, for Online Mile End Meditation which are weekly secular meditation sessions offered via Google Meet. 
Various times: MORSL's volunteer facilitator, Devaki Groulx, has been practicing meditation under the guidance of Spiritual teacher Sri Chinmoy since 1972 and teaching meditation since the 80s. She is the co-leader of the Sri Chinmoy Meditation Centre with her husband, Vidura, who is also a volunteer facilitator with MORSL. Their centre hosts free online meditation classes but registration is required. Find out more on their website.