Quaker Practice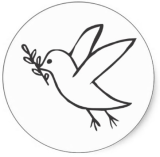 During the school year, Quaker faith meditations take place every Wednesday from 5:30-6:30 pm in the Claude Ryan Library, on the second floor of the Newman Centre at 3484 Peel Street. Keep up with scheduling updates on their Facebook group's page.
What to expect: The essence of the Quaker tradition is that there is something divine in every person. Thus, no need for priests, hierarchy, or dogma; there are atheist Quakers, Buddhist Quakers, Christian Quakers, and more. Quakers meet in stillness and silence: the goal of this practice is to discern our highest truth so we can speak and act from it. Sometimes, it feels right to share something from that encounter with the group. If so, we speak it aloud.
Mindfulness Meditation
On campus
Every Wednesday during the school year, you can check out the Mindfulness Meditations offered by the Student Wellness Hub. Open sessions are from 12:00-12:30 PM in room 4400 of the Brown Student Services building (3600 McTavish). No registration required. Led by Mira Rozenberg.
At MORSL
A series of 4 classes in meditation techniques is offered in Winter 2020. Details and links to registration (free) can be found on our website. Stay tuned as we expand our series with additional instructors and various techniques.
Off campus
MORSL's Gnostic faith volunteer Rev. Jonathan Stewart hosts a secular meditation session for everyone, weekly from 11am to 12 noon every Sunday morning, at 5425 Avenue Du Parc. The session is free with dontations gratefully accepted. These sessions offer a mix of silent and guided practices, and can have two or three short meditations with a focus on mindfulness, insight, and loving-kindness practices. Plenty of time is allotted for discussion. Great for both first-timers and experienced meditators. Keep up with the schedule and event details through their newsletter.