Inés Colmegna
Academic title(s):
Associate Professor

Rheumatology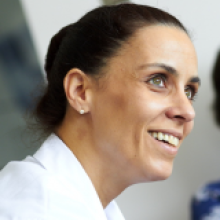 Location:
MUHC Research Institute, 1001 Boul. Decarie
Graduate supervision:
Currently accepting graduate students
Biography:
Dr Colmegna is an Associate Professor in the Department of Medicine, Faculty of Medicine and Health Sciences, McGill University. She is a member of the Division of Rheumatology and associate member of the Divisions of Experimental Medicine, and Microbiology and Immunology. Dr Colmegna is a Chercheur-Boursier Clinician Senior (Volet Fondamental).
Current research:
Our goal is to contribute to the understanding of the causes and mechanisms that drive the onset and persistence of systemic autoimmune diseases. My research focuses on the contribution of stem and progenitor cells to the development and perpetuation of diseases associated with chronic inflammatory arthritis (e.g. rheumatoid arthritis). In particular, we study human hematopoietic stem/progenitor cells and human multipotent mesenchymal stromal cells isolated from adipose tissue, bone marrow and umbilical cord.
In addition, we evaluate vaccine responses in rheumatic diseases and ways in which vaccine-induced protective responses can be enhanced in people with rheumatic diseases. The goal of this work is to help reducing the burden of vaccine preventable infections in vulnerable patients.