George Kukolj
Academic title(s):
Head of Infectious Disease Discovery, Janssen Biopharma Inc.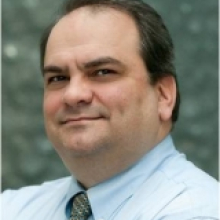 Graduate supervision:
NOT ACCEPTING GRADUATE OR POST-DOCTORAL STUDENTS
Current research:
Research interests include chronic infectious disease/immunology spanning early pre-clinical/ basic discovery through to clinical development. Drug discovery in the fields of anti-infectives, direct acting anti-virals and viral immunology across infectious disease indications. Interests also include anti-viral drug resistance, virus and host immune-modulatory mechanisms.
 
Selected publications:
Ferenci P, Asselah T, Foster GR, Zeuzem S, Sarrazin C, Moreno C, Ouzan D, Maevskaya M, Calinas F, Morano LE, Crespo J, Dufour JF, Bourlière M, Agarwal K, Forton D, Schuchmann M, Zehnter E, Nishiguchi S, Omata M, Kukolj G, Datsenko Y, Garcia M, Scherer J, Quinson AM, Stern JO; on behalf of the STARTVerso1 study group (2015). STARTVerso1: A randomized trial of faldaprevir plus pegylated interferon/ribavirin for chronic HCV genotype-1 infection. J Hepatol. 2015 Jan 2. pii: S0168-8278(14)00953-2. doi: 10.1016/j.jhep.2014.12.024. Epub ahead of print.
Beaulieu PL, Anderson PC, Bethell R, Bös M, Bousquet Y, Brochu C, Cordingley MG, Fazal G, Garneau M, Gillard JR, Kawai S, Marquis M, McKercher G, Poupart MA, Stammers T, Thavonekham B, Wernic D, Duan J, Kukolj G. (2014). Discovery of BI 207524, an Indole Diamide NS5B Thumb Pocket 1 Inhibitor with Improved Potency for the Potential Treatment of Chronic Hepatitis C Virus Infection. J Med Chem. 2014 Dec 11;57(23):10130-43. doi: 10.1021/jm501532z.
El-Far M, Pellerin C, Pilote L, Fortin J-F, Lessard IAD, Peretz Y, Wardrop E, Salois P, Bethell RC, Cordingely, MG, Kukolj G. (2014). CD160 isoforms and regulation of CD4 and CD8 T-cell responses. J. Trans Med 2014 Sep 2;12:217. doi: 10.1186/s12967-014-0217-y.
Martin B, Hennecke N, Lohmann V, Kayser A, Neumann-Haefelin C, Kukolj G, Böcher WO, Thimme R. (2014). Restoration of HCV-specific CD8+ T-cell function by interferon-free therapy. J Hepatol. 2014 Sep;61(3):538-43. doi: 10.1016/j.jhep.2014.05.043. Epub 2014 Jun 4.  (Editorial comment in same issue)
Berger KL, Triki I, Cartier M, Marquis M, Massariol MJ, Böcher WO, Datsenko Y, Steinmann G, Scherer J, Stern JO, Kukolj G. (2014) Baseline Hepatitis C Virus (HCV) NS3 Polymorphisms and Their Impact on Clinical Studies of the HCV NS3 Protease Inhibitor Faldaprevir. Antimicrob Agents Chemother. 2014 Feb; 58(2):698-705. doi: 10.1128/AAC.01976-13. Epub 2013 Nov 11.
Laplante SR, Bös M, Brochu C, Chabot C, Coulombe R, Gillard JR, Jakalian A, Poirier M, Rancourt J, Stammers T, Thavonekham B, Beaulieu PL, Kukolj G, Tsantrizos YS. (2014) Conformation-Based Restrictions and Scaffold Replacements in the Design of Hepatitis C Virus Polymerase Inhibitors: Discovery of Deleobuvir (BI 207127). J Med Chem. 2014 Mar 13;57(5):1845-54. doi: 10.1021/jm4011862. Epub 2013 Nov 11.
Zeuzem S, Soriano V, Asselah T, Bronowicki JP, Lohse AW, Müllhaupt B, Schuchmann M, Bourlière M, Buti M, Roberts SK, Gane EJ, Stern JO, Vinisko R, Kukolj G, Gallivan JP, Böcher WO, Mensa FJ. (2013) Faldaprevir and deleobuvir for HCV genotype 1 infection. N Engl J Med. 2013 Aug 15;369(7):630-639.
Berger KL, Lagacé L, Triki I, Cartier M, Marquis M, Lawetz C, Bethell R, Scherer J, Kukolj G. (2013) Viral resistance in hepatitis C virus genotype 1-infected patients receiving the NS3 protease inhibitor Faldaprevir (BI 201335) in a phase 1b multiple-rising-dose study. Antimicrob Agents Chemother. 2013 Oct;57(10):4928-4936.
Larrey D, Lohse AW, Trepo C, Bronowicki JP, Arastéh K, Bourlière M, Calleja JL, Stern JO, Nehmiz G, Abdallah N, Berger KL, Marquis M, Steffgen J, Kukolj G; BI 207127 Study Group (2013). Antiviral effect, safety, and pharmacokinetics of five-day oral administration of Deleobuvir (BI 207127), an investigational hepatitis C virus RNA polymerase inhibitor, in patients with chronic hepatitis C.  Antimicrob Agents Chemother. 2013 Oct;57(10):4727-4735.
Sulkowski, M.S., Asselah,T., Lalezari,J., Ferenci,P., Fainboim,H., Leggett,B., Bessone,F., Mauss,S., Heo,J., Datsenko,Y., Stern,J.O., Kukolj,G., Scherer,J., Nehmiz,G., Steinmann,G.G., Bocher,W.O. (2013) Faldaprevir combined with peginterferon alfa-2a and ribavirin in treatment-naive patients with chronic genotype-1 HCV: SILEN-C1 trial. Hepatology 2013 Jun;57(6):2143-2154.
O'Meara, J. A., Lemke,C.T., Godbout,C., Kukolj,G., Lagace,L., Moreau,B., Thibeault,D., White,P.W., Llinas-Brunet,M. (2013) Molecular Mechanism by Which a Potent Hepatitis C Virus NS3-NS4A Protease Inhibitor Overcomes Emergence of Resistance. J.Biol.Chem. 2013 Feb;288 (8) : 5673-5781.
Vaillancourt, F.H., Brault, M., Pilote, L., Uyttersprot, N., Gaillard, E.T., Stoltz, J.H., Knight, B.L., Pantages, L., McFarland, M., Breitfelder, S., Chiu, T.T., Mahrouche, L., Faucher, A.M., Cartier, M., Cordingley, M.G., Bethell, R.C., Jiang, H., White, P.W., Kukolj, G. (2012) Evaluation of phosphatidylinositol-4-kinase IIIα as a hepatitis C virus drug target. J Virol. 2012 Nov;86(21):11595-11607.
Larrey, D., Lohse, A.W., de Ledinghen, V., Trepo, C., Gerlach, T., Zarski, J,P., Tran, A., Mathurin, P., Thimme, R., Arastéh, K., Trautwein, C., Cerny, A., Dikopoulos, N., Schuchmann, M., Heim, M.H., Gerken, G., Stern, J.O., Wu, K., Abdallah, N., Girlich, B., Scherer, J., Berger, F., Marquis, M., Kukolj, G., Böcher, W.O., Steffgen, J. (2012) Rapid and strong antiviral activity of the non-nucleosidic NS5B polymerase inhibitor BI 207127 in combination with peginterferon alfa 2a and ribavirin. J Hepatol. 2012 Jul;57(1):39-46.
Lagacé, L., White, P.W., Bousquet, C., Dansereau, N., Dô, F., Llinas-Brunet, M., Marquis, M., Massariol, M.J., Maurice, R., Spickler, C., Thibeault, D., Triki, I., Zhao, S., Kukolj, G.. (2012) In vitro resistance profile of the HCV NS3 protease inhibitor BI 201335. Antimicrob Agents Chemother. 2011 Oct 24. [Epub ahead of print] Antimicrob Agents Chemother. 2012 Jan;56(1):569-72.
Zeuzem, S., Asselah, T., Angus, P., Zarski, J.P., Larrey, D., Müllhaupt, B., Gane, E., Schuchmann, M., Lohse, A., Pol, S., Bronowicki, J.P., Roberts, S., Arasteh, K., Zoulim, F., Heim, M., Stern, J.O., Kukolj, G., Nehmiz, G., Haefner, C., Boecher, W.O. (2011) Efficacy of the Protease Inhibitor BI 201335, Polymerase Inhibitor BI 207127, and Ribavirin in Patients With Chronic HCV Infection. Gastroenterology. 2011 Dec;141(6):2047-55
Manns, M.P, Bourlière, M., Benhamou, Y., Pol, S., Bonacini, M., Trepo, C., Wright, D., Berg, T., Calleja, J.L., White, P.W., Stern, J.O., Steinmann, G., Yong, C.L., Kukolj, G., Scherer, J., Boecher, W.O. (2011) Potency, safety, and pharmacokinetics of the NS3/4A protease inhibitor BI201335 in patients with chronic HCV genotype-1 infection. J Hepatol. 2011 Jun;54(6):1114-22.
White, P.W., Llinàs-Brunet, M., Amad, M., Bethell, R.C., Bolger, G., Cordingley, M,G,, Duan, J., Garneau, M., Lagacé, L., Thibeault, D., Kukolj, G. (2010) Preclinical characterization of BI 201335, a C-terminal carboxylic acid inhibitor of the hepatitis C virus NS3-NS4A protease. Antimicrob Agents Chemother. 2010 Nov;54(11):4611-8.
Bethell, R., Kukolj, G. and White, P.W. (2009) Inhibition of the replicative cycle of hepatitis C virus. Nature Reviews Microbiology Vol. 7 (6): Poster
Vaillancourt, F.H., Pilote, L., Cartier, M., Lippens, J., Liuzzi, M., Bethell, R.C., Cordingley, M.G., Kukolj, G. (2009) Identification of a lipid kinase as a host factor involved in hepatitis C virus RNA replication. Virology 387(1):5-10.
Erhardt, A., Deterding, K., Benhamou, Y., Reiser, M., Forns, X., Pol, S., Calleja, J.L., Ross, S., Spangenberg, H.C., Garcia-Samaniego, J., Fuchs, M., Enríquez, J., Wiegand, J., Stern, J.,O. Wu, K., Kukolj, G., Marquis, M., Beaulieu, P.L., Nehmiz, G., Steffgen, J. BILB 1941 Study Group. (2009) Safety, pharmacokinetics and antiviral effect of BILB 1941, a novel hepatitis C virus RNA polymerase inhibitor, after 5 days oral treatment. Antivir Ther. 14(1):23-32.
Kukolj, G., McGibbon, G.A., McKercher, G., Marquis, M., Lefèbvre, S.,  Thauvette, L., Gauthier, J.,  Goulet, S., Poupart, M.-A. and Beaulieu, P.L. (2005) Binding-site characterization and resistance to a class of non-nucleoside inhibitors of the HCV NS5B polymerase.  J Biol Chem. 280(47):39260-39267. doi:10.1074/jbc.M506407200
Ali, S. and Kukolj, G. (2005) Interferon Regulatory Factor-3 independent double-stranded RNA induced inhibition of Hepatitis C Virus replicons in Human Embryonic Kidney 293 cells. J Virol. 79 (5):3174-3178.
Beaulieu P.L., Bos M., Bousquet Y., Fazal G., Gauthier J., Gillard J., Goulet S., Marquis, M., Pellerin, C., Poupart M.A., Valois S., Kukolj G. (2004) Non-nulceoside benzimidazole-based allosteric inhibitors of the hepatitis C virus polymerase: Inhibition of subgenomic HCV RNA replication in Huh-7 cells. J Med Chem. 47(27):6884-6892.
LaPlante S.R., Jakalian A., Aubry N., Bousquet Y., Ferland J.M., Gillard J., Lefebvre S., Poirier M., Tsantrizos Y.S., Kukolj G., Beaulieu P.L. (2004) Binding mode determination of benzimidazole inhibitors of the hepatitis C virus RNA polymerase by a structure and dynamics strategy. Angew Chem Int Ed Engl. 43(33):4306-11.
McKercher, G., Beaulieu P.L., Lamarre, D., LaPlante, S., Lefebvre, S., Pellerin, C., Thauvette,  L., Kukolj, G. (2004) Specific inhibitors of HCV polymerase identified using an NS5B with lower affinity for template/primer substrate. Nucleic Acids Res. 32: 422-31.
Ali, S., Pellerin, C., Lamarre, D., and Kukolj, G. (2004) Hepatitis C Virus Subgenomic Replicons in the Human Embryonic Kidney 293 Cell Line.  J. Virology. 78: 491-501.
Lamarre D., Anderson P.C., Bailey M., Beaulieu P., Bolger G., Bonneau P., Bos M., Cameron D.R., Cartier M., Cordingley M.G., Faucher A.M., Goudreau N., Kawai S.H., Kukolj G., Lagacé L., LaPlante S.R., Narjes H., Poupart M.A., Rancourt J., Sentjens R.E., St. George R., Simoneau B., Steinmann G., Thibeault D., Tsantrizos Y.S., Weldon S.M., Yong C.L., Llinas-Brunet M. (2003) An NS3 protease inhibitor with antiviral effects in humans infected with hepatitis C virus. Nature. 426:186-189