The Mellon ISCEI Writer in Residence program will bring Indigenous writers to campus to continue their creative work, share their expertise, interact with students and faculty members, and enhance knowledge of and exposure to Indigenous writing among the campus community and the public at large. The annual Writer in Residence will be co-organized with the Departments of English and French Literature, and will be involved in a variety of on-campus activities such as creative writing workshops, talks, and will be available as a resource to students, faculty, and staff. 
---
2021 Artist in Residence: Leanne Betasamosake Simpson 
Leanne Betasamosake Simpson is a Michi Saagiig Nishnaabeg writer, musician, and academic. She has worked as an independent scholar for two decades and lectured at universities across Canada and the United States. In her work, she deals with ideas of Indigenous environmentalisms and land-based knowledge, resurgence and resilience, and Indigenous futurities. She holds a PhD from the University of Manitoba and currently teaches at Dechinta Centre for Research and Learning. She is a member of Alderville First Nation.
Some of her notable works include Dancing on Our Turtle's Back, Islands of Decolonial Love, and most recently, Noopiming: The Cure for White Ladies and its accompanying album Noopiming Sessions.
Upcoming Events:
A Short History of the Blockade: Beavers, Affirmation and Generative Refusal 
February 4th, 10am EST
This public talk is open to the public, and will be hosted on Zoom. Zoom registration will be required. 
Recent, Previous and Upcoming Work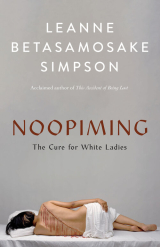 Mashkawaji (they/them) lies frozen in the ice, remembering a long-ago time of hopeless connection and now finding freedom and solace in isolated suspension. They introduce us to the seven main characters: Akiwenzii, the old man who represents the narrator's will; Ninaatig, the maple tree who represents their lungs; Mindimooyenh, the old woman who represents their conscience; Sabe, the giant who represents their marrow; Adik, the caribou who represents their nervous system; Asin, the human who represents their eyes and ears; and Lucy, the human who represents their brain. Each attempt to commune with the unnatural urban-settler world, a world of SpongeBob Band-Aids, Ziploc baggies, Fjällräven Kånken backpacks, and coffee mugs emblazoned with institutional logos. And each searches out the natural world, only to discover those pockets that still exist are owned, contained, counted, and consumed. Cut off from nature, the characters are cut off from their natural selves.
Published: 2020
This Accident of Being Lost is the knife-sharp new collection of stories and songs. These visionary pieces build upon Simpson's powerful use of the fragment as a tool for intervention in her critically acclaimed collection Islands of Decolonial Love. Provocateur and poet, she continually rebirths a decolonized reality, one that circles in and out of time and resists dominant narratives or comfortable categorization. A crow watches over a deer addicted to road salt; Lake Ontario floods Toronto to remake the world while texting "ARE THEY GETTING IT?"; lovers visit the last remaining corner of the boreal forest; three comrades guerrilla-tap maples in an upper middle-class neighbourhood; and Kwe gets her firearms license in rural Ontario.
Published: 2017
In A Short History of the Blockade, award-winning writer Leanne Betasamosake Simpson uses Michi Saagiig Nishnaabeg stories, storytelling aesthetics, and practices to explore the generative nature of Indigenous blockades through our relative, the beaver—or in Nishnaabemowin, Amik. Moving through genres, shifting through time, amikwag stories become a lens for the life-giving possibilities of dams and the world-building possibilities of blockades, deepening our understanding of Indigenous resistance as both a negation and an affirmation. Widely recognized as one of the most compelling Indigenous voices of her generation, Simpson's work breaks open the intersections between politics, story, and song, bringing audiences into a rich and layered world of sound, light, and sovereign creativity. A Short History of the Blockade reveals how the practice of telling stories is also a culture of listening, "a thinking through together," and ultimately, like the dam or the blockade, an affirmation of life.
Expected: February 2021 
You can find more information about the TRC Calls to Action and the Writer in Residence program on McGill's Indigenous Portal Website.
You can read more about this initiative by referring to Call to Action #25 in the Provost's Task Force on Indigenous Studies and Indigenous Education report linked here: