The Mellon ISCEI Artist in Residence program is an important means of bringing practicing artists to campus to continue their work, share their expertise, interact with students and faculty members, and enhance knowledge of and exposure to Indigenous art among the campus community and the public at large. The annual Artist in Residence will be co-organized with the Department of Art History & Communication Studies and will be involved in a variety of on-campus activities such as workshops and public exhibitions, and will be available as a resource to students, faculty, and staff.  
---
Winter 2023 Artist-in-Residence
Tiffany Shaw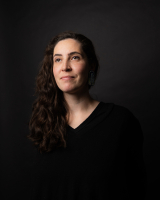 Tiffany Shaw is a Métis architect, artist and curator based in Alberta. She holds a BFA from Nova Scotia College of Art and Design (NSCAD) University, a Masters in Architecture from the Southern California Institute of Architecture (SCI-Arc) and is currently working at Reimagine Architects. Shaw has exhibited widely including the Architecture Venice Biennale, Winnipeg Art Gallery, Pier 21, Agnes Etherington Art Centre and the Chicago Architecture Biennial. She has been the recipient of multiple public art commissions such as Edmonton's Indigenous Art Park and Winnipeg's Markham Bus Station. Among her public art projects Tiffany has produced several notable transitory art works and is a core member of Ociciwan Contemporary Art Collective.
Oscillating between digital and analogue methodologies Shaw's work gathers notions of craft, memory and atmosphere. Her practice is often guided by communal interventions as a way to engage a lifted understanding of place. While born in Calgary and raised in Edmonton, Shaw's Métis lineage derives from Fort McMurray via Fort McKay and the Red River.
To learn more about Tiffany and to view a selection of her work, visit her website. 
---
Previous Residencies 
Caroline Monnet 
Monnet's work in film, painting and sculpture deals with complex ideas around Indigenous identity and bicultural living through the examination of cultural histories. She is interested in themes of identity, representation, and modernity. Monnet has made a signature for working with industrial materials, combining the vocabulary of popular and traditional visual culture with the tropes of modernist abstraction to create unique hybrid forms.
Her work has been programmed internationally at the Palais de Tokyo (Paris), Haus der Kulturen der Welt (Berlin), TIFF (CAN), Sundance (US), Aesthetica (UK), Palm Springs (USA), Cannes Film Festival, Museum of Contemporary Art (Montréal), Arsenal Contemporary NY, Axenéo7 (Gatineau), Walter Phillips Gallery (Banff), Division Gallery (Montréal) and the National Art Gallery (Ottawa).
In 2016, she was selected for the prestigious Cinéfondation residency in Paris. Caroline Monnet's art has also been included in numerous collections including Quebec Museum of Fine Arts, National Art Gallery, RBC Royal Bank, and Museum of Contemporary Art Montréal. Current exhibitions include the Whitney Biennial and the Toronto Biennale of Art 2019. She is based in Montréal and represented by Division Gallery.
You can view more of Caroline's work on her website.
Proximal I, II, III, IV, V, 2018:
The sculptural complement to Transatlantic is Proximal I-V, a set of five concrete spheres set atop glossy black plinths. In their scattered arrangement, the plinths reflect the landmasses that morph in and out of view toward the beginning and end of the film, and the spheres atop them refer to the standing stones of the Neolithic people of north-western France and the earthen mounds of the Great Lakes.
The spheres are something between way stone and grave marker. Through the marriage of industrial processes and the water of an unspecified location, they become both guideposts and monuments to bodies unmoored in the interstices of the global.
360 Degrees
This short film introduces us to Sébastien Aubin, a French-speaking member of Manitoba's Opaskwayak Cree Nation. He works as a graphic artist for a living, but he's embarked on a personal spiritual and identity quest on the side. Attempting to transcend the material world, he's apprenticing in traditional Indigenous medicine with healer Mark Thompson. The relationship between the two figures marks the contrast between generations; between modernity and tradition. It makes the 360-degree turn from the values of the past to those of today strikingly apparent.
The Flow Between Hard Places (2019)
The undulating edges of this monumental sculpture represent the sound waves created in uttering the word pasapkedjinawong ("the river that passes between the rocks") in Anishinaabemowin, as spoken by Anishnaabe Elder Rose Wawatie-Beaudoin.
Dayna Danger 
Dayna Danger (they/them) is a Two-Spirit, Indigiqueer, Métis-Saulteaux-Polish visual artist. Danger was raised in Miiskwaagamiwiziibiing, Treaty 1 territory, or so-called Winnipeg. They are currently based in Tiohtiá:ke/Mōniyāng, or so-called Montreal. Through utilizing the processes of photography, sculpture, performance and video, Danger creates works and environments that question the line between empowerment and objectification by claiming the space.
Ongoing works exploring bdsm and beaded leather fetish masks negotiate the complicated dynamics of sexuality, gender, and power in a consensual and feminist manner. Their focus remains on Indigenous and Métis visual and erotic sovereignty. Danger has exhibited their work most recently at the National Gallery of Canada with Àbadakone | Continuous Fire | Feu continuel and was long-listed for the 2021 Sobey Art award. Danger was featured on the cover of Canadian Art's June 2018 Kinship issue. Danger has participated in residencies at the Banff Centre for the Arts and at Plug In Institute of Contemporary Art. In 2021, they began a doctorate at Concordia University that focuses on hide-tanning stories and bush skills, culture camps, passed on from their Saulteaux great-grandmother, Madeline McLeod (Campbell).
Big'Uns
Big'Uns explores the reclaiming of the bodies and sexualities of trans, non-binary, femme, and female-identified individuals.
"In today's culture, trans, non-binary, and women-identified individuals often lack power over their own sexuality. This occurs through misrepresentation, objectification, and violence against us in various media, even hunting magazines. Sport hunting uses language that is violent and oppressive to us as well as to animals. In their essay "Animals, Women, and Weapons: Blurred Sexual Boundaries in the Discourse of Sport Hunting" from 2004, Kalof, Fitzgerald and Baralt conclude that "Animals' physical attributes are described using stereotypical feminine characteristics of appearance." An example is the use of "Big'uns" to describe an animal's antlers. This type of language usage plays a key role in disempowering our sexuality.

Big'Uns is an ongoing photographic portrait series that explores reclaiming sexuality and our bodies. By repossessing antlers in this way, we aim to demonstrate a reclaiming of power for trans, non-binary, and women-identified individuals and how we choose to be seen."
In the Studio
You can read more about this initiative by referring to Call to Action #25 in the Provost's Task Force on Indigenous Studies and Indigenous Education report linked here: