The Mellon ISCEI Artist in Residence program is an important means of bringing practicing artists to campus to continue their work, share their expertise, interact with students and faculty members, and enhance knowledge of and exposure to Indigenous art among the campus community and the public at large. The annual Artist in Residence will be co-organized with the Department of Art History & Communication Studies and will be involved in a variety of on-campus activities such as workshops and public exhibitions, and will be available as a resource to students, faculty, and staff.  
Upcoming Events:
Artist's Talk: January 28th 4-5:30pm EST 
This talk is hosted by the Department of Art History and Communications. It is free, open to the public but requires registration.  
Office Hours - held on Zoom 
January 29 (3-4pm EST)
February 18 (3-4pm EST) 
March 11 (3-4pm EST) 
(links coming soon)
Caroline Monnet
Caroline Monnet is an Algonquin-French multidisciplinary artist from Outaouais, Quebec. She studied in Sociology and Communication at the University of Ottawa (Canada) and the University of Granada (Spain) before pursuing a career in visual arts and films.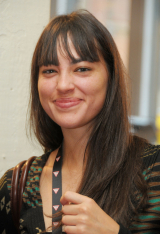 Monnet's work in film, painting and sculpture deals with complex ideas around Indigenous identity and bicultural living through the examination of cultural histories. She is interested in themes of identity, representation, and modernity. Monnet has made a signature for working with industrial materials, combining the vocabulary of popular and traditional visual culture with the tropes of modernist abstraction to create unique hybrid forms.
Her work has been programmed internationally at the Palais de Tokyo (Paris), Haus der Kulturen der Welt (Berlin), TIFF (CAN), Sundance (US), Aesthetica (UK), Palm Springs (USA), Cannes Film Festival, Museum of Contemporary Art (Montréal), Arsenal Contemporary NY, Axenéo7 (Gatineau), Walter Phillips Gallery (Banff), Division Gallery (Montréal) and the National Art Gallery (Ottawa).
In 2016, she was selected for the prestigious Cinéfondation residency in Paris. Caroline Monnet's art has also been included in numerous collections including Quebec Museum of Fine Arts, National Art Gallery, RBC Royal Bank, and Museum of Contemporary Art Montréal. Current exhibitions include the Whitney Biennial and the Toronto Biennale of Art 2019. She is based in Montréal and represented by Division Gallery. 
You can view more of Caroline's work on her website.
Previous Works:
Proximal I, II, III, IV, V, 2018:
The sculptural complement to Transatlantic is Proximal I-V, a set of five concrete spheres set atop glossy black plinths. In their scattered arrangement, the plinths reflect the landmasses that morph in and out of view toward the beginning and end of the film, and the spheres atop them refer to the standing stones of the Neolithic people of north-western France and the earthen mounds of the Great Lakes. 
The spheres are something between way stone and grave marker. Through the marriage of industrial processes and the water of an unspecified location, they become both guideposts and monuments to bodies unmoored in the interstices of the global.
360 Degrees
This short film introduces us to Sébastien Aubin, a French-speaking member of Manitoba's Opaskwayak Cree Nation. He works as a graphic artist for a living, but he's embarked on a personal spiritual and identity quest on the side. Attempting to transcend the material world, he's apprenticing in traditional Indigenous medicine with healer Mark Thompson. The relationship between the two figures marks the contrast between generations; between modernity and tradition. It makes the 360-degree turn from the values of the past to those of today strikingly apparent.
The Flow Between Hard Places (2019)
 The undulating edges of this monumental sculpture represent the sound waves created in uttering the word pasapkedjinawong ("the river that passes between the rocks") in Anishinaabemowin, as spoken by Anishnaabe Elder Rose Wawatie-Beaudoin.
You can find more information about the TRC Calls to Action and the Artist in Residence program on McGill's Indigenous Portal Website.
You can read more about this initiative by referring to Call to Action #25 in the Provost's Task Force on Indigenous Studies and Indigenous Education report linked here: