Instruction is offered in all major areas of historical scholarship by a distinguished faculty of approximately 40 members covering a wide variety of geographic, chronological, and thematic areas of research and teaching expertise. The History Department at McGill is committed to training doctoral students to demanding and rigorous standards that will produce the academic historians and other leaders of tomorrow. We seek to create an environment where doctoral candidates develop proficiency in teaching, researching, and interpreting the histories and historiographies of particular times and places from a comparative, cross-cultural, and global perspective.
The PhD Program at McGill comprises comprehensive exams, a language exam, and a dissertation. The comprehensive process aims to prepare students to teach and research in three distinct fields: a major field connected to the dissertation project and two minor areas.
PhD student Alex McAuley takes a break from teaching to pose on the second-floor terrace of the Leacock Building.McGill and Montreal are rich locations to support doctoral research in history. The department houses dynamic research concentrations in the Ancient Mediterranean World, Canada/Québec, British and European history, China, the Early Modern Atlantic World, the Indian Ocean World, Gender and Sexualities, Social Studies of Medicine and the History of Science.
The Social Science and Humanities Library collection dates back to 1855 and has particular strength in Canadian Studies, British History, Russian and East European Studies, and the Second World War. Many of our students draw upon the resources of the Osler Library of the History of Medicine, the Blackader-Lauterman Library of Architecture and Art, the Islamic Studies Library,and the  Nahum Gelber Law Library. The Indian Ocean World Centre (IOWC) houses a significant collection of archival material relating to the history of the Indian Ocean World (from Africa to the Far East) and a major international and interdisciplinary research network that is building a database on the history of human-environment interaction in the Indian Ocean World. Within McGill, the History Department regularly collaborates with the Department of East Asian Studies, the Islamic Studies Institute, the McGill Institute for the Study of Canada, and Social Studies of Medicine. Montreal boasts three other world class universities—Concordia, Université de Montréal, and Université du Québec à Montréal—and local archives such as the archives nationale du Québec—Montréal, the McCord Museum, and the Canadian Jewish Congress National Archives.
---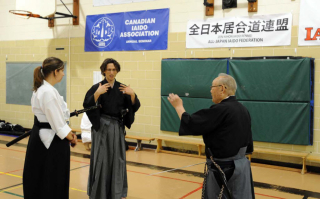 Staying sharp outside of school hours: Daniel Lachapelle Lemire (middle), PhD candidate and holder of a 6th dan in iaido, demonstrates a technique for students under the careful watch of Master Kato Haruo, 10th dan. Photo courtesy of the Canadian Iaido Association.