Event
McGill Executive Institute, 1001 Sherbrooke St. West, Montreal, QC, H3A 1G5, CA
Price:
Free admission with registration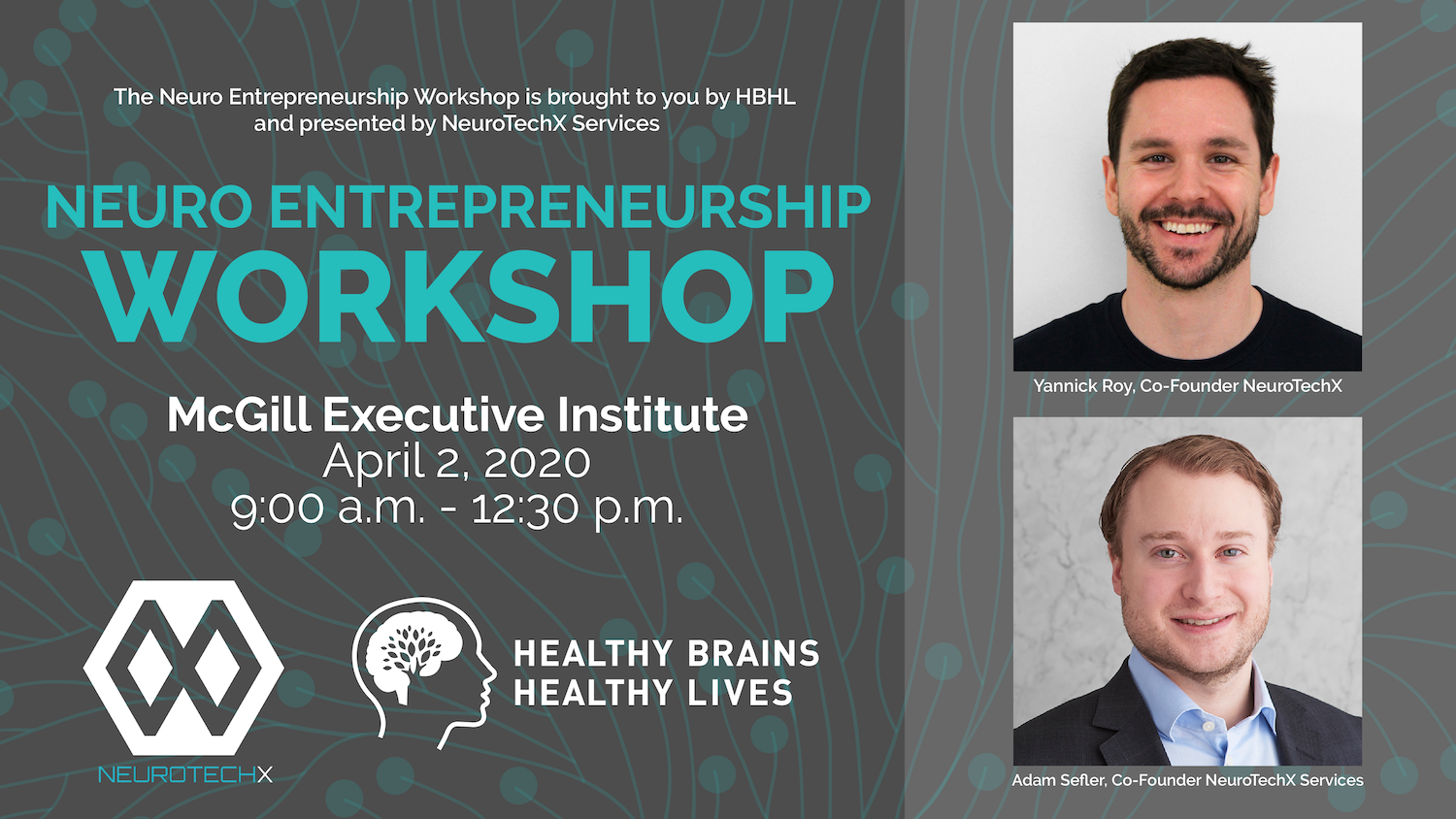 Note: due to the developing global situation around COVID-19, the Neuro Entrepreneurship Workshop on April 2 has been postponed, and will be rescheduled to a later date (TBA).
This is event is for researchers and students in neuroscience at McGill University. The Neuro Entrepreneurship Workshop is brought to you by HBHL and presented by NeuroTechX Services.
This workshop offers a great opportunity to learn more about the process of starting a business from ideation to launching a product.
This 3h workshop contains (1) a lecture portion, (2) a hands-on portion and (3) a networking portion.
Whether you are considering entrepreneurship or already have started your entrepreneurial journey, if you are in a neuro-related field this event is for you. Join us on April 2nd to develop your entrepreneurial mindset!
---
Schedule
9:00 a.m.: Doors open
9:00 - 9:15 a.m.: 15 min networking
9:15 - 9:25 a.m.: Welcome by NeuroTechX and HBHL
9:30 - 10:15 a.m.: Business 101

Value proposition, business model, market analysis, IP and Open Science, team & roles, the Art of Pitching

10:15 - 10:30 a.m.: Healthcare Startups

Regulation - FDA, CE and Sante Canada
Insurance - Who will pay for your product/solution?
Data, data, data

10:30 - 10:45 a.m.: Neuroscience and Neurotechnology Market Dynamics

How can neuroscience and neurotech become a business
From Research to Market - some examples
What are the current trends in neurotech?

10: 45 - 11:00 a.m.: Break & networking
11:00 - 11:40 a.m.: Breakout sessions
11:40 a.m. - 12:10 p.m.: Presentations from breakout teams, feedback from NeuroTechX and HBHL
12:10 - 12:15 p.m.: Closing remarks
12:15 - 12:30 p.m.: Networking