Event
A conversation on Blackness and Disability
Monday,
February
27,
2023
16:00
to
18:00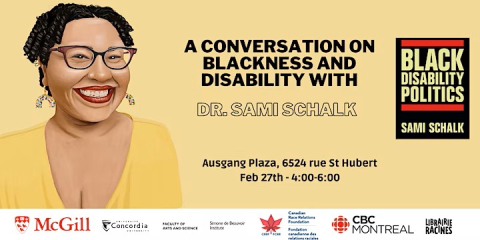 As part of Black History Month events at McGill, Dr. Sami Schalk will be joining us for a conversation on Blackness and Disability.
The event will be online and in-person at Ausgang Plaza in Montreal.
Dr. Sami Schalk (she/her) is an associate professor of Gender & Women's Studies at the University of Wisconsin-Madison. She is the author of Bodyminds Reimagined: (Dis)ability, Race and Gender in Black Women's Speculative Fiction (Duke 2018) and Black Disability Politics (Duke 2022). Dr. Schalk's academic work focuses on race, disability, and gender in contemporary American literature and culture. She also writes for mainstream outlets, including a monthly column called "Pleasure Practices" in TONE Madison. Dr. Schalk identifies as a fat, Black, queer, disabled femme and a pleasure activist.