On the page: Bachelor of Arts (BA) Undergraduate Minor in Educational Psychology | Taylor Adolescent Program
---
The following are undergraduate minor concentration programs administered by the Dept. of Educational & Counselling Psychology.
Bachelor of Arts (BA) Undergraduate Minor in Educational Psychology
Overview
What is Educational Psychology?
Educational Psychology encompasses:
the theoretical and applied study of learning, cognition, and instruction in a variety of educational settings across ages and domains
instructional technology and computers as cognitive tools in learning
cognitive and social processes in learning
evaluation and enhancement of learning and teaching
education of learners with special needs or difficulties
relationships of these or related phenomena to issues in human development, especially for children and adolescents
the impact of family and community on children's learning and development
Eligibility
The undergraduate minor program in Educational Psychology is available to students in BA programs.
Process
Students who are currently registered in a BA program at McGill and are interested in registering for this Minor Concentration should make an appointment with their Academic Advisor to discuss this option. Students should not expect to complete the 18-credit requirements of the Minor in one or two academic years. Students should review the schedules below to ensure they are available to take courses when they are offered. Courses are offered of the same evenings each year. Substitutions to requirements are not entertained.
Requirements & Courses
Program Requirements for 2023-2024 can be found via the McGill Calendar listing by clicking the image below.
For a list of required and complementary courses being offered in the Fall 2023 and Winter 2024 terms, please click on the images below.
---
Taylor Adolescent Program - NO LONGER BEING OFFERED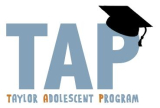 The Taylor Adolescent Program (TAP) is a joint project of this department and affiliated with the Montreal Fluency Centre.
TAP has openings for tutor-interns to work with adolescents who have moderate to severe learning disabilities.
Students register in the Winter semester, while the program runs September through June inclusive.
Eligibility
While the majority of our successful interns in the Taylor Adolescent Program (TAP) are typically undergraduate students pursuing a Bachelor of Arts or a Bachelor of Science degree in Psychology, students in other academic areas of study are not automatically disqualified from this program. This would be determined during the interview process held at TAP.
For more information, please visit the Taylor Adolescent Program (TAP) website.
Students who are accepted into TAP must fill out a field work contract (see below), have it approved by their site supervisor, the director of the TAP and submit it to  the Department of Educational and Counselling Psychology in the Faculty of Education for departmental approval (drop off signed forms in person or submit high resolution colour scans via email to ecpundergrad.education [at] mcgill.ca (subject: TAP%20Contract)  prior to access being granted for registration). Students will be issued a permit override to then register for one 3-credit Field Work 1 course (EDPI 539, CRN 16465) in the Winter semester by the add/drop deadline, and upon successful completion of the internship, receive academic credit for their field work. Please note that these courses are graded on a Pass/Fail basis.
Tutor-interns accepted to this program will each be assigned to an adolescent. Under the training and supervision of the Taylor Adolescent Team, tutor-interns will assist in remedial planning and the implementation of effective intervention for a minimum of 150 hours. Interns accepted into this program will be given a brief orientation course and supervised through weekly training sessions throughout their internship. They will also participate in meetings and consultation with their student's family and school. This internship would be of interest to future clinicians and other professionals in psychology, education and allied fields.
TAP Program Contract and Forms (PDF fillable) - For use by student interns and site supervisors