The McGill Psychoeducational and Counselling Clinic is a teaching and training unit of the Department of Educational and Counselling Psychology in the Faculty of Education at McGill University.
Through its training activities, the clinic provides low cost psychological services to people seeking both counselling and psychoeducational assessments.
Purpose
The purpose of the clinic is to provide an on-site setting for practicum training and research. The Clinic is used primarily by the Counselling Psychology and School/Applied Child Psychology programs. The Clinic is currently comprised of a number of private offices, a waiting room, and a trainee office.

Details
The Clinic offers supervised assessment and counselling services to the community. Clients may be referred by schools, community agencies, or by professionals including psychologists, social workers, counsellors, and physicians. However, clients may also contact the clinic directly and make a self-referral for a psychoeducational assessment or counselling services.
Clinic services are offered by master's and doctoral students in our two accredited psychology programs (School/Applied Child Psychology and Counselling Psychology), as part of their clinical training. All services are provided under the supervision of qualified and accredited professors in the Department.
Unfortunately, at this time, we are not equipped to provide assessments for autism spectrum disorder, counselling/therapy services  or vocational/career assessments to children or adolescents.
Services provided at the Clinic are in tandem with professional training and often support the research of our students and faculty.
Services are offered to the Montreal community on a first-come, first-served basis (see below). Because of high demand, and the specific constraints of our program, only a limited number of clients can be seen each year.
The Clinic operates only during the Fall and Winter semesters (September - April). If you are looking for other Montreal-area services between May and August, we may be able to provide a referral. Please contact us by email (

ecpclinic.education

[at]

mcgill.ca

) or by phone at 514-398-4641 during regular office hours (Monday to Friday, 9am to 5pm).

Clinic director: Dr. Nate Fuks
Mailing Address:
McGill Psychoeducational and Counselling Clinic
Education Building
3700 McTavish, Room 614
Montreal, Quebec
H3A 1Y2
Services offered
Psychoeducational Assessments: The clinic offers comprehensive psychoeducational assessments to children and adolescents, ages 6-20. All assessment reports are written in English, however, depending on the educational needs of the client, some components of the assessment may be administered in French. Potential clients should make the Clinic Coordinator aware of this possibility when they make a request for service. Please note that the Clinic is not equipped to complete psychoeducational assessments for students who primarily study in French or who require a report to be written in French. In these cases, potential clients are referred to the Centre de services psychologiques at UQAM or La Clinique universitaire de psychologie du département de psychologie de l'Université de Montréal. Please be aware that the current waitlist time for assessments is approximately 12 months.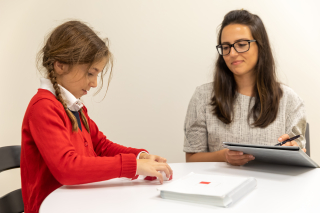 Counselling and psychotherapy: The Clinic offers counselling and psychotherapy services to adults (18+) experiencing significant difficulties with social, vocational, or interpersonal matters. Please note that our counselling program is full for this academic year. The next intake of clients will be in October.

For information please ecpclinic.education [at] mcgill.ca (email )the Clinic Coordinator. To make a request for service, fill out the registration request form.
Making a request for service
To make a request for service, fill out the registration request form. 
* PLEASE NOTE: At this time we are not accepting new patients. Our wait list is currently closed. Our website will be updated once we are able to take on more patients. Please check back for updates.
Requests for service can be made by the individual or, in the case of children under 14 years, by the parent or legal guardian of the child. Parents of children over the age of 14 years may call the clinic to make a request for services, however, at the intake assessment children age 14 years and over will be required to provide informed consent for services.
Callers will need to state the type of service being requested (i.e., psychoeducational assessment or counselling) and provide basic contact information. Callers should provide a daytime phone number and will be asked to specify whether messages can be left at the phone number(s) provided.
Once the request for services has been made, potential clients will be placed on the appropriate Clinic wait list. Occasionally, the wait list reaches its limit and we suspend taking on additional prospective clients. In these cases, if services are urgently required, we are usually able to provide referrals. When a client requires services that are not available in the Clinic, a referral to an appropriate service is usually made.
When services are available, potential clients will be contacted by of one our trainees who will conduct a brief screening interview to determine whether the clinic's resources are suited to the client's requests. A first meeting is usually made at that time. Please note that the wait list time between initial contact and the first meeting can sometimes be lengthy.

Please Note: Clinic services are in high demand and not all requests can be accommodated. Our current waitlist time for psychoeducational assessments is approximately 12 months. Our counselling program is full for this academic year. Callers will be notified when making a request for service and appropriate referrals may be provided.
Clinic fees policy
Clients of the Clinic are charged fees for services rendered. A receipt will be provided for every payment. Given that the Psychoeducational and Counselling Clinic is a training facility, depending on each individual client's insurance plan, trainee services may or may not be considered an eligible insurance claim. Potential clients are encouraged to check with their insurance provider prior to the initial appointment. In cases that a client cannot afford to pay the assigned fees (see below for fee structure and payments) they may be eligible for the Clinic Fee Reduction/Fee Waiver policy. During the brief screening interview, trainees may provide more information regarding the Clinic's policy.
Psychoeducational Assessment Fees: The fee for a complete psychoeducational assessment is 600$. The total fee will be collected in two installments: 300$ at the end of the second meeting and 300$ at the final assessment meeting, yet prior to the feedback session. Trainees will provide clients with further details during the initial appointment.
Counselling Fees: Services provided are charged on a session by session basis. Counselling fees are set at 40$ per session. Fees will be collected at the end of each session.
Location & parking
The Clinic is located in the basement (B) level of the Education Building at 3700 McTavish. The Education Building can be entered from both the front doors at 3700 McTavish and the side doors which are located on the north side of the building. The side doors can easily be accessed from both McTavish and Peel.
Driving: The 3700 block of McTavish can only be accessed by car by heading east on Dr. Penfield and turning left up McTavish Street. ** You cannot access the 3700 block of McTavish from Sherbrooke, as the lower portion of McTavish is for pedestrian traffic only**
Public Transportation: The Clinic is located a short uphill walk from the Peel Metro station. It is also accessible from a number of bus routes (e.g., 24, 144). For a complete list of public transportation options please refer to the STM website.
Parking: Limited parking on the streets located around the Education Building (Peel Street, McTavish Street and Avenue des Pins) but availability is highly unpredictable. Paid parking is also available in the lower levels of the Education Building and can be accessed at 3700 McTavish. Further information on McGill visitor parking can be found here.
Psychoeducational & Counselling Clinic Committee
The role of the Clinic Advisory Committee (CAC) is to assist the clinic director in matters of policy and procedures relative to the operations of the Psychoeducational and Counselling Clinic. Clinic policies and procedures are set by the director in conjunction with the CAC. The advisory committee also vets projected clinic expenses.  The CAC is made up of faculty representation from the Counselling Psychology and School Psychology programs, two representatives from the community (Drs Atkins and Romano – both licensed psychologists and adjunct faculty) and four student representatives, two from the School Psychology program two one from the Counselling Psychology program. The Clinic Coordinator is also a CAC member. Students registered in courses that use the clinic may bring up concerns, requests, or problems to their respective student representative or directly to the clinic director for discussion at our advisory meetings.  Students may, with prior notice, also attend meetings. The advisory group convenes 2 – 4 times a year.
Members of the Psychoeducational and Counselling Clinic Committee:
Dr. Nate Fuks, Psychoeducational and Counselling Clinic Director
Dr. Marie-Hélène Pennestri, Counselling Psychology Program Representative
Dr. Shanna Williams, School/Applied Child Psychology Program Representative
Dr. Tina Montreuil, Chair of Assessment Materials Resource Centre
Dr. Vera Romano, Course Lecturer
Dr. Shawna Atkins, Course Lecturer
Ms. Rachael Muncaster, Clinic Coordinator
Ms. Margarita Miseros- School/Applied Child Psychology PhD Student Representative (last year)
Ms. Lisa-Marie Giorgio - School/Applied Child Psychology MA Student Representative (last year)
Ms. Christina Spinelli - Counselling Psychology PHD Student Representative (last year)
Ms. Emilie Fletcher - Counselling Psychology PHD Student Representative
Ms. Marianne Lau - Counselling Psychology MA (Project Stream) Student Representative
Ms. Samantha Scholes  - School/Applied Child Psychology MA Student Representative
Ms. Maria Brown- School/Applied Child Psychology PhD Student Representative
Alternate Counselling and Assessment Resources
Directory of Referral Sources in Montreal Area
---
 For information or to request a service, please ecpclinic.education [at] mcgill.ca (email) or call: 514-398-4641 and speak to the Clinic Coordinator.