Event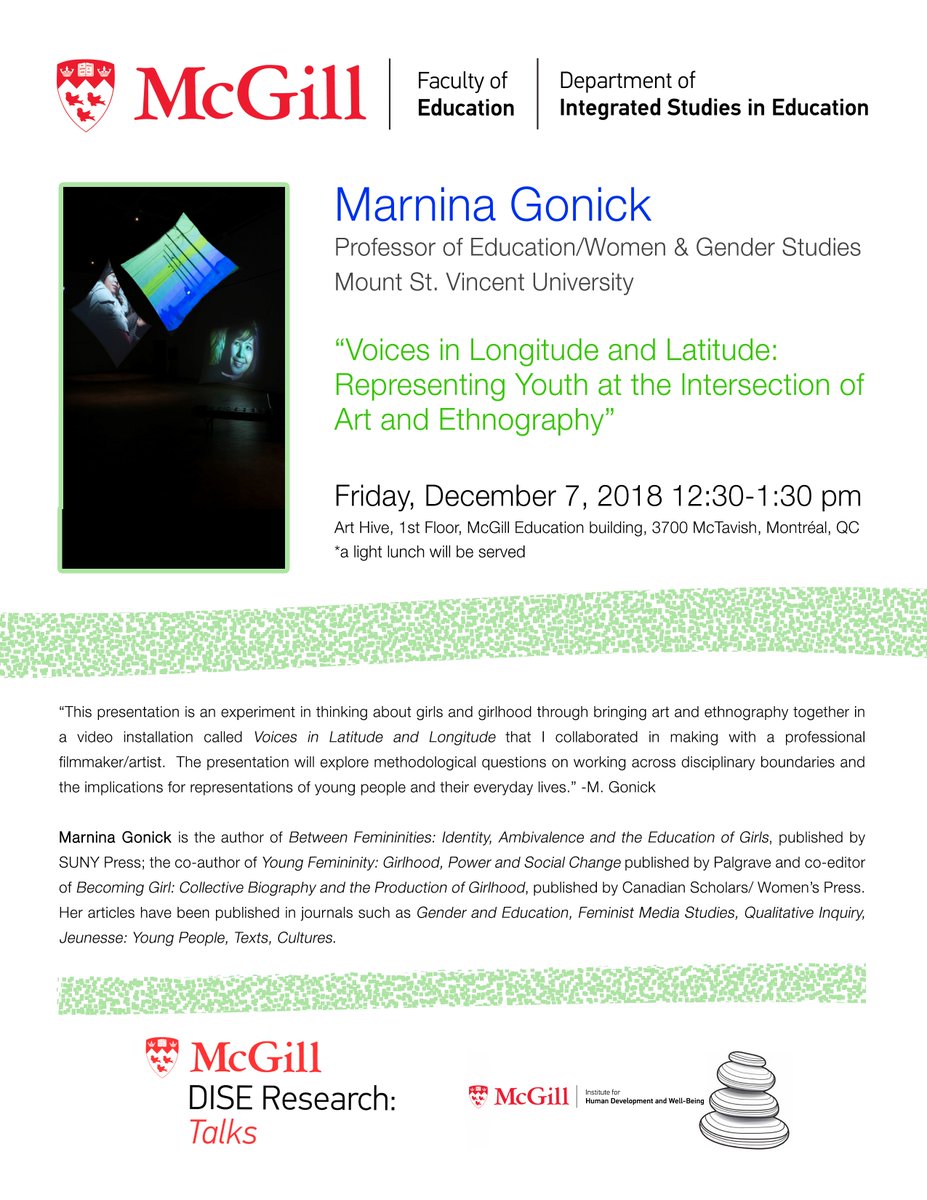 Marnina Gonick | Professor of Education/Women and Gender Studies, Mount St Vincent University
"Voices in Longitude and Latitude: Representing Youth at the Intersection of Art and Ethnography"
Friday, December 7, in the Art Hive (1st Floor, Faculty of Education) from 11:30-2:30. Sandwiches, cookies, tea, and coffee will be served.
Marnina Gonick is the author of Between Femininities: Identity, Ambivalence and the Education of Girls, published by SUNY Press; the co-author of Young Femininity: Girlhood, Power and Social Change published by Palgrave and co-editor of Becoming Girl: Collective Biography and the Production of Girlhood, published by Canadian Scholars/ Women's Press. Her articles have been published in journals such as Gender and Education, Feminist Media Studies, Qualitative Inquiry,  Jeunesse: Young People, Texts, Cultures.
"This presentation is an experiment in thinking about girls and girlhood through bringing art and ethnography together in a video installation called Voices in Latitude and Longitude that I collaborated in making with a professional filmmaker/artist. The presentation will explore methodological questions on working across disciplinary boundaries and the implications for representations of young people and their everyday lives. In producing the video, we travelled to four Canadian geographical regions to work with girls (ages 13-23) from different communities – Inuit in the Canadian far north,Transgender in Halifax, Nova Scotia on the east coast, Jewish in Toronto, Ontario, Canada's largest urban centre, and Immigrants from different African countries (Congo, Rwanda, Ethiopia, Sudan) in Winnipeg, Manitoba, the country's geographical centre. We video-taped eighty hours of documentary footage of the girls in their own social milieu (on ski-dos, at gymnastics class, at their houses, etc) landscapes and cityscapes, domestic and public settings and a series of ethnographic interviews.
"Voices explores the multi-sensory and affective relations of place and becomings through assemblages of bodies, landscape, infrastructure, and girls' voices. In the hybrid space of ethnography and art,Voices explores the "intra-action" (Barad, 2007) of these elements to produce assemblages that, I suggest open new epistemologies for making sense of girls' experiences. I am interested in how these assemblages can provide insights into resources and barriers that diverse girls encounter in their daily lives, their dreams and aspirations for the future.Not only are notions of girlhood and what it means to be a girl challenged, but when girls, places and other manner of matter come together in dynamic ways I suggest that what may be created, if only temporarily, is something new, something Other."