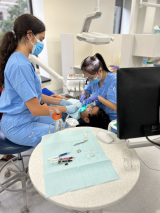 Each summer the Faculty of Dental Medicine and Oral Health Sciences holds its Summer Clinic in July, offering free basic dental care for the following patient groups:
children and adolescents 10 to 17 years old;
people 10 years and older with a physical or intellectual disability;
seniors 65 years and older.
The treatments are provided by fourth-year dental students under the supervision of general practice dentists.
Patients can have their teeth checked and cleaned and receive minor dental work, such as fillings and extractions, at no charge. The Summer Dental Clinic is supported by a grant from the Ministry of Health and Social Services (MSSS).
As this clinic is only four weeks long, we may not be able to complete all the required treatment.
To become a patient 
The 2023 Summer Clinic has ended. The patient application period will open in May 2024. Please visit this page in April 2024 for more information.