The Faculty of Dentistry is pleased to announce the winner of the 2019 Outstanding Alumni Award, Dr. Marco Caminiti.
Dr. Caminiti graduated from the DMD program in 1991; in addition to his dental education, he was part of the Canadian Armed Forces Dental Unit from 1989 to 1994. During this time, he was stationed at CFB Petawawa for 3 years and exercised a tour of duty with the United Nations in 1994. That same year he was accepted at the University of Toronto Oral Surgery Department. After completing his residency in 1998, he pursued a Fellowship in surgical education for two more years and obtained his Masters degree in Education from the Ontario Institute for Studies in Education.
He was involved with the University of Toronto Oral Surgery Department from the very start and spent countless evenings preparing his teaching slides and writing exam questions; at the same time, he and his McGill classmate, Dr. Edward Reinish, became partners in what became Crescent Oral Surgery, named after the street in Montreal.
Today, Crescent Oral Surgery boasts 3 locations with multiple hospital affiliations and 9 oral surgeons. Whilst in private practice, Dr. Caminiti remained dedicated to the enrichment of the oral surgery residents and is an examiner for the RCDC oral surgery exams. In 2017, he was invited to become the Head and Program Director of Oral Surgery at the University of Toronto where he oversees the program for the over 10 residents and supervises their graduate school progression. He is the Head as well of OMFS at Humber River Hospital, Canada's first and flagship fully digital hospital.
What drives this kind of passion? "It's the collaboration I have made with many of my colleagues across the country," Dr. Caminiti writes. "What an incredible network - eager, bright and engaged dentists that keeps me on my toes and motivated."
Dr. Caminiti's distinguished career and sustained commitment to dental education make him an outstanding alumnus who wears his McGill colours with great pride—and therefore, an excellent role model for us all.
Award for Excellent Care in the General Practice Residency Program
Dr. Caminiti was recognized with the Outstanding Alumni Award at the Montreal Alumni Cocktail on May 27, where he also presented three General Practice Residents with the Dr. Caminiti Award for Excellent Patient Care in the GPR Program, Drs. Carlin To, Safa Asif, and Émilie Thibault.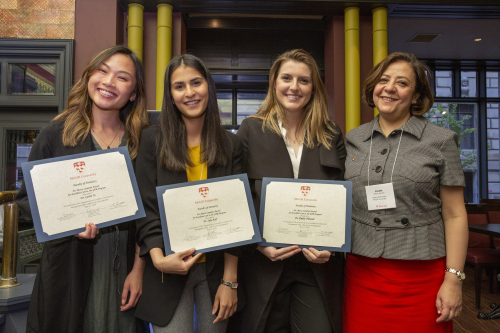 See photos from the event here, and be sure to tag yourself!