Some Recent News
On May 10th 2018, a dissemination meeting was held for all Nutrition Links stakeholders. Along with the implementing partners from McGill University, University of Ghana, Heifer International, World Vision International, and World Vision Ghana, the list of attendees included the following:
Partners from Asesewa including representatives from Ghana Health Service, Ghana Education Service, the Department of Food and Agriculture, the District Assembly, the Upper Manya Kro Rural Bank, the National Commission of Civic Education, the Manya Krobo Traditional Council, and local representatives;
Project beneficiaries and participants including infant intervention participants, adolescent mentors, adolescent girls representatives, along with Farm Radio International, and Rite FM;
The Ministry of Food and Agriculture represented at both the regional and national level;
Non-governmental organizations including representatives from USAID and PATH;
The Global Affairs Canada representative in Ghana;
University of Ghana faculty from the Department of Nutrition and Dietetics and the School of Public Health, along with the Dean of the College of Basic and Applied Sciences;
Media companies Starr FM and Graphic Online, and Ghana Broadcasting Company.
Preliminary results showing changes that occurred over the five project years were shared and discussed amongst those in attendance. These results were shared through placemats which can be viewed and downloaded below.
1_training_needs_agric_.pptx
2_ado_nutr_ed_sources_11_by_17.pptx
3_ado_savings_11_by_17.pptx
4_bridget_iycf_gender_rev.pptx
5_capacity_building_bridget.pptx
6_child_nutr_diet_stimulation_hb_anemia_11_by_17_rev.pptx
7_decision_making_may8_pm.pdf
8_food_security.pdf
9_fri_time_yvonne.pptx
10_health_ela_rev.pptx
11_self_efficacy_may8pm.pdf
12_bridget_to_grace.pptx
---
Grace Marquis' group presented on ''An Integrated Approach to Harmonize Nutrition Knowledge Across Sectors in the Upper Manya Krobo District of Ghana'' at the Experimental Biology Conference, held in Chicago on 22-26 April, 2017.
Project Newsletters
Click on each image below to access the full newsletter
November 2017
June 2017
March 2017

December 2016
September 2016
July 2016
April 2016
February 2016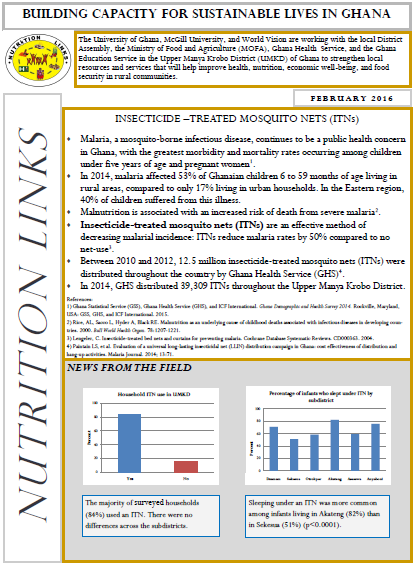 November 2015
September 2015
July 2015

April 2015
February 2015
November 2014
September 2014
Project Launch in Asesewa, Ghana on March 12th, 2014
Dr. Grace Marquis traveled to Ghana for the official launch of the project, which took place on March 12th, 2014 at the Nutrition Research and Training Center in Asesewa.
More than 60 invited guests attended the launch. They included local chiefs, District Assembly representatives, current and past members of parliament, the Vice-Dean of Science from the University of Ghana, staff from the Ministry of Food and Agriculture, Women in Agricultural Development, Ghana Health Services, Ghana Education Services,  Freedom from Hunger Ghana, Heifer Ghana, and World Vision Ghana, Queen Mothers representatives, community representatives, and project staff.
Cultural entertainment was provided by a local group of Krobo dancers and drummers.