Background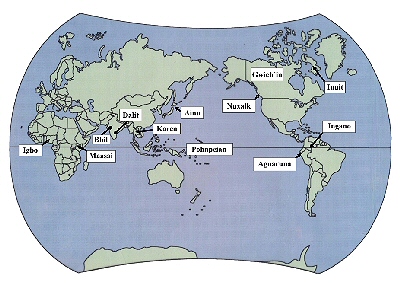 Indigenous Peoples are among the most marginalized and disadvantaged populations in both developed and developing countries. With cultural homelands in the most rural areas of developing regions, they experience common problems in relation to their traditional food systems, food security and health. Our project addresses resources and knowledge Indigenous Peoples have for good nutrition and health status often in the midst of extreme financial poverty.
We aim to develop health promotion activities using local indigenous food to improve nutritional health and to demonstrate that this principle works in many indigenous areas globally. We link local academics and indigenous communities in each global region (North and Central America, South America, Africa, Asia, Oceania) in 12 case studies with defined food systems that are reasonably intact and without environmental toxic threats. The ultimate goal is to document successful food-based strategies to protect health status of Indigenous Peoples using their local food systems.
Food and nutrition tables for 12 case studies and five Asian case studies are being compiled from information gathered in interviews with key informants and focus groups. This resource is intended for health professionals and researchers in dietary assessment, and nutrition promotion programs.
Link to Food and Nutrition Tables
---
Global Health Case Study Partners' meetings have been held annually since 2004:
PUBLICATIONS