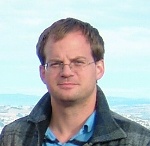 Associate Professor, William Dawson Scholar
Bioresource Engineering Department
Macdonald Stewart Building, Macdonald Campus, Room MS1-096
Phone (514) 398-7967
Fax (514) 398-8387
mark.lefsrud [at] mcgill.ca (Email)
Educational Background:
Ph.D., University of Tennessee at Knoxville, 2006
M.S., Rutgers, The State University of New Jersey, 2001
B.Sc., University of Saskatchewan, 1997
General Area of Interest and/or Specialty:
Environmental control for improved biomass production, bioenergy, and biochemical extraction of microorganisms and plants.
Description of current research and/or professional activities:
The Biomass Production Laboratory focus is developing methods to improve monitoring and production of living organisms. This laboratory's primary goal is the improvement of plants for human consumption (food security), medical (medical cannabis) and energy (biofuels). Within this focus of food security we are investigating methods for Urban Agriculture including: greenhouse heating using wood pellets (with direct combustion and gasification), light emitting diodes for increased production, and using community proteomics to provide a novel method to monitor plant development.    We are also investigating the production of bio-oil through field pea and algae production.
Food security has become an increasing concern in Canada and around the world. Many individuals and families do not have access to fresh, nutritional food either because it is too costly, the food is not fresh anymore or it is not available at that time of year. The cost of most food is greatly increased due to the fact that food is transported by truck or plane over long distances to reach the consumer, with most fresh produce coming from Florida or California. These transported fresh foods such as fruits and vegetables can be damaged and lose some of their nutritional value during the transport making the purchase of these products even less appealing. The alternative choice to fresh food is highly processed foods, low in nutritional value. The constant consumption of these highly processed foods are impacting and causing severe consequences to the northern population's health. Our solution is to move the production of these fresh fruits and vegetables closer to the consumer, specifically into the towns and cities and developing a technology known as Urban Agriculture or vertical farming.
What is Urban Agriculture? Urban Agriculture is the idea of food production in an urban agricultural setting and has been proposed by a number of companies using a range of technologies. The major focus of our researched are: energy reduction (light and heat), selection of species and cultivars for this specific growing environment and determining the nutritional improvement of plants grown within the system. A major focus of our laboratory is improving lighting methods using LEDs within the building and developing methods to use renewable energy sources for heating and carbon dioxide production.
Awards:
William Dawson Scholars (McGill equivalent to a CRC Tier 2), 2015-2025.
Gobal Engineering Teaching Award, 2014. Engineers Without Borders McGill University Student Branch.
NABEC Young Engineer's Award, 2012.
NABEC Young Engineer of the Year honors NABEC members for outstanding contributions to the advancement of the Agricultural/Biological Engineering.
Science and Technology in Society Forum (STS Forum). 2010. McGill - Young Scientist Nominee.
Representative Publications:
Wu, B.-S., Y. Hitti, S. MacPherson, V. Orsat, M. G. Lefsrud. 2020. Comparison and perspective of conventional and LED lighting for photobiological and industry applications. Environmental and Experimental Botany 171:103953.
Wu, B.-S., A.-S. Rufyikiri, V. Orsat, M. G. Lefsrud. 2019. Re-interpreting the photosynthetically action radiation (PAR) curve in plants. Plant Science 289C (2019) 110272.
Eichhorn Bilodeau, S., B. S. Wu, A.S. Rufyikiri, S. MacPherson, M. Lefsrud. 2019. An Update on Plant Photobiology and Implications for Cannabis Production. Frontiers in Plant Science 10:296:1-15.
Yavari, N., M. Lefsrud. 2019. Proteomic analysis provides insights into Arabidopsis thaliana response under narrow-wavelength LED of 595 nm. Journal of Proteomics and Bioinformatics 12(8): 507
Backer, R. G.M., P. Rosenbaum, V. McCarty, S. Eichhorn Bilodeau, D. Lyu, M. B. Ahmed, W. G. Robinson, M. Lefsrud, O. Wilkins, D.L. Smith. Closing the yield gap for cannabis: -omics tools for crop improvement and innovative production practices to maximize yields. Frontiers in Plant Science 10:495:1-15
Parrine Sant'Ana, D.V., B.S. Wu, B. Muhamma, K. Rivera, D. Pappin, X. Zhao, M. Lefsrud. 2018. Proteome modifications on tomato under extreme high light induced-stress. Proteome Science 16(20):1-15.
McCartney, L., M. Lefsrud. 2018. Field Trials of the Natural Ventilation Augmented Cooling (NVAC) Greenhouse. Biosystems Engineering. 174:159-172.
McCartney, L., V. Orsat, M. Lefsrud. 2018. An experimental study of the cooling performance and airflow patterns in a model Natural Ventilation Augmented Cooling (NVAC) greenhouse. Biosystems Engineering 174:173-189.
Parrine Sant'Ana, D.V., M. Lefsrud. 2018. Tomato proteomics: tomato as a model to crop proteomics. Scientia Horticulturae 239:224-233.
Ahmad, S., R. Kaur, M. Lefsrud, J. Singh. 2018. Investigation of IRAP transposon based molecular markers for analysis of genetic diversity in pea germplasm. Legume Research. 401:1-6
McCartney, L., M. Lefsrud. 2018. Protected Agriculture in Extreme Environments: A Review of Controlled Environment Agriculture in Tropical, Arid, Polar and Urban Locations. Applied Engineering in Agriculture 34(1):1-21
Madadian, E., V. Orsat, M. Lefsrud.  2017. Comparative study of temperature impact on air gasification of various types of biomass in a research- scale down-draft reactor.  Energy and Fuels 31(4), 4045-4053.
Both, A.J., L. Benjamin, J. Franklin, G. H. Holroyd, L. D. Incoll, M. G. Lefsrud and G. Pitkin. 2015. Guidelines for Measuring and Reporting Environmental Parameters for Experiments in Greenhouses. Plant Methods 11(43):1-18.