East bedroomThe Brace Building was renovated in 2007-2008 to include a refurbished larger conference room on the ground floor and, on the first floor, six new bedrooms with bath, a kitchenette, graduate student office/work area and a new computer laboratory.  Accommodation on site includes 16 bedrooms with twin beds (with and without bath), the self-contained (newly renovated) one-bedroom Seabourne Apartment, and the three-bedroom Seabourne House. About 40 visitors can be accommodated at one time, and meals are served on request. Holiday guests are also welcome, subject to room availability. The "new" Brace Building was opened officially during a McGill Alumni Reception on November 28, 2008.
For further information, please contact us.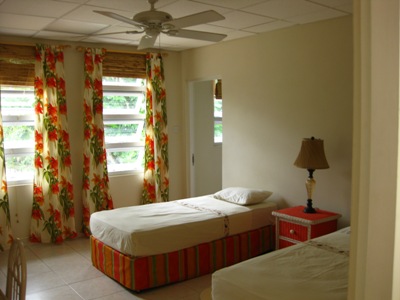 Brace Building bedroom
CURRENT RATES
Effective January 1, 2015. Prices subject to change where necessary.
ACCOMMODATION - Regular
Holiday Guests
Research Staff
Students
Double Room with Bath (B1, B2, B3, B4, B5, B6)
US$55.00
US$50.00
US$35.00
Double Room with Bath (W1, W2, E1, E2)
US$40.00
US$36.00
US$30.00
Double Room without Bath (W3, W4, E3, E4, E5, E6)
US$35.00
US$34.00
US$28.00
Rates are per person, per day, based on double occupancy
ACCOMMODATION - Seabourne Apartment
 
 
 
One-bedroom; includes bath, kitchen & large rooftop patio, on the beach.
US$730.00 per week
US$700.00 per week
 
ACCOMMODATION - Seabourne House
 
 
 
Entire House
US$1600.00 per week
US$1500.00 per week
 
Individual
US$50.00 per day
US$42.00 per day
 
Three-bedroom house on beach; includes bath, living & dining rooms, kitchen.
It is possible to rent the entire house or by the person (double occupancy), although if exclusive use is desired, one must rent the entire house.
MEALS
Breakfast
Lunch
Dinner
These meal rates apply to both Holiday Guests & Research Staff.
US$8.00-regular
US$10.00-weekends and bank holidays
US$11.00-light
US$25.00-heavy
US$25.00-regular
US$27.50-weekends and bank holidays
USER FEES
Heavy users
Light users
Short Term - per person per day - staff
US$18.00
US$12.00
Short Term - per person per day - students
US$9.00
US$6.00
Long Term - per person per month - includes desk space
US$200.00
US$125.00
OTHER
Boat - Sun Tracker - 75 hp - Rental fees to be negotiated
Vehicle rental may be possible at a price to be negotiated, and is subject to availability.
Scuba tanks and diving gear are available for rent nearby.
Email and internet access is available for US$15.00 per week.
Weekend Changeover Fee: In the event that a group arrives and/or departs on Saturday or Sunday, the group organiser/host will be required to pay a flat fee of US$300 on behalf of the group.
Tipping: We seek to ensure our guests have an enjoyable experience during their visit to Bellairs, therefore there is no need to feel obligated to give a tip. A smile and a thank you will be appreciated. Although it is not required, we can understand if one chooses to use discretion to tip in cases where it is felt a staff member has gone out of their way to provide personalized or stand-out service.
Please send enquiries via email to

enquiries

[at]

bellairs-mcgill.org

or call 246-422-2087. Thanks, and we look forward to welcoming you at Bellairs!