2011
2010
2009
2008
2007
2006
2005
2004
2003
2002
The Virtue of the Virtual: Conference
May 18 to 20, 2011
The Cultural Mediations and Technology stream at the McGill School of Architecture, in association with The Facility for Architectural Research in Media and Mediation (FARMM), will host an international conference to be held May 18-20, 2011 at McGill. The conference organizers invite practitioners, professors, researchers, and graduate students from any discipline to attend and participate in critical and timely discussions. Opening keynote lecturer (May 18) is Georg Vrachliotis (ETH Zurich) and closing keynote lecturer (May 20) is André Nusselder (University of Amsterdam).
From the conference website: "When virtue refers to persons, it denotes those possessing moral excellence or superiority; the virtue of an object denotes its authority, worth or efficacy, occasionally its capacity for miracles. Virtual environments, currently the governing mode in which design operates, are models created by our vast computational ability (empirical knowledge) and theory (speculative knowledge) that refer to prior abstractions of the 'real.' In this detachment from the given world, the model further creates its own relations and conditions, creating possibilities outside of the given conditions that created it in the first place.
"What are the consequences of an immersion into an immaterial world where one is freed from the given conditions we have long known? How does the virtual begin to produce the 'real'? How are ethics created? Is this type of modelmaking fundamentally distinct from what preceded it? What are its consequences?
"Although the virtual is neither person nor object, we must judge its virtues all the same. Does it have superior worth or efficacy? Is it an authority? Does it have a miraculous power, or is it simply 'of easy virtue'? We must begin to think its ability to allow, not moral, but ethical decisions. We must ask what the virtual allows relative to making or whether we are not currently making "' virtue of necessity' and submitting to the created circumstances with good grace.
"Design + Computation: The Virtue of the Virtual is an interdisciplinary conference aimed at responding to the changing meaning of the model in technology and society. It has become more important to begin a conversation that allows voices from disparate disciplines to critically assess the challenges to culture and design that advanced computation in the digital arena present. We hope to cultivate an exchange involving practitioners and academics working in the disciplines of architecture, landscape architecture, city planning, design, history of science, philosophy, and computer science. We expect these disciplines will lend themselves to a dynamic discussion on the status of the model and virtual modelmaking, although we welcome submissions from medicine, media theory, law and political philosophy, mathematics, space research and any other discipline."
99th ACSA Annual Meeting
March 3 to 6, 2011
The 99th Association of Collegiate Schools of Architecture (ACSA) Annual Meeting was held in Montreal on March 3 to 6, 2011, at the Hilton Bonaventure, co-hosted by McGill University and l'Université de Montréal. The conference co-chairs were Alberto Pérez-Gómez (McGill), Anne Cormier (U de M), and Annie Pedret (University of Illinois Chicago).
Theme Overview (from the conference webpage): "The New York Times architecture critic, Nicolai Ourousoff has described Toyo Ito's work as being the 'next step on the evolutionary chain,' calling out Ito's belief that to create a human architecture it 'must somehow embrace seemingly contradictory values.' Ourousoff suggests that 'instead of a self-contained utopia, [Ito] offers us multiple worlds, driving in and out of focus like a dream,' embraces ambiguity, is interested in the realm of the 'in between,' and 'forces us to look at the world through a wider lens.' Ito, like many architects who came to prominence in the past decade, aims to expand possibilities and, in doing so, to make room for a wider range of human experience.
"This demand for a wider agenda for modern architecture, introduced to the discipline in the 1950s and followed by Postmodernism's demands for greater diversity, has left the discipline open—wide open—perhaps too open. Free from the universalist, utopian confines of Modernism, and working in an intellectual context that embraces a more complex conception of contemporary reality, architects are now not only free, but required to interpret and, indeed, choose their position relative to this expanded field. With such choice comes the responsibility to ask: Where Do You Stand?
"The purpose of this conference is to provide a venue to articulate, develop, and question where you stand with respect to your thinking and doing in architecture."
To consult the conference webpage for full information and schedules, please visit the ACSA website.
Colloquium 2010
September 22 to 24, 2010
The first annual Fall Colloquium celebrating the design work and research of students (undergraduate and graduate) and faculty took place in the School from September 22 to 24, 2010. The event began with a reception on Wednesday the 22nd, and was accompanied by an exhibition that ran from September 20 to October 2. Reviews of the M2 final project proposals took place in the Exhibition Room on Thursday the 23rd and Friday the 24th. A panel discussion ended the colloquium: moderated by Michael Jemtrud, it included the two professors invited as critics, William W. Braham (University of Pennsylvania) and Donald Kunze (Penn State).
To read the abstracts of the M2 project proposals, please visit the Colloquium webpage.
Ice Hotel, Quebec City
Thursday, January 21, 2010
Two McGill student teams were chosen in the top three at this year's Ice Hotel competition at Sainte-Catherine-de-la-Jacques-Cartier outside Quebec City. A total of 26 teams from McGill, UQAM, U de M, and Laval competed in the Concours Architecture Éphémère to have their designs realized in snow and ice, and the top three teams had their rooms built. The two winning McGill projects were Ice Cubism (U2 students Jennifer Brière and Erin Weevers) and The Turning Chamber (U2 students Christina Chen and Nicole Chen).
The jury noted: "Cette année, nous avons reçu des projets qui dénotent non seulement la méthode intellectuelle, mais aussi le geste pur de la séduction, puisés dans l'instrumentalité architecturale. Nous sommes fiers de vous dévoiler ici trois projets qui se sont distingués du lot par leur ouverture et leur générosité."
Ice Hotel website.
Ice Hotel, Quebec City
Thursday, January 22, 2009
Third-year undergraduate student Erin Towsley had the design for her room - Un paysage se dissipant - built at the Ice Hotel in Sainte-Catherine-de-la-Jacques-Cartier outside Quebec City. A total of 38 teams from McGill, UQAM, U de M, and Laval competed in the Concours Architecture Éphémère to have their designs realized in snow and ice, and a total of three rooms were built.
Ice Hotel website.
Ice Hotel, Quebec City
Thursday, January 24, 2008
Two rooms designed by Architecture students at McGill have been built at the Ice Hotel in Sainte-Catherine-de-la-Jacques-Cartier outside Quebec City. Teams from McGill, UQAM, U de M, and Laval competed to have their designs realized in snow and ice, and a total of four rooms were built. Manuel Cisneros, a student in the first year of the professional Master's program, received one of the top three prizes. Second-year undergraduate students Hannah McDonald, Traian Dima, and Claudia Barra DeVincenzo received an honourable mention.
Ice Hotel website.
Solar Decathlon: Washington, DC
October 2007
The Solar Decathlon joined 20 college and university teams in a competition to design, build, and operate the most attractive and energy-efficient solar-powered house. Full details at the Solar Decathlon website.
Please visit the Team Montreal website.
In the overall standings, Team Montreal came in eighth. For full details, please visit the Solar Decathlon results webpage.
Follow construction and display of the Team Montreal house on the National Mall in Washington, DC:
More photos at U.S. Department of Energy Solar Decathlon website.
Reconciling Poetics and Ethics in Architecture Conference
September 13 to 15, 2007
The History and Theory of Architecture Program at the McGill University School of Architecture, in collaboration with the Canadian Centre for Architecture (CCA), organized an interdisciplinary conference held 13-15 September 2007 in Montréal, Canada. Highlights of the conference included presentations by Juhani Pallasmaa, Lily Chi, David Leatherbarrow, Marco Frascari, and Alberto Pérez-Gómez; an exhibition entitled 70 Architects at the Centre de design, Université du Québec à Montréal (UQAM); tours of exhibitions and facilities at the CCA and McGill; a reception co-sponsored by the Embassy of Finland; and a closing banquet in celebration of the 20th anniversary of the History and Theory of Architecture Program at McGill.
Conference website
Origami Pteranodon: Dr. Robert J. Lang
April 17 to 20, 2007
Dr. Robert J. Lang, one of the world's foremost scientific artists and a pioneer in computational origami will be in residence at the McGill School of Architecture from Tuesday 17 April through Friday 20 April (10:00 a.m. to 2:00 p.m.) to fold a 4.25m-square piece of paper specially made at Papeterie Saint-Armand into a life-size model of a Mesozoic flying reptile, complete with claws and talons.
Dr. Lang will deliver a lecture ("Flapping Birds to Space Telescopes") on Thursday 19 April at 7:00 p.m. in the Redpath Museum Auditorium. A limited edition of origami pteranodons folded (from 1m-square pieces of paper) and donated by Dr. Lang will be available by silent auction after the lecture.
Generous support for this project from The McGill Associates.
Robert Lang's website
New Yorker article (19 Feb. 2007) on Lang
Redpath Museum origami webpage
Watch this space for daily photographic updates on Robert Lang's creation of the origami pteranodon in the Exhibition Room of the McGill School of Architecture, beginning Tuesday 17 April.
All photos and video by School media technician Carrie Henzie.
Day 1: Tuesday 17 April 2007
Dr. Robert Lang trimming paper [.mov]
Folding the Origami Pteranodon day 1 (noon) [.mov]
Folding the Origami Pteranodon day 1 (pm) [.mov]
Day 2: Wednesday 18 April 2007
Folding the Origami Pteranodon day 2 (am) [.mov]
Folding the Origami Pteranodon day 2 (noon) [.mov]
Folding the Origami Pteranodon day 2 (pm) [.mov]
Day 3: Thursday 19 April 2007
Folding the Origami Pteranodon day 3 (am) [.mov]
Folding the Origami Pteranodon day 3 (noon) [.mov]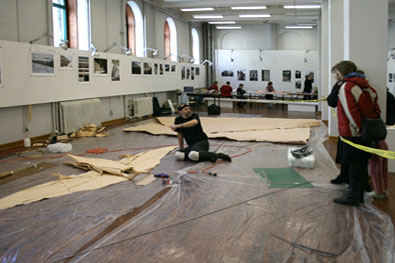 Folding the Origami Pteranodon day 3 (pm) [.mov]
Day 4: Friday 20 April 2007
Origami Pteranodon day 4 (am) [.mov]
Origami Pteranodon day 4 (noon) [.mov]
Origami Pteranodon day 4 (pm) [.mov]
Solar Decathlon: Team Montreal
Thursday, February 15, 2007
McGill School of Architecture students have joined other local design students to create Team Montreal, the only Canadian team among 20 competing in the Solar Decathlon, an international design competition. Partially funded by the US Department of Energy, the event has teams competing to build the most efficient solar dwelling. Team Montreal will begin building in late March near Peel and Notre Dame streets, and expects to be finished by mid-summer. In the fall, the team will dismantle the solar house and transport it to the National Mall in Washington, DC where they will compete against teams from the United States, Germany, Spain and Puerto Rico on the themes of efficiency, flexibility, adaptability and comfort. The McGill students and their teammates from Université de Montréal and École de Technologie Supérieure hosted a wine and cheese reception in the Exhibition Room of the School of Architecture on Thursday, February 15, 2007 to raise money and awareness for their efforts.
Team Montreal website
Solar Decathlon website
Ice Hotel, Quebec City
Thursday, January 25, 2007
For the second year in a row, the room designed by the McGill team has been chosen as best student-designed room at the Ice Hotel. The three built student designs (one from each of the Architecture schools in the province) had been chosen by a jury from amongst 21 submissions from the three universities. The winning McGill designers are Rami Abou Khalil and Lia Ruccolo, both students in the professional Master's program.
Ice Hotel website
CCA Charrette
October 26 to 30, 2006
Over the last decade several proposals have been made for the development of the "Peel Basin Site", a vast stretch of land surrounding a widening of the Lachine Canal (the "Peel Basin"), at the bottom of Peel Street. Most notable was a very colourful proposal by the joined forces of le Casino de Montreal and Le Cirque du Soleil for the southern part of the site. This proposal was withdrawn after very vocal opposition of community groups in the area. Currently it is rumoured that Wal-Mart is interested in the same site and that it is making plans to construct a mega mall/mega parking lot on the site.
The intent is that the talent participating in the 2006 CCA Charrette will come up with proposals that will make evident the unique qualities of the land surrounding the Peel Basin. The southern part of the site forms the tip of a proposed Green Crescent of sites surrounding the Pointe St. Charles-Sud Ouest area, linking the green shoreline of Verdun with the renovated Old Port area; it is hoped that this Charrette will play a role in promoting people-friendly uses not only for the Peel Basin, but for the whole Green Crescent as well.
This year the charrette is organized by the McGill School of Architecture (Prof. Pieter Sijpkes) and the Canadian Centre for Architecture (CCA) in collaboration with Université de Montréal, UQAM, Concordia, Laval and Ryerson University for students and recent graduates.
CCA charrette webpage for 2006.
BuildAid Shelter
April 1 to 3, 2006
In response to the devastation of recent tsunamis, hurricanes and earthquakes around the world, students at the McGill School of Architecture have created BuildAid, a group that will export post-disaster shelter expertise to disaster-ravaged areas. To highlight issues and challenges of post-disaster reconstruction, McGill students designed and built a post-disaster shelter prototype on the McGill campus, April 1 to 3. The structure serves as a living lab that will help improve the way shelters are currently built in disaster-stricken regions.
The students were presented with a scenario based on conditions following the recent earthquake in Kashmir. Their shelter had to be low cost but warm enough for an unforgiving mountain climate. The lack of materials, funds and resources in the region was central to the design and construction of the prototype.
BuildAid will be in Manila, Philippines, from the end of May to the end of July to help with the construction and renovation of slum dwellings.
McGill Newswire article
BuildAid blog
BuildAid website
All photos below by David Covo, from his office.
Private Jokes, Public Places
Friday, March 17 and Saturday, March 18, 2006
A play by Oren Safdie, presented as a fundraiser for BuildAid, a group of students committed to post-disaster reconstruction. Friday at 7:00 pm, Saturday at 2:00 and 7:00 pm. Evening performances followed by a reception with live jazz. In the Exhibition Room.
"Capturing the full character of architectural discourse, Private Jokes, Public Spaces offers a disturbing and humorous glimpse inside the contemporary world of architecture. Margaret, a young Korean-American student, presents her thesis for a public swimming pool to an all-male jury of famous architects. This simple premise is a jumping-off point for a facile examination of academia, intellectual pretension and the failure of postmodernist culture. The play asks compelling questions about the state of the male-female power struggle, fears of disrupting the status quo and ultimately the importance of challenging tradition." (back cover of script)
CACB Accreditation Visit
March 11 to 15, 2006
CACB accreditation webpage
School accreditation webpage
Ice Hotel, Quebec City
Thursday, January 26, 2006

Winning student design by McGill team
Ice Hotel website
McGill News article
Gerald Sheff Visiting Professorship in Architecture
Reception, September 27, 2005
Professor Heather Munroe-Blum, Principal and Vice-Chancellor of McGill University, and Professor David Covo, Director of the School of Architecture, hosted a reception on Tuesday, September 27, 2005, in the Exhibition Room of the School to celebrate the creation of the Gerald Sheff Visiting Professorship in Architecture. This new academic position was made possible by a gift of one million dollars to the School by Mr. Gerald Sheff, B.Arch. 1964. The endowment will fund a new faculty position focussed on stimulating innovation and professional excellence through teaching, public speaking and research. Sheff's firm, Gluskin Sheff and Associates, is a current supporter of the School, having funded the Gluskin Sheff Travelling Scholarships in Architecture.
For press release, please click here.
Extreme Research - Winter Edition
Tuesday, February 15, 2005
Organized by the Office of the Vice-Principal (Research), and held in the Exhibition Room, Extreme Research - Winter Edition showcased McGill's research on predicting, understanding and planning for winter weather and northern conditions. The event was hosted by Prof. Jacques Hurtubise, Acting V-P (Research). Speakers included:
Prof. Pieter Sijpkes (Architecture): Previous snow structures at McGill
Prof. Wayne Pollard (Geography): Water and ice in the High Arctic and Antarctic
Prof. Saeed Mirza (Civil Engineering): Effect of weather on roads and bridges
Prof. Ron Stewart (Atmospheric and Oceanic Sciences): Winter storms
Prof. Lyle White (Natural Resource Sciences): Micro-organisms that clean up the northern environment
Prof. Harriet Kuhnlein (Centre for Indigenous Peoples' Nutrition and Environment): Diet and northern environment
Dr. Hani Iskandar (Douglas Hospital): Seasonal affective disorder
Prof. Jorge Angeles (Centre for Intelligent Machines): Designing for extreme environments
Simon Ouellette (Engineering graduate student): Electric snowmobile
Ice Hotel, Quebec City
Wednesday, January 19, 2005

Three rooms designed by McGill student teams
Ice Hotel website
The Peel Street Corridor: Imagining New Ways to Link the Mountain and the River
Saturday design charrette in conjunction with the conference Challenging Cities in Canada
Saturday, February 14, 2004, McGill University
8:30 am to 12:30 pm
Macdonald-Harrington Building, Rooms 101 & 102
Organized by the City of Montreal and McGill's Schools of Architecture and Urban Planning. One of two hands-on design workshops that examine two current Montreal urban design issues: the Peel Street Corridor (held at McGill) and the Quartier des Spectacles (held at UQAM).
Animators
Aurèle Cardinal, FRAIC, Architect and Urban Planner
David Brown, Director, McGill School of Urban Planning
David Covo, Director, McGill School of Architecture
Bryan Bowen, Graduate Student, McGill School of Urban Planning
Architecture for a Common Cause: John Bland and the New Canadian Tradition
A Symposium and Exhibition on the Legacy of John Bland
Saturday, October 18, 2003, McGill University
Coordinated by David Covo, Derek Drummond, Julia Gersovitz, and Irena Murray.
Morning session
(9:00 a.m. till noon at the John Bland Canadian Architecture Collection in the Redpath Library Building)
Presentations by Witold Rybczynski, Kelly Crossman, Anne-Marie Broudehoux, and Julia Gersovitz.
Launch of publications on John Bland, Norbert Schoenauer, and John Schreiber. Presented by Irena Murray.
Lunch
(Noon till 2:00 p.m. in the Exhibition Room on the first floor of the School of Architecture)
Afternoon session
(2:00 to 3:30 p.m. in Room G10 of the School of Architecture)
Presentations by Moshe Safdie, Bruce Lorimer, and Harry Mayerovitch.


International Network for the History of Hospitals: 3rd International Conference
Form + Function: The Hospital
June 19-21, 2003, McGill University
Chaired by Dr. Annmarie Adams, School of Architecture, McGill University, and Dr. Keir Waddington, School of History and Archaeology, Cardiff University.
View the final report [.pdf] of the conference.
2002 ACSA Northeast Regional Meeting
October 4-6, 2002, McGill University
View the poster [.pdf].
Click below to read the conference proceedings:
Table of Contents, Foreword, and Session 1: Cultural Traditions and Modernity [.pdf]
Session 2: Modernism and Design Education [.pdf]
Session 3: Modernism and Research [.pdf]
Session 4: International Modern [.pdf]
Session 5: Modern Vernacular [.pdf]
Session 6: Persistent Modernisms (Part I) [.pdf]
Session 7: Persistent Modernisms (Part II) [.pdf]
Why does modernism refuse to die?
In choosing the theme for the ACSA Northeast Regional Conference, my colleagues from McGill and I considered a number of ideas. Most felt that the notion that modernism - as a theory, practice or act related to the present - should be dying or was already dead was timely, challenging and worthy of academic debate, particularly since many schools of architecture remain allied with modernist teaching. Museums and opinion-makers are busy promoting arch-modernist projects; from Siam to Sweden, Canada to China modernism is thriving.
We also realized that we were very late in getting started for this conference. Our announcement could be included only in the last issue of the ACSA Newsletter, so the call for papers went out in April 2002. With the end of the academic year and the intervening summer break rapidly approaching, the concern was that we might not get a reasonable response. My hope was that scholars from other schools would react as positively to this theme as my colleagues from McGill had. And indeed the response was great. For this conference we received more than 60 abstracts, many of them from outside the region; they were peer-reviewed and 39 were chosen to submit full papers, of which 33 are included in the proceedings.
For historians, modern signifies of or relating to the period of history after the Middle Ages, from c. 1450 A.D. to the present. Architecturally, however, it could be argued that the rule of the moderns began in the early 1900s and that the movement itself started to decline during the last quarter of the 20th century. Schools of architecture - the birthplace of post-modernism - played an instrumental role in challenging the hegemony of modernism. But as Mark Twain would have put it, "the reports of modernism's death are greatly exaggerated." The remarkable persistence of modernism is worthy of serious debate, and the conference papers, organized in six categories, make a fine contribution to this discourse.
Cultural Traditions and Modernity: The finest examples of modernist design, although trans-cultural, are found in projects that respond to local and cultural traditions. The first selection of papers in the proceedings explore how and where modernism has successfully transcended its roots.
Modernism and Design Education: Why in the age of digital media, is studio- and workshop-based design education, championed by the founders of Bauhaus, still with us? This and several other issues such as what modernism did and can contribute to contemporary architectural education are debated in the second part of the proceedings.
Modernism and Research: The modernist faith in the idea of progress and change guided architectural research for a long time; papers included in this section of the proceedings recognize the limits of this conviction while searching for other avenues for new answers.
International Modern: One no longer differentiates between East and West, North and South in the international order of communication and commerce. Is international contemporary architecture a victim or a vehicle for this condition? It is interesting to note that a number of presenters whose papers are included in this section suggest that while serving dotcoms and global economic forces, good international architecture could and should stand its own ground.
Modern Vernacular: The remarkable acceptance of the language of modernism in popular architecture is analyzed by a number of our contributors and forms part of section five.
Persistent Modernisms: Depth, vigour and common sense are the forces behind the success of modernism, and the critiques of several scholars form the final section of these proceedings.
The valuable support of a number of institutions and the hard work and help of friends and colleagues has made this event possible, and I would like to take this opportunity to acknowledge their contribution. Architect Bing Thom, in spite of his busy practice and international travel schedule, kindly accepted the invitation to be the keynote speaker for the conference; thank you, Bing. I am truly grateful to the following people and institutions. The ACSA's Michelle Rinehart, Senior Project Manager, and Judith Bing, ACSA Northeast Director, for their help and guidance in organizing this event. The Canadian Centre for Architecture (CCA) for receiving the delegates of the ACSA Northeast Regional Meeting; in particular, Nancy Dunton, Head, University and Professional Programs, for arranging the tour of the CCA. The John Bland Canadian Architecture Collection of McGill University Libraries for arranging the display of early Modernists' work, and in particular Irena Murray, Chief Curator, Rare Books and Special Collections Division, and Julie Korman, Assistant Curator, for organizing a tour of the premises and for allowing us to have lunch there. The members of the Executive of the McGill Architecture Students Association (ASA), especially Diana Biggs, VP Communications, for getting the word out to the students to participate in this conference. As always, walking a tight timeline, David Morin, Architect, who helped us with the publicity material for this conference and with the design and publication of the proceedings. Professors Radoslav Zuk, Bruce Anderson, Alberto Pérez-Gómez, Ricardo Castro, Pieter Sijpkes, Annmarie Adams, and Robert Mellin who served as the moderators of the conference; they and Professor Adrian Sheppard also helped me with the planning and organization of this meeting, and I owe them special thanks. Professor David Covo, Director of the School of Architecture, for his support and for overseeing everything. I would also like to thank student helpers: Nicholas Hanna and Louise Koo, for audio-visual assistance; and Lisa Landrum, for help with registration and the packages handed out to the participants. Last but not least, I would like to acknowledge the outstanding support of David Krawitz, administrative coordinator of the School, who worked closely with me in organizing this event.
Vikram Bhatt, Chair
Professor of Architecture