More info on pdf
affiche_pain_depices_2023.pdf
Prix Paysages
La Fondation Histoire Québec lance un appel à candidatures pour les deux volets du prix d'excellence « Paysages du mouvement / Paysages en mouvement », d'un montant de 750$.
Nous vous invitons à faire part à vos étudiantes et étudiants  de cette opportunité de faire reconnaître leurs recherches en posant leur candidature au volet Recherche du prix Paysages du/en mouvement :
Vous avez déposé un mémoire ou une thèse portant sur l'histoire des paysages, des patrimoines naturels et urbains, et l'évolution des déplacements? Vous êtes éligible à l'édition 2024 du volet Recherche Académique du prix Paysages de la Fondation Histoire Québec. Vous pouvez soumettre votre candidature jusqu'au 31 janvier.
Pour plus d'informations et soumettre votre candidature visitez le site web de la Fédération Histoire Québec
Download info pdf file here:
https://www.rdno.ca/sites/default/files/2023-02/230130_Terms_of_Referenc...
---
Kaira Looro Architecture Competition is a design contest open to students and young architects with aims to discover new talents and to adopt sustainable architecture models for humanitarian purpose to improve life conditions in developing countries. Cash prizes, Internship and construction are provided for winners, selected by an international jury made up of pregistous architectural firms.
The challenge of 20232's edition is to design a 'Primary School' in Southern of Senegal. We are looking for a new school model that can protect and foster the development of every child's potential!.
More info here: https://www.kairalooro.com/
---
Entry closes 31st January 2023 (23.59 GMT)

 

The Drawing of the Year 2022 by Archisource is the annual, international, free to enter and open to all drawing competition celebrating the most accomplished imagery and extensive variety of drawings created around the world. The competition has $35,000 USD worth of prizes with significant international publication, five award categories and numerous commendation awards to be won. This year ALL entries will receive Affinity V2 Universal Licence for FREE!

 

The competition showcases the diverse varieties, types, styles and functions of imagery created each year. Submissions are open to all disciplines and can be created in any medium or style, however they must convey: architecture, design or the built environment.

 

This year's competition is in partnership with Affinity, the award-winning graphic design, image editing and page layout software used by architects around the world. Affinity is providing all entries with a free Affinity V2 Universal Licence worth $169.99 USD (£144.99 GBP) which includes Affinity Designer 2, Affinity Photo 2 and Affinity Publisher 2 for Mac, iPad and Windows PC.

 

The widely recognised aspirational awards series celebrates works across the following award categories: the Drawing of the Year Award, Architectural Award in partnership with Bentley's MicroStation, Environmental Award, Narrative Award and the Visualisation Award.

 

Archisource welcomes creatives from all backgrounds and drawings of all types. Whether it be hand-drawn or painted, rendered or collaged, detailed linework or diagrammatic - the judging panel wants to see your creations. Archisource truly believes in the power of drawings and the Drawing of the Year recognises, celebrates and gives a platform to the very best talents across the world.

 

The mission and purpose of Archisource is to support and unite the creative community at all skill levels, and Archisource is very proud to bring you the biggest and most inclusive competition of its kind. This is a great opportunity to win an incredible array of prizes and also receive fantastic awareness and international exposure of your standout works to the wider architecture and design industries.




We hope to see your work amongst the entries this year and we really look forward to judging your submissions!
 More information here:
---
THE CALL FOR SUBMISSIONS IS OPEN!

SHARE YOUR FINDINGS
WITH OUR GLOBAL COMMUNITY
 
Ecocity 2023 is looking for research or projects that support our Summit theme of 'Connecting Communities'. We are calling upon our network to uncover urban solutions that explore innovative collaborative practices. 

Any type of individual or organisation is welcome to submit a proposal. We are open to receiving a variety of scales and typologies and have a separate submission process for academic and general proposals. Be sure to highlight the factors that make your project unique in its approach or outcome.
More information here: https://ecocity-summit.com/
---
Skidmore, Owings & Merrill (SOM) is pleased to announce that the application for our 2023 Winter Shadowship program is now open!
This week-long program is hosted by our Employee Resource Groups (Arquitectos, Asian Alliance, NOMA, Pride and Women's Initiative) and offers selected candidates an immersive professional experience, along with mentorship and guidance to students of all backgrounds. The program is open to applicants who are planning to pursue careers in architecture, engineering, urban planning, graphic design, or interior design, and who share a passion for advancing equity, diversity, and inclusion in the AEC industry.
This program will take place January 9-13, 2023 and will be held in-person in our Chicago, London, Los Angeles, New York, San Francisco, Seattle, and Washington DC studios.
Applicants must be currently enrolled in an undergraduate or graduate program.  Applications must be received by 11:59 p.m. EST on Monday, October 31st. Further details and requirements can be found at som.com/about/careers or the direct application link here.
---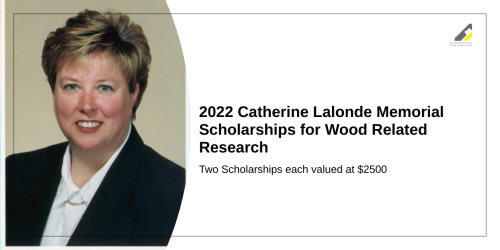 The Catherine Lalonde Memorial Scholarship is presented to graduate students, enrolled in a Canadian University, who demonstrate excellence in their studies of structural wood or wood design. The Canadian Wood Council (CWC) invites submissions from graduate students in engineering, architecture, wood science and forestry. The projects submitted must demonstrate the direct benefit of structural products manufactured by the Canadian wood products industry.
CWC will be granting two scholarships to graduate students whose wood research transcends the same level of passion that Catherine Lalonde championed relentlessly for the wood/wood products industry as a professional engineer and president of the CWC.
Catherine, a professional engineer, was a passionate representative of our industry who relentlessly championed the use of wood in residential and commercial construction. She was president of the CWC from 2000 to 2003, when sadly she lost her battle with cancer. This award was created to honour Catherine's memory and to perpetuate the legacy she left to the Canadian wood products industry through her 10 years of work at CWC.
Who can apply?
Students enrolled in engineering, architecture, forestry, or a wood science graduate program that contributes to the advancement of wood products in construction.
Scholarship Value
Two scholarships each valued at $2,500.

The deadline to submit is November 1, 2022

Click here to view a PDF of the application process

For additional information, please contact Ioana Lazea at ilazea [at] cwc.ca or 613-747-5544 ext.227.                                                           
---
7th year of the INSPIRELI AWARDS competition



Further information on this competition can be found at the link below.

https://www.inspireli.com/en/awards/
 
---
Now in its fourth year, the "One Drawing Challenge" is an architectural drawing competition asks a simple question – can you tell a powerful story about architecture with a single image? Architizer is seeking talented students, designers and creatives to participate, and those at McGill School of Architecture would be well-suited given their expertise and eye for design!

Competition details, including the brief, timeline and the link to submit, can be found here.

All Universities and Institutions whose students and/or members place among the 100 finalists will be named and linked to within our Special Finalists Announcement, and there is also a guaranteed Top Prize for Best Student. You can see last year's Winers and Commended Entrants celebrated in this article. University College London celebrated multiple winners and commended entrants last season — coverage here.
---
The Architectural Review is seeking submissions from students to be published in the AR November 2022 issue.
 
Following on from the Letters to a young architect issue in 2020, the AR is turning the tables and inviting students to write a letter to their older selves, asking where they hope they will be, what they hope they achieve, and how they hope their world has changed.
We wanted to let you know that we will be extending the deadline for submissions until Friday 30 September.
Submission is open to students of architecture and related subjects such as urban and landscape design, who are either currently studying or graduated in 2022. Letters do not need to be limited to words, and can be written or drawn. Submissions selected for publication will receive an honorarium of £200 and a complimentary subscription to the AR.

The link to find out more and to send submissions is: architectural-review.com/letters
---
2022-2023 PRECAST CONCRETE STUDENT DESIGN COMPETITION
More information here:
cpci_2023_wellness_bench_student_competition.pdf
Registraion form:
cpci_design_competition_-_fillable_reg_form.pdf
---
TimberFever Design-Build Competition 
September 15th - 18th, 2022

APPLICATION DEADLINE: June 21st, 2022