Alumni News 
AHCS graduates enact changes within the academy and far beyond it. If you are an alum of the Department and would like to share news about your work, please contact caitlin.loney [at] mcgill.ca (Caitlin Loney).
 
---
Cheryl Thompson
July 27, 2018
In 2018, Dr. Cheryl Thompson joined the School of Creative Industries as Assistant Professor, Faculty of Communication & Design at Ryerson University. She earned her PhD in Communication Studies at McGill under the co-supervision of Dr. Will Straw and Dr. Charmaine Nelson. Her first book, Beauty in a Box: Detangling the Roots of Canada's Black Beauty Culture will be published with Wilfrid Laurier Press in March 2019. Based on her dissertation research, this book is one of the first transnational, feminist studies of Canada's black beauty culture and the role that media, retail, and consumers have played in its development. 
Prior to her position at Ryerson, Cheryl was a Banting Postdoctoral Fellow (2016-2018) in the Centre for Drama, Theatre and Performance Studies at the University of Toronto and the Dept. of English and Drama at the University of Toronto Mississauga. Her project aimed to elucidate the system of meaning in blackface minstrelsy's theatrical playbills, portraits, photographs, illustrations, and visual ephemera outside the traditional theatre in the spaces and places of nation-building during Canada's modern period, 1890s to 1950s. Cheryl's essays have appeared in The Ward Uncovered: The Archaeology of Everyday Life (2018), Emergent Feminisms: Challenging a Post-Feminist Media Culture (2018), the Journal of Canadian Studies, Canadian Journal of History Annales canadiennes d'histoire (CJH/ACH), and Feminist Media Studies. In 2017, Cheryl also gave a TEDx Talk, titled "Why Positive Thinking is Not Enough." 
---
Leah Clark
June 21, 2018
Art History graduate Leah Clark's new book Collecting Art in the Italian Renaissance Court: Objects and Exchanges will be out on June 28th with Cambridge. In this book, Clark examines collecting practices across the Italian Renaissance courts, exploring the circulation, exchange, collection, and display of objects. Rather than focusing on patronage strategies or the political power of individual collectors, she uses the objects themselves to elucidate the dynamic relationships formed through their exchange. The book is based on her PhD thesis "Value and symbolic practices: objects, exchanges, and associations in the Italian courts (1450-1500)", which was written under the supervision of Bronwen Wilson and Angela Vanhaelen and won both the McGill K.B. Jenckes and McGill Faculty of Arts Insights Dissertation Awards. Leah Clark currently teaches Art History at The Open University. 
 
---
Kat Borlongan
May 25, 2018
Credit: La TribuneCommunication Studies graduate Kat Borlongan has been appointed as new director of Mission French Tech. Kat completed her MA in 2011 with the thesis "Frontline: NGOs and the Changing Nature of News Witnessing in Disaster and Conflict Zones", written under the supervision of Prof. Becky Lentz.

Read the article in La Tribune. 
---
Sonia Del Re
October 12, 2017
Sonia Del Re is Senior Curator of Prints and Drawings at the National Gallery of Canada, Ottawa. She holds a Bachelor's degree from the Faculty of Arts at McGill University (2003), a Master's of Museology from the Université de Montréal (2005), and a Ph.D. in Art History from McGill University (2014). Written under the supervision of Prof. Angela Vanhaelen and Prof. Bronwen Wilson (now at UCLA), her doctoral dissertation focused on half-length single-figured paintings by the Utrecht Caravaggists and little-known prints of the 1620s after these. Sonia joined the curatorial team of the National Gallery in 2006 as Curatorial Assistant.
She is now responsible for the care, growth, display, interpretation, and publication of a collection of about 25,000 works on paper created on three continents over the span of six centuries, providing her with an extraordinary range of periods, schools, styles, techniques and materials to study. Sonia, who was elected to the Print Council of America in 2016, has developed Canada's national collection through the acquisition of drawings by Giacomo Balla, Vincenzo Camuccini, Camille Corot, M.C. Escher, Théodore Géricault, Anne-Louis Girodet, Laurent de La Hyre, Charles Le Brun, Christoph Heinrich Kniep, George Frederic Watts, Johan Wierix, and Claude François, the first professional artist to have come from Europe to paint in Canada, in 1670. Her recent contributions to the collection of prints include celebrated etchings by Rembrandt, and large groups of sheets by engraver Claude Mellan and etcher Jean-Jacques de Boissieu.
Sonia has curated multiple exhibitions showcasing the national collection that have traveled across the country: Beautiful Monsters: Beasts and Fantastic Creatures in Early European Prints; Storms and Bright Skies: Three Centuries of Dutch Landscapes; The Noble Art of the Carracci and Their School; Chagall's Daphnis & Chloé; M. C. Escher: The Mathemagician (as Coordinating Curator); and Picasso: Man and Beast. The Vollard Suite of Prints. Based on an important gift of British 19th-century drawings, her exhibition Beauty's Awakening: Drawings by the Pre-Raphaelites and Their Contemporaries from the Lanigan Collection, for which she edited the catalogue, travelled across the Atlantic to Leighton House Museum in London, England. Her forthcoming project, Vittoria, Veronese and Tiepolo: Masters of Venetian Portraiture, draws on the collections of the Metropolitan Museum of Art, among others.
---
Christina Smylitopoulos
June 19, 2017
​Dr. Christina Smylitopoulos is Associate Professor of Art History in the School of Fine Art and Music at the University of Guelph. She earned her PhD in AHCS under the supervision of Dr. Richard Taws (UCL) in 2011. Winner of the Arts Insight Dissertation Award, Christina's dissertation considered eighteenth-century British graphic satire and the British colonial project in India. She is currently working on a book about the publisher, print and book seller Thomas Tegg's early nineteenth-century intervention in British graphic satire. Tegg was a major patron and producer of British graphic satire, yet his commercial interest in the genre has prevented him from being considered a serious figure in book and art history. He was pejoratively dubbed a "pioneer" of publishing because his motivation in the trade was in selling books and not in "the encouragement of authors" (The Times, 1848). Christina's book will reposition his work, currently characterized as cheap products from an opportunistic publisher, to what closer study reveals them to be: collaborative multimedia objects of critical art intended for a new audience, with a surprising reach of influence.
Prior to her position at Guelph, Christina was a Postdoctoral Research Associate at the Yale Center for British Art, a Social Science and Humanities Research Council of Canada Doctoral Fellow and a Paul Mellon Centre for Studies in British Art Junior Fellow. She has received research grants from, among others, the Huntington Library, the Swann Foundation for Caricature and Cartoon (Library of Congress), and the Houghton Library at Harvard University. Her essays have appeared in Revue d'art canadienne/Canadian Art Review (RACAR); The British Art Journal, Eighteenth-Century Life, and Word and Image in the Long Eighteenth Century: An Interdisciplinary Dialogue; she has reviewed for Oxford Art Journal, RACAR, The Historian, and caa.reviews. Christina has an essay in L. Hannan and P.J. Corfield (eds), Hats Off, Gentlemen: The Changing Arts of Communication in the Eighteenth Century (edited collection forthcoming with Les Éditions Honoré Champion, 2016) and an edited collection Agents of Space: Eighteenth-Century Art, Architecture, and Visual Culture (forthcoming with CSP, 2016). An award winning teacher (College of Arts; Teaching Excellence Award, 2014-2015), Christina delivers graduate and undergraduate courses on art and architecture of the long eighteenth century (1680s-1830s) and art historiography. 
---
Danielle Shapiro
June 2, 2017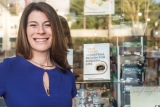 Danielle Shapiro is the author of John Vassos: Industrial Design for Modern Life (Minnesota, 2016). The book centers on John Vassos (1898-1985), a Greek American artist and pioneering industrial designer who specialized in designing forms for media technologies which had no prior shape. More than a half century before the touch screen, Vassos enthused over the tactile experience of using a radio and a television. His drawings of hands touching knobs and his writings on the radio dial reveal his focus on the intuition of how we communicate with our machines. Vassos understood that the act of radio listening engaged a broad ensemble of senses. Based on her dissertation in Communication Studies written under the supervision of Prof. Will Straw, Danielle's book explores the broader relationship between Vassos's work and American culture. By historicizing the birth of the media he designed, the book stimulates thinking about how media devices have entered as much the home as the broadcast studio. Danielle will be speaking at the New York Public Library about her book on June 14 at 6pm.
Since completing her PhD in AHCS in 2005, Danielle has held a teaching fellowship at Harvard University, a Fulbright Award, postdoctoral fellowships at the Archives of American Art and the Smithsonian American Art Museum, and at the Wolfsonian Museum. From 2008 to 2014, she was a Senior Program Officer at the National Endowment for the Humanities where she oversaw grant projects for museum exhibitions and documentary films with strong humanities scholarship. She was a curatorial assistant at the Cooper-Hewitt Smithsonian National Museum of Design, which spawned her career long interest in industrial design. Among other venues, her work has appeared in Design Issues, the Archives of American Art Journal, the Encyclopedia of 20th Century Photography, and the Encyclopedia of Documentary Film. She is particularly excited about a new project of an exhibit of John Vassos's work, possibly at a Smithsonian Museum. 
---
Gretchen King
June 30, 2015
 This fall, Gretchen King will begin a post-doctoral fellowship with Dr. Geneviève A. Bonin at Université d'Ottawa, sponsored by the Fonds de recherche du Québec - Société et culture (FRQSC). Under the supervision of Prof. Becky Lentz, Gretchen has written a dissertation entitled "The radical pedagogy of community radio: the case of Radio al-Balad 92.4 FM, community media audiences and political change in Jordan."

Evolved from her PhD thesis, Gretchen's post-doctoral project is "Listening to community radio audiences: assessing the impact of community broadcasting and cultivating the sustainability of local news in Canada." The project foregrounds the significant role that Canada has played since the 1920s in the community broadcasting sector. Described as the birthplace of community radio, Canada now boasts some two hundred community radio stations operating as participatory, non-profit media institutions providing access to radio. While an influential report commissioned by Heritage Canada in 2007 stressed the significant role played by community radio in expressing dissenting views, providing opportunities for community participation in content-production and other public goods, that report also neglected the inclusion of audience perspectives or any rigorous assessment of impact—a serious lacuna.
Gretchen's post-doctoral research will prioritize the perspectives of listeners, whose experiences are vital to ascertaining how effective community radio stations have been in producing community news programming and thus fulfilling its official mandate of "meeting the needs and interests of the communities served." Aimed at audiences both within and far beyond the academy, the project will provide the first in-depth, qualitative data on the impact of community radio on civic engagement in Canada by analyzing personal narratives contributed by audiences, interviews facilitated among community radio news producers, and completed station surveys. Second, Gretchen will generate DIY-type audience research tools and listener engagement recommendations through which community radio stations can be more accountable to listeners and funders. Third, the project will yield a sustainable framework and best practices for cultivating accessible and inclusive community radio news programming based on the experiences of listeners, producers, and station staff. Finally, Gretchen will submit her research on the impact community radio on civic participation in Canada for publication in academic journals including the Canadian Journal of Communication and Global Media and Communication.