Save the date!
 The School of Physical and Occupational Therapy at McGill University is proudly hosting our 2nd National Knowledge Translation Conference in Rehabilitation on April 19 & 20, 2018 in Montreal, Quebec. This conference is relevant for researchers, professional and graduate students, health care professionals, clinical managers/administrators, and decision-makers interested in knowledge translation.
Call for abstracts will be sent in November 2017.
For more information on this event, please contact:
Anita Menon and Diana Zidarov (Project Directors- Edith Strauss Rehabilitation Research Projects) at straussresearch.spot [at] mcgill.ca
__________________________________________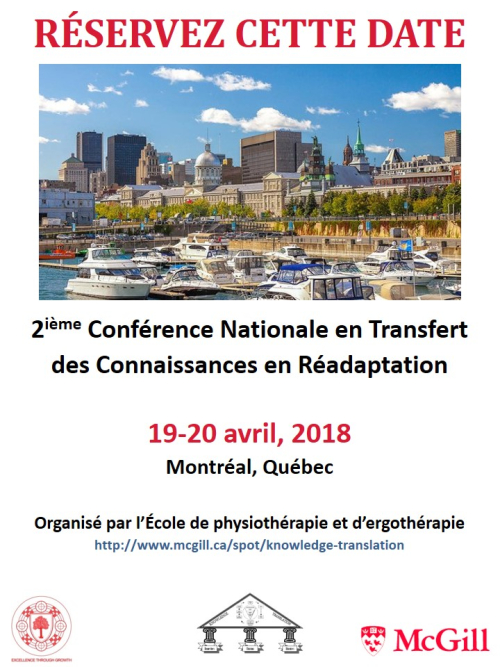 Réservez cette date!
 L'École de physiothérapie et d'ergothérapie de l'université McGill est fière d'accueillir le deuxième congrès national de transfert des connaissances en réadaptation qui se tiendra les 19 et 20 avril 2018 prochains à Montréal, Québec.  Ce congrès s'adresse à tous les chercheurs, étudiants de cycles supérieurs, stagiaires post-doctoraux, professionnels de la santé et décideurs intéressés par le transfert des connaissances.
L'appel d'abrégés sera distribué en novembre 2017.
Pour plus d'informations sur cet événement contactez:
Anita Menon et Diana Zidarov (Co-directrices des Projets de recherche en réadaptation Edith Strauss) à straussresearch.spot [at] mcgill.ca
---
Learning about Knowledge Translation in Rehabilitation

Educational events and conferences are hosted by the School of Physical and Occupational Therapy (SPOT) on an annual basis to give clinicians, researchers, other medical professionals, and students the opportunity to learn more about knowledge translation in rehabilitation and discuss the topic with other individuals in their field.
To learn more about the events that have been organized in the past years, please visit the following pages:
National KT Conference 2016
Interactive Day 2015
Interactive Day 2014
Interactive Day 2013
Interactive Day 2012
Interactive Day 2011
Interactive Day 2010