Upcoming Important Dates
JOIN US IN MONTREAL on May 4 & 5, 2016!
Knowing, Sharing, Doing: 1st National Knowledge Translation Conference in Rehabilitation
The School of Physical and Occupational Therapy is proudly hosting our 1st National Knowledge Translation Conference in Rehabilitation on May 4 & 5, 2016 in Montreal, Quebec.
VENUE: La Plaza- Holiday Inn, 420 Rue Sherbrooke O, Montréal, QC H3A 1B4
Conference goals: 
To enhance participants' capacity in knowledge translation (KT) and KT research in rehabilitation
To create networking opportunities and new collaborations for researchers, professional and graduate students, health care professionals, clinical managers/administrators, and decision-makers interested in KT
The conference will include seminars, plenary sessions, oral/poster presentations and an interactive KT café.
#mcgillspot  is the official hashtag for McGill University School of Physical & Occupational Therapy (SPOT). We encourage you to join the conversation and share the evidence!
Registration Fees:
Students/Clinicians: $75
Researchers/Professors/Administrators/Managers/Decision-makers: $150
Travel/accommodation arrangements will be left to the discretion of conference registrants
** Now accepting registration fees by VISA, MASTERCARD, AMEX **
FOR THE CONFERENCE PROGRAM: Day 1  Day 2
OUR 2016 KEYNOTE SPEAKERS: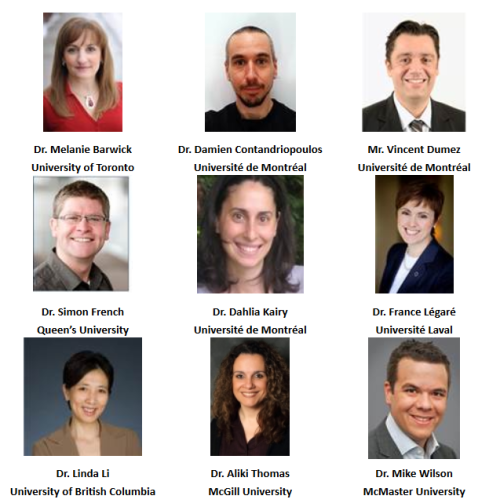 Questions?
If you have any questions, please contact Anita Menon and Diana Zidarov at straussresearch [dot] spot [at] mcgill [dot] ca.
__________________________________________
JOIGNEZ-NOUS À MONTRÉAL les 4 et 5 mai 2016!
Connaître, Partager, Accomplir: 1ère Conférence Nationale en Transfert des Connaissances en Réadaptation
L'École de physiothérapie et d'ergothérapie de l'université McGill est fière d'accueillir le premier congrès national de transfert des connaissances en réadaptation qui se tiendra les 4 et 5 mai prochains à Montréal, Québec, 2016.
VENUE: La Plaza- Holiday Inn, 420 Rue Sherbrooke O, Montréal, QC H3A 1B4
Objectifs de la conférence:
Renforcer la capacité des participants en transfert des connaissances (TC) et à la recherche liée au TC en réadaptation
Créer des occasions de réseautage et de nouvelles collaborations entre les chercheurs , les étudiants, les professionnels de la santé, les gestionnaires cliniques / administrateurs et décideurs intéressés par le TC
La conférence comprendra des séminaires, des sessions plénières , des présentations orales / par affiches et un  Café scientifique intéractif en TC.
 
Frais d'inscription:

Étudiants/Cliniciens: $75
Chercheurs/Professeurs/Gestionnaires/Décideurs: $150
 L'organisation du voyage/hébergement sera laissée à la discrétion des participants du congrès
** Maintenant nous acceptons les frais d'inscriptions par VISA, MASTERCARD, AMEX **
POUR LE PROGRAMME DE LA CONFÉRENCE: 1er Jour  2ème Jour
NOS CONFÉRENCIERS DE 2016: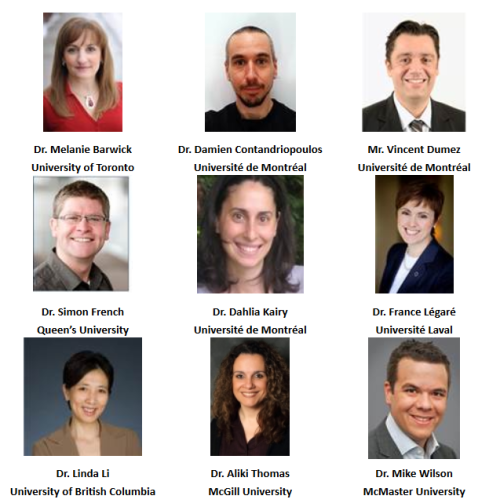 Questions?
Si vous avez des questions, veuillez communiquer avec Anita Menon et Diana Zidarov à straussresearch [dot] spot [at] mcgill [dot] ca.
---
KNOWLEDGE TRANSLATION
"Knowledge translation is a dynamic and iterative process that includes synthesis, dissemination, exchange and ethically sound application of knowledge to improve the health of Canadians, provide more effective health services and products and strengthen the health care system."
Source: Canadian Institutes for Health Research (CIHR), 'About Knowledge Translation'.
Available at: http://www.cihr-irsc.gc.ca/e/29418.html.
---
- Excellence Through Growth -