Upcoming events
---
Lecture | Foodways & fisticuffs: the larger than life personalities who shaped Quebec cuisine with Julian Armstrong & Nathalie Cooke
Wednesday, October 4th, 5:30 to 7:30pm
Colgate Seminar Room, Rare Books and Special Collections, 4th floor, 3459 McTavish Street, Montreal, QC, H3A 0C9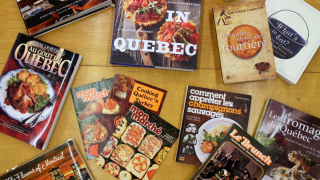 ​From world-class restaurants to popular and affordable foodstuffs, food has been an iconic part of Quebec identity across and through cultural, religious and linguistic shifts. Montreal Gazette food writer Julian Armstrong and culinary historian Nathalie Cooke will talk about a toolkit for cooking with historical recipes and explore how French Canadian passion and iconic personalities have shaped Quebec's distinctive culinary traditions. Why did tourtière and pouding chômeur spark impassioned brawls? How did Joe Beef's social advocacy support the working-class community in 19th century? Why have bagels and smoked meats become de facto Montreal food icons? Why do our latest food trends remind us of bygone days?
Please RSVP by clicking here or calling 514-398-5711.
---
Julian Armstrong
Julian Armstrong has been reporting on food for newspapers for the better part of five decades and has covered everything from gastronomy and food prices to nutrition and food safety. She was food editor of the Montreal Star and then of the Montreal Gazette, for whom she now writes three weekly columns: Best Buys, about the best seasonal produce to be found at fruit and vegetable counters; Table Talk, about events in the local food world, and Six O'Clock Solution, which provides a quick and simple dinner recipe from a new cookbook.
But Julian is happiest writing about Quebec cuisine, where the latest developments in food and drink and centuries-old culinary traditions co-exist in harmony in a province in which residents carry on an enduring love affair with food that is perhaps unique in the world.
She is the author of Made In Quebec: A Culinary Journey (HarperCollins, 2014) and A Taste of Quebec (Macmillan, 1990, updated in 2001). She has helped to choose winners of national cookbook contests in Canada and the United States. The International Association of Culinary Professionals appointed her honorary writer-in-residence at its 2003 conference in Montreal. She is a founding member of the Association of Food Journalists and of the Cuisine Canada culinary alliance (now known as Taste Canada) and she has judged countless chefs' contests. Most recently she was a judge at the Gold Medal Plates competition, which raises money for Canada's Olympic athletes.
Nathalie Cooke
A noted writer, researcher and educator at McGill, Nathalie Cooke is currently a professor of English, affiliate member of the History Department and fellow of the Institute for the Public Life of Art and Ideas. Previously, she served as Associate Provost (2010-2013) and Associate Dean of Arts (2006-2010). She has also taught at secondary and post-secondary levels, served as University representative on the Commission d`évaluation des Programmes et Projets (2004-05) and as Chair of the Board of Governors of Cegep Vanier College (2008-2010).
Cooke's publications focus on the shaping of literary and culinary tastes and practices in Canada, and have been supported by grants from SSHRC, FQRSC and the Max Bell Foundation. They include articles on a wide variety of Canadian writers, a biography of Margaret Atwood, critical volume on her work, an edited volume on Canadian food history and critical editions of historical cookbooks and novels. She is founding editor of CuiZine: the Journal of Canadian Food Cultures; revue des cultures culinaires au Canada, an open access journal published by the McGill Library since 2009.
Cooke's research has often involved close collaborations with University archivists and librarians. She is co-editor of The Johnson Family Treasury (2015) with Kathryn Harvey (Head of Archival and Special Collections at the University of Guelph), and working with University of Toronto librarian Liz Rodolfo to mount an exhibit of historical cookery books at the Fisher Library in 2018. 
---
Recent events
---
Exhibition: Every Stamp a Story
Runs until June 28, 2017 in the McLennan Library Building Lobby and 4th Floor Lobby* 
3459 McTavish Street, Montreal, Quebec H3A 0C9
EVERY STAMP A STORY brings together more than 200 natural history stamps from over 135 countries from the mid-19th century to the present. Their stories are astonishing, surprising, fascinating and often unexpected. They were selected from the more than 50,000 in the David Lank Collection, the largest such philatelic resource of any university, which is housed in McGill's Rare Books and Special Collections. The exhibition gratefully acknowledges the support of the Friends of the McGill Library who have included it in their annual public program designed to foster knowledge and support for the McGill library system by students, alumni and the public at large.
David Lank joined the Desautels Faculty of Management in 1999. As Director Emeritus of the Dobson Centre for Entrepreneurial Studies, he taught MBA level courses in entrepreneurial start-ups, early-phase management and entrepreneurial leadership. In addition, he has designed and has supplied the major course content for several undergraduate courses, including Technological Entrepreneurship. As founder in 1968 and now Chair of Helix Investments, he has been personally involved in the venture capital funding of 147 companies as well as numerous other entrepreneurial initiatives. He was the curator of the touring exhibition Audubon's Wilderness Palette -The Birds of Canada. He is a Fellow of the Explorer's Club of New York, the Royal Society of Arts in London, formerly a Fellow of the Grolier Club, the American Antiquarian Society and the Angler's Club. He was Chairman of the Atlantic Salmon Association for 10 years and was inducted into the Atlantic Salmon Hall of Fame. He has sat on the boards of Wildlife Habitat Canada and the Zoological Societies of Canada and Montreal, and was an Adjunct Curator of the Cleveland Museum of Natural History. David Lank also served on the selection committee for the US Department of the Interior Duck Stamp competition, and on the annual competition of Wilderness Habitat Canada and La Fondation de la Faune du Quebec. He was also a director of Muséums de l'Histoire Naturelle de Montréal. Author of more than 40 books, his broad experience in wildlife art and cultural and conservation organizations led to his being named to the Order of Canada in 1996. 
Access a video recording of the lecture here.
"These stamps have stories worth hearing", McGill News, December 2016
"New stamping ground for postage artifacts at McGill University", CBC, January 14, 2017
Recap "Exhibit Opening & Lecture: Every Stamp a Story", Library Matters, January 23, 2017
"Every Stamp tells a story at McGill's McLennan Library", Montreal Gazette, March 7, 2017
---
Hugh MacLennan Lecture 2017 -  Charlotte Gray: A Personal Portrait of Canada at 150 
April 27, 2017
Presented in partnership with the Blue Metropolis Literary Festival.
Watch a video recording of the lecture by clicking here.
Charlotte Gray's new book is A Portrait of Canada at 150.  Instead of talking solely about the book, she spoke of the importance of Canadian history to Canadians, and to her personally.  She asserted that Canadians know far too little of their history, perhaps because it contains too few high-drama events.  She referred to the last two CBC historical dramas: the 2017 series, criticized for inaccuracies, filmed from an anglophone point of view; and the 2000-2001 series just after the Quebec referendum by both Radio Canada and CBC, in a period of anxiety.  But then, forgotten.
 
Speaking to a full house at  the McGill Law School's Moot Court, Gray noted that all historians see the past through the lens of their own time and referred to the current government's criteria for 150 celebration project grants:  the need to discuss Canadian history was not one of them. Yet history matters.  It makes us unique, examines our growth and changes as a society, our differences, what it means to be a Canadian.  Her illustrations touched on the Fathers of Confederation - all white males - to today, where a DJ from Kenya, Shad, is a Canadian celebrity; in art, the Group of Seven to today's gay aboriginal artist Kent Monkman.
 
She talked about how she developed the concept and format of her Portrait of Canada. What aspects are unique and embedded in our national psyche?  She chose federalism, Medicare, geography, the arts as preoccupations, as important in past efforts to accommodate different points of view.   Of the nine great Canadians in her book whose stories exemplify the last 150 years of our history, she talked about Georges-Etienne Cartier (the importance to Quebec of a federal political structure), Margaret Atwood (Canadian identity), Bertha Wilson (the Charter of Rights and Freedoms).  She paid renewed attention to the treatment of indigenous peoples from first settlement to today and she chose Elijah Harper to represent the failure of the Meech Lake Accord by putting the spotlight on indigenous claims.   
She concluded that the importance of history was to give us a picture of where we came from:  to let us understand that modern mature progressive Canada has problems but is fundamentally sturdy. 
The lecture was generously supported by Donald Walcot.
---
F.R. Scott Lecture 2017 - Anna Maria Tremonti: It's Time to Take Our Journalism Back
February 15, 2017
Watch a video recording of the lecture by clicking here.
Excerpt from The McGill Reporter review of the lecture: 
Anna Maria Tremonti says it's a great time to be a journalist. "Alternative facts" and "fake news," she says, will lead to a search for the real stories. That will revitalize and relaunch the news media.
The award-winning journalist gave this year's F.R. Scott Lecture, organized by the Friends of the McGill Library, before a crowded amphitheatre in the McConnell Building.
Tremonti has been host of CBC's prestigious current affairs show The Current since its inception in 2002. Before that she reported for CBC TV for 19 years including two years with the The Fifth Estate and nine years with The National.
Tremonti pointed out to the crowd that journalists cannot take back journalism alone. "What are you reading and watching, and listening to – what do you click on your computer?" she asked. "Do you simply want your beliefs reflected back at you? Are you turning them over in your head and thinking about them again? Have you tried to think differently? If you aren't actively engaging in the wider world, if you aren't curious and seeking the truth, you aren't helping. And we need your help. Because we need to take journalism back from those who would traffic in fabrication, back from spin masters of political public relations, back from those who deride facts to push their own interests and angry bias, and back from those who would push us toward the frivolous and away from the substantive."
Talking about her career in journalism Tremonti said the once thick line between fact and fiction has thinned. That line is very important, she told the crowd. With the rise of "fake news" or "alternative facts" powerful people have been able to walk away from the consequences of what they say and do. When you are tweeting out your policies there is no critical follow up.
Tremonti attacked government and corporate secrecy, and gave an impassioned speech about the importance of long-form and in-depth journalism. She implored journalists to take back journalism by challenging their bosses, offering alternatives to fluffy and vapid stories, and demanding worthwhile assignments. The more substantive ideas "small-t trump the fluff" she said laughingly. Do the stories of substance and explain why they matter.
Ann Vroom, President of the Friends of the Library, talked about the importance of scholarship and independent journalism as ways to offset "alternative facts" in her opening remarks.
Andrew Potter of the McGill Institute for the Study of Canada (MISC) talked about the decimation of the staffing of newspaper newsrooms at the same time as the rise of "fake news" which he called propaganda, or lies. Potter quoted from a poem by FR Scott entitled "Press Report" in which Scott lamented the coverage of something he had said. Potter reminded the crowd that a crisis of truth is not just a creature of our time.
The Lecture was generously supported by the Honourable John Gomery and the Honourable Pierrette Rayle.
---
Exhibition Opening & Lecture - Every Stamp a Story
January 12, 2017
Lecture by David M. Lank CM, F.R.S.A., F.R.C.G.S.
In its first event of the year, the Friends of the McGill Library presented David Lank, Director Emeritus of the Dobson Centre for Entrepreneurial Studies at McGill, who gave an illustrated lecture to introduce "Every Stamp a Story," the exhibition of 200 stamps and related postal history material which forms part of the 50,000 natural history stamps in the Lank Collection.  Principal Suzanne Fortier acknowledged the presence of the Chairman of the Board, and other McGill and civic dignitaries before introducing the curator to the overflow audience. This collection, the world's largest featuring birds, mammals and other wildlife, is housed in McGill's Rare Books and Special Collections in the McLennan Library Building. The Exhibit will remain on display there and on the Mezzanine of the Library until May 14, 2017.
David's main focus this evening was the stunning beauty of the artwork on natural history stamps and the unexpected stories behind each. He showed his enthusiastic audience Gazelles from South-West Africa, Woolly Mammoths from Moldova, Canada's own Beaver (our 1851 3d stamp being the first in the British empire not to show Queen Victoria), a gorgeous impressionistic Wandering Albatross from the Terres Australes et Antarctiques Françaises, Dragonflies from Japan, Buffalo in the snow from Canada, Bald Eagles from Curaçao, a Peregrine Falcon (twinned appropriately with a stamp showing a jet) from Gibraltar, a Pelican from Albania, a Frigate Bird from the Gilbert and Ellice Islands, Chamoix from Liechtenstein, and many more. Some of his stamps showed not just the animal but also its habitat (Buffalo in the snow, Moose in wetlands, Trumpeter Swans along a northern river…). David introduced Lyse Rousseau, the doyenne of Canadian stamp dealers and the sponsor of the evening, and wildlife artist Claudio d'Angelo, who has painted the birds shown on many stamps issued by the Fondation de la faune du Québec, to the audience,
David also gave us a glimpse of the history of  postal systems, with actual 4,000-year old clay tablets from ancient Babylon,  from biblical times (see the book of Esther), to delivery by horse-drawn chariots in the Roman era, through privately run trans-border post by stagecoach in Europe (such as the service by the Taxis family as early as the 14thcentury), to the Pony Express in the western US, to pigeon post in New Zealand before Kitty Hawk, to delivery by zeppelin. In the early 19th century, when many postmen were illiterate, urgent letters were indicated by feathers affixed with sealing wax! The first adhesive stamp, paid by the sender (a radical improvisation at the time), was the imperforate British Penny Black of 1840, which is on display.
Michael Meighen, the Chancellor of McGill, thanked David, and introduced Robert Waite, Chair of the Stamp Advisory Committee of Canada Post. He explained the process for deciding on the design of postage stamps, and remains optimistic about the future of the traditional postal system. Mr. Waite officially declared the Exhibition to be open.
---
See also: Past events