2018 Annual General Meeting & Celebration of the Friend of the Year
December 10, 2018
Event summary by Kate Williams
The 2018 Friends of the Library annual general meeting, presided over by the Chair, Ann Vroom, and held in McGill's historic Birks building, offered a brief summary of the year's activities, a succinct treasurer's report and a slate of committee members for 2018. The high point of the meeting came with the presentation of the 2018 Friend of the Year award, bestowed posthumously on an exceptional couple, Professor Blema Steinberg and her husband, Arnold Steinberg CM OQ, whose passionate attachment to learning and to McGill were an inspiration to all.
Preceded by Ann Vroom's warm introduction, the tributes by Dean of Arts Antonia Maioni, and then by Colleen Cook, Trenholme Dean of Libraries, elicited an enthusiastic reaction from the more than 70 people in attendance. On hand to hear the tributes were daughters Donna and Margot Steinberg, who had come from New York for the occasion.
Described by Dean Maioni as "an outstanding academic and author, renowned in particular for her research and application of psychological theory in analyzing the behaviour of world leaders," Professor Emerita Blema Steinberg was a double graduate of McGill and a member of the Political Science Department for over 40 years. In addition to her remarkable scholarship, which was matched by her teaching ability and her strong philanthropic spirit, Professor Steinberg also won praise from Dean Maioni for her disarming wit and thoughtful mentorship of students and colleagues "at a time when very few women held either PhDs or tenured positions in universities."
Leadership and mentorship were equally celebrated in a glowing tribute to Arnold Steinberg, chancellor of McGill, alumnus, philanthropist and lifelong learner. Remarking on his ability to navigate what she wryly called "bureaucratic waters," Dean Colleen Cook recalled him as a visionary and trusted advisor, a staunch supporter of McGill's Visual Arts Collection, and a champion whose advocacy meant so much to her and her colleagues. His clearly-expressed view that a world-class university must have a world-class library such as the one reflected in Fiat Lux , the reimagined Library of the Future project, has been a precious source of encouragement to Dean Cook.
From the accolades voiced by the speakers at the annual general meeting, it is evidently difficult to summarize what this year's Friend of the Library award recipients have done for McGill. For example, through the Blema & Arnold Family Foundation, the couple supported such noteworthy projects as the MNI Bilingual Brain initiative, the Ludmer Centre, the Global Health Fellowships, the Clinical and Surgical Education fund, Childhood Development (Medicine), and the groundbreaking Steinberg Centre for Simulation and Interactive Learning.
Presenting the 2018 Friend of the Library distinguished award to the Steinbergs' daughters Donna and Margot, Principal Suzanne Fortier concluded that their parents' legacy in "governance, support, teaching, innovation, volunteering, and generosity, continues to permeate the Library and the University." As the citation so succinctly and forcefully put it:
2018 Friends of the Year
Presented Posthumously to
Arnold Steinberg CM OQ and Professor Emerita Blema Steinberg
In recognition of their inspiring commitment and outstanding contributions to
McGill University and the McGill Library
December 10, 2018.
In response, Margot Steinberg, with her sister at her side, painted a lively and humorous picture of the intense McGill-centred conversations that occurred every evening around her parents' dinner table and thanked the Library and the University for the posthumous honour.
Following the meeting and award ceremony, members and colleagues of the Friends of the Library adjourned to the Birks Reading Room where refreshments were served amid a remarkable display of treasured items from the McGill Library's Rare Books and Special Collections, Archives, Osler and the Visual Arts collections.
---
2018 Shakespeare Lecture | Our life in theatre: questions & answers with Tom McCamus & Chick Reid
Tuesday, November 13, 2018
On Tuesday, November 13, a great evening of impromptu insights on the world of theatre was had as Canadian actors and couple Tom McCamus and Chick Reid delivered the 2018 Shakespeare Lecture.
The informal conversation was led by Paul Yachnin, Tomlinson Professor of Shakespeare Studies at McGill University and Cecil Rabinovitch, Immediate Past Chair, Friends of the Library Committee.
This lecture was presented by the Friends of the McGill Library in partnership with the Stratford Festival.
Generously sponsored by Hilary Pearson and Michael Sabia.
---
Tom McCamus - Bio
2018 Stratford Festival: Stephano in The Tempest, Menenius Agrippa in Coriolanus and Gennaro in Napoli Milionaria! 16th season. Tom has spent 15 seasons with the Festival appearing in roles ranging from Richard III and King John to King Arthur and Captain Hook. He has performed in many theatres in Toronto and across Canada, most recently with the Groundling Theatre Company's productions of The Winter's Tale and Measure for Measure. Tom is also fortunate to have been a part of the Canadian film and television industry for many years, appearing in such films as The Sweet Hereafter, Long Day's Journey Into Night and Room. Last summer he returned to the Shaw Festival after an absence of almost 30 years but is thrilled to be back at the Stratford Festival with his wife, Chick Reid, and their four dogs.
Chick Reid - Bio
2018 Stratford Festival: Iris in The Tempest and Adelaide Schiano in Napoli Milionaria! 13th season. Stratford: Puck, Countrywoman, Cook, Grandma, Alice, Lady Markby, Abbess, Belinda, Inez, Old Lady, Margaret, Lucetta, Lady Capulet, Calpurnia, Margery, Vivian, Kate, Andromache, Miss Lucy, Maisie Madigan, Mimi LaFlamme, Lady Squeamish, Mistress Page. Elsewhere: Theatres across Canada and the U.S., including Shaw Festival (most recently Queen Charlotte in The Madness of George III), Theatre Plus Toronto, NAC, Grand, MTC, Neptune, Westben, Tarragon, Broadway, Actors' Theatre of Louisville. Film/TV: Most recently, Fairfield Road, Everything She Ever Wanted. Awards: Proud recipient of the 2013 Max Helpmann Award; Life Member, CAEA, 2018. Online: trilliumview.com. Et cetera: Ms Reid is an Adjunct Professor, teaching Shakespeare at Queen's University, lives on a farm with her husband, Tom McCamus, and breeds Nova Scotia Duck Tolling Retrievers.
---
F.R. Scott Lecture with Dr. Bernard Shapiro: Freedom of Speech in the Ivory Tower
Thursday, September 13, 2018 
Watch a video recording of the lecture by clicking here
Event summary by Bernard Shapiro
The F.R. Scott Lecture took place on September 13, 2018 in the Moot Court at the Faculty of Law. The evening began with brief words of welcome from Friends of the McGill Library Chair Ann Vroom and Trenholme Dean of Libraries Colleen Cook, who then invited McGill Principal and Vice-Chancellor Suzanne Fortier to formally introduce the evening's speaker, Principal Emeritus Bernard Shapiro.
Dr. Shapiro started the sold-out presentation with (i) the citation of Section 2 of the Canadian Charter of Rights and Freedoms which provides that all Canadians have " . . . the freedom of thought, belief, opinion and expression . . . and (ii) the rationale for the freedom of speech as essential to democratic governance if citizens are to be able to express and expound their views. The lecture then explored both the possible limits of free speech (e.g., incitement to violence, lying and, more particularly, hate speech) as well as the importance of the responsibilities associated with this right.
With respect to the Ivory Tower, Professor Shapiro argued that freedom of speech within the university community was not so much a matter of legalities as it was of mission. If knowledge is to be produced and disseminated, dissenting voices must be not only be tolerated but welcome not only so that the university's social purpose can be realized but also so as to avoid becoming captive to what some will see as a regressive status quo.
Thus, Free Speech, modern universities and democracies seem made for each other, each one playing a role in reinforcing the other two – at least in principle, assuming, of course that when ideas are openly debated and argued those doing so, do it not so much to win as to learn.
In practice, however, freedom of speech on university campuses is under stress, and the challenges to it include: (I) the decline of democracy in the face of populism, (ii) the speed in the development and spread of technologies, (iii) the increasingly frequent attempts to silence controversial speakers on campus and (iv) the collapse of the political middle and the increasing hyper-partisanship in public life. Citizens seem increasingly divided and decided, increasingly willing to speak but unwilling to listen and, therefore hungry for fake news and misinformation.
In terms of what might be done suggestions brought forward and explored included: (i) finding ways to bring student motivation and the university's mission into sync with each other, (ii) curriculum changes that might focus more on the humanistic studies central to the formation of citizens capable of democratic self-government, (iii) adjustments by faculty to their approach to teaching that would more clearly recognize the wide differences between students in terms of the social and cultural capital which they bring to the educational encounter and (iv) the development of a "radical middle" to offset hyper-partisanship and avoid the "weaponization' of free speech seen on both the left and the right of the political spectrum.
Lucinda Chodan, Editor in Chief of the Montreal Gazette, thanked Dr. Shapiro for his thought-provoking and timely lecture.
The F.R. Scott Lecture is sponsored by the Honourable John H. Gomery and the Honourable Pierrette Rayle.
---
Hugh MacLennan Lecture | Murder for a Living with Louise Penny
Thursday, April 19, 2018
Watch a video recording of the lecture by clicking here
Event summary by Louise Dery-Goldberg
This year's Hugh MacLennan Lecture was held on April 19 and was presented in partnership with Blue Metropolis International Literary Festival. The evening got off to a wonderful start with a warm welcome from Cameron Charlebois, Blue Metropolis Chair and a witty, gracious introduction by the Dean of McGill's Faculty of Law, Robert Leckey.
New York Times bestseller Louise Penny then took to the stage and enchanted an audience of more than 450 people many of whom had read most if not all of her 13 novels. Although her books are murder mysteries, the title of her talk being « Murder for a Living » , there is much beauty, humour, kindness and joie de vivre in all her books. Everyone in attendance left understanding better the reasons why.
Louise Penny talked of her life candidly and shared how she decided to be a writer as a child of 8 years old after reading Charlotte's Web. She realized the power of the word after losing her fear of spiders because of her love for Charlotte. 
She told a rapt audience how her newly single mother used the earnings of her first salary to buy a painting she saw every day on her way to work so that her children would have beauty in their lives. 
She also spoke of the many challenges she has had to overcome and the many miracles in her life. She considers the success she has come to know as a miracle and recounts how when her first books were published no one would come to see her on her book tours or worse yet once one sole person came. Those days are long behind her now that her books are translated into 35 languages. The  world has come to know and love the fictional town of Three Pines in the Eastern Townships, and its inhabitants. She wanted to create a village that she would want to live in with people she would want to befriend. Detective Gamache who always succeeds in solving the mystery while sharing his wisdom and kindness is based on her late husband, Dr. Michael Whitehead. She spoke of the miracle of meeting him and the tremendous support and encouragement he always gave her. She spoke of the richness of their life together and the love that sustained them  during the illness that eventually took his life. 
In answer to a question from the audience about what advice she would give a would-be writer she said « Be not afraid.  Don't be concerned about getting published or whether other people like what you are writing. Just write for yourself ». This is what she herself learned from the creative people, poets, playwrights and artists she befriended when she moved to the Townships. She learned that trying and not succeeding was better than not trying at all. This is how she was able to overcome  the  fear of not succeeding that was paralyzing her when she first started out.
What we all learned from her that evening is that the « miracle » of her success has a lot to do with her talent, her intellect, her sense of humour, her generosity of spirit, her honesty and her strength. Louise Penny is a truly extraordinary woman who we hope to be reading for many years to come.
The event ended with a heartfelt and amusing thank you from Friends of the Library board member, Kate Williams, who hails from Three Pines' neighbouring village of Sutton.
This memorable lecture was made possible thanks to the generous sponsorship of Friends board member, Donald Walcot.
---
Lecture | Marriage: Is it All or Nothing? with Professor John Lydon
February 5, 2018 
Event summary by Jewel Lowenstein
In anticipation of Valentine's Day, Professor Lydon, Chair of the McGill Psychology Department, presented a lecture based on the 2017 book by Eli J. Finkel entitled The All or Nothing Marriage: How the Best Marriages Work.
Ann Vroom, Chair of The Friends of the Library, welcomed the audience which consisted mostly of young women. Did this subject scare off the men?
Given that Professor Lydon's research focuses on intimate social bonds, he was a well chosen speaker for this topic. He began by saying that working at McGill is most rewarding in terms of the level of student academic curiosity. He then turned to the subject of the talk and zeroed in on "commitment" and "intimate social bonds" from a 2018 perspective. He reminded the audience that U.S. studies do not reflect the unique "cohabitation" category so popular in Quebec versus formal marriage. He also pointed out that studies now need to include same-sex marriages.
Finkel, Professor of Psychology and Management at Northwestern University, states that marriage today is about self-expression, not so much about love. John Lydon pointed out that locally, certain factors may have contributed to that. Namely the pill and significant changes to divorce law in Canada in the 1970s. He gave examples of studies where the "expectations" of individuals differ in how much happiness they experience and the fact that they choose their partner, rather than have an arranged relationship, should reflect more happiness.
Lydon went on to define the difference between "love" – e.g. for a sibling and "being in love" with a partner. Nowadays, falling in love results in self-expansion. One's sense of self grows and one's ideal self is expanded. Lydon said formerly, meaning and purpose came from religion, whereas now this has been replaced by a relationship. One's partner helps one to discover who one is. Personal growth comes from a secure attachment figure where there is a safe haven.  All relationships face difficulties but the good must outweigh the bad. If there is trust, each partner can feel secure admitting their weaknesses.
Is marriage about self-actualization? This lecture demonstrated that much research is being done which helps to find answers to the question of what makes a successful marriage.
Cecil Rabinovitch former Chair, Friends of the Library, formally thanked Professor Lydon. She welcomed his positive approach in light of so much negativity surrounding sexual harassment prevalent in the news currently.
Chris Lyons, Head, Rare Books and Special Collections, then briefly described the Pop Up exhibits complimenting this lecture. For the month of February, the displays feature items relating to love. Included are a 1900 cookbook with cocoa recipes, a John Ramsbottom 1939 stunning work with exquisite colored plates of pink roses after Redouté's " Les Roses ",  an early Descartes volume showing the physiology of the ventricles of the heart, as well as traditional Valentine cards collected over the years.
---
2017 Annual General Meeting
December 6, 2017
Event summary by Cecily Lawson
The Friends 17th Annual General Meeting was held in the Colgate Room of the McLennan Library Building presided over by Friends Chair Ann Vroom. Following a review of the year's activities and an explanation of the group's expanding role in fundraising as well as advocacy, the Treasurer's Report was presented by Don Walcot. This was followed by the slate of directors for 2018, which was approved by those in attendance.
The highlight of the evening was the presentation of the Friend of the Year Award to Cecil Rabinovitch, past Chair of the Friends of the McGill Library. In conferring the award, Honorary Board Member John Gomery remarked on Cecil's outstanding leadership abilities, her longtime devotion to building cultural institutions in Canada, her passionate championship of the role of the modern library, and her deep appreciation of books and learning. Describing her as loyal, direct, honest, smart, witty and not afraid of a challenge, he noted her critical importance in making the Friends the vibrant organization that it is today and in attracting so many of the outstanding speakers to the Friends lecture series.
Trenholme Dean of Libraries Colleen Cook and Principal and Vice- Chancellor Suzanne Fortier added their plaudits on Cecil's accomplishments and thanked her for her support of the Library. The evening finished with a lively reception to honour our award winner, celebrate a successful year for the Friends and welcome in the holiday season.
---
Lecture | Christmas Ain't What it Used to Be with Judith Flanders
November 15, 2017
Event summary by Frances Groen
The venerable Colgate Room of Rare Books and Special Collections was aglow in anticipation of the arrival of author Judith Flanders. A Londoner by choice, Flanders established her career as a journalist and editor, but then chose to ignore the cautious advice of a publisher not to quit her day job. Instead she launched a career as a writer of popular, scholarly histories on Victorian England. Creative fiction has not been ignored by Flanders who has also written a series of murder mysteries with Sam Clair as her sleuth. Flanders is well known for her knowledge of both violent crime and sanitation, or lack thereof, in nineteenth century London, so the audience was not certain how this special knowledge might fit into a talk on a Victorian Christmas.
The speaker did not disappoint! We were treated to an original examination of Christmas traditions that supported the speaker's view that Christmas has very little to do with Christianity or the Middle East. Christmas, as we know it, probably began as a Northern European tradition that developed over the centuries into feelings of nostalgia for a Christmas that never existed. Flanders offered ample evidence of this view by detailed examination of the many conventions that surround Christmas celebrations. She looked at food, drink, music, gifts and gift wrapping that began in nineteenth century. Drawing on her broad knowledge, she explained the development of gift wrapping as the result of the increased availability of commercially available gifts. When gifts were no longer hand made, at least the wrapping was done by hand!
The enthusiastic audience that filled the Colgate Room concurred with Chris Lyons, Head of Rare Books and Special Collections when he thanked the speaker for a fascinating evening. Guests moved to the reception and were enthusiastic to buy the Ms Flanders's book Christmas, A Biography, that is just released.
---
​ Annual Shakespeare Lecture
 | "Julius Caesar" Before The Rehearsal Room with Scott Wentworth
November 7, 2017
Watch a video recording of the lecture by clicking here
Event summary by Alyssa Hamilton
Theatre artist Scott Wentworth gave the Friends of the McGill Library audience a glimpse into the life of a director on November 7 with his lecture "Julius Caesar: Before the Rehearsal Room." The Stratford Festival production of Julius Caesar goes into rehearsal in June of next season.
Wentworth has had an enviable career as a Tony and Olivier-nominated actor, director, and playwright, and a 30-year veteran of the Stratford Festival with. As a director, his work is a balancing act. To coordinate a large production, he needs to provide answers to practical questions early on. At the same time, he wants to ask questions, and to never stop asking questions.
Among other things, Wentworth asks what the play has to say about men and women. The Stratford theatre has experimented with gender in recent years, but this year's cast for Julius Caesar will be split evenly between men and women. With gender parity, Wentworth disputes the idea that Shakespeare's work can only be understood within the tradition of Realism. After all, it is well-known that all early performances had actors in the roles of female characters. "Jonathan Goad recently played Hamlet," he added. "He's not Danish."
Wentworth reads and rereads the text to ask what is really there, and what we assume is there. A four-hundred-year old text comes with a lot of baggage. At the same time, putting tradition aside to see the play with fresh eyes is itself traditional. Orson Welles's 1937 adaptation saw Caesar in the context of fascism. This summer's controversial New York production drew inspiration from the recent U.S. election.
"That, to me, is how poetry continues to speak to us, and to gather meaning that in many cases the original writer, poet, playwright couldn't foresee," Wentworth explained. "We have to listen to it with the ears of our time without necessarily imposing the values of our time on it."
His balancing act extends to set design. Elizabethan theatres allowed a story to be told both as a linear narrative and as a metaphorical one. Stratford's Festival stage, minimal and intimate, is designed to access both stories. "In the presence of acting, the space gets populated with the scenery that Shakespeare creates with his language, and that we create mutually between actor and audience."
He makes sure that costumes don't get in the way of this interaction. Functional clothing, with buttons that work and sleeves that can be pushed up, reminds the audience that the characters are real people. The audience meets the characters as nuanced individuals rather than broad types, and hears the play anew.
Tradition has asked whether Caesar was a monster or a saviour, and whether Brutus was an assassin or a hero. Wentworth asks how masculine and feminine voices are balanced in modern public discourse. As for Shakespeare's own answer to the questions of power, democracy and tyranny raised in Julius Caesar, "Typically," said Wentworth, "he just chooses to keep asking both sides of the question."
The McGill Library system has a wealth of material on Shakespeare. This includes some of the earliest editions of Shakespeare's plays: a copy of the second folio from 1632 and two copies of the fourth folio from 1685. Ann Vroom, Chair of the Friends of the McGill Library, welcomed the audience, Tomlinson Professor of Shakespeare Studies Paul Yachnin introduced the speaker and Joel Goldberg offered the concluding remarks. With the generosity of sponsors Hilary Pearson and Michael Sabia, the Shakespeare Lecture is one of three lectures hosted annually by the Friends of the McGill Library. It continues to benefit from a partnership with the Stratford Festival.
The Shakespeare Lecture is presented in partnership with the Stratford Festival and generously supported by Hilary Pearson and Michael Sabia.
---
Lecture | Foodways & fisticuffs: the larger than life personalities who shaped Quebec cuisine with Julian Armstrong & Nathalie Cooke
October 4 & 11, 2017
Event summary by Alyssa Hamilton 
Bear Pits, Nuns and Tortière: Julian Armstrong and Nathalie Cooke in Conversation about Montreal Foodways and Fisticuffs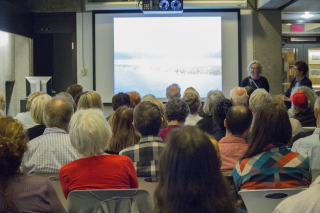 The event "Foodways and fisticuffs: the larger than life personalities who shaped Quebec cuisine" was an evening of storytelling. Speakers Nathalie Cooke and Julian Armstrong led an intimate, informative, and above all entertaining talk in the first of this year's series of presentations organized by the Friends of the McGill Library on October 4, with an encore presentation on October 11.
The lecture explored the cultural significance of food, sitting at the intersection of history, geography, and function. It also highlighted the passionate defense of regional food varieties, whether tortière, pea soup, or maple pie, as local heritage.
Julian Armstrong and Nathalie Cooke told tales of larger than life Quebec characters, such as Joe Beef, known both for his generosity and for the bears he kept in the pit of his house.
The 19th century Montreal tavern owner welcomed customers of all backgrounds, and kept couches for those who overindulged or who didn't have a bed for the night. He also helped deescalate the 1878 conflict on the Lachine canal by breaking bread with both strikers and soldiers.
Amy the cow figured in another story, as the modern, quite photogenic descendent of a herd shipped from France to Quebec 1608. Known for their hardiness in the Canadian winter and the cheese made from their milk, La vache canadienne is now making a comeback after its displacement by British Holsteins.
The speakers discussed the heritage of many of today's foods, recipes, producers and culinary ground breakers, many of which the audience members could recognize as a community. The convent on Sherbrooke Street, for instance, had a cooking school run by nuns, where many Montreal women learned to cook early in their married lives.
These included Julian, known for her cookbooks and 50 years spent writing about food for the Montreal Gazette and the Montreal Star. Nathalie is also prominent as both a McGill Professor and the Associate Dean of the Library's ROAAr unit (Rare and Special Collections, Osler, Art and Archives).
Fittingly, the event was held in the historic Colgate Room of McGill's Rare Books and Special Collections Library. The venue was newly opened following renovation, thanks to a generous donation by the Joan and Clifford Hatch Family Foundation. Further renovation is planned for the McLennan/Redpath Library Complex. McGill's Canada150/Montreal 375 hosted a wine and cheese to end the evening.
---
Hugh MacLennan Lecture 2017 -  Charlotte Gray: A Personal Portrait of Canada at 150 
April 27, 2017
Presented in partnership with the Blue Metropolis Literary Festival.
Watch a video recording of the lecture by clicking here.
Charlotte Gray's new book is A Portrait of Canada at 150.  Instead of talking solely about the book, she spoke of the importance of Canadian history to Canadians, and to her personally.  She asserted that Canadians know far too little of their history, perhaps because it contains too few high-drama events.  She referred to the last two CBC historical dramas: the 2017 series, criticized for inaccuracies, filmed from an anglophone point of view; and the 2000-2001 series just after the Quebec referendum by both Radio Canada and CBC, in a period of anxiety.  But then, forgotten.
 
Speaking to a full house at  the McGill Law School's Moot Court, Gray noted that all historians see the past through the lens of their own time and referred to the current government's criteria for 150 celebration project grants:  the need to discuss Canadian history was not one of them. Yet history matters.  It makes us unique, examines our growth and changes as a society, our differences, what it means to be a Canadian.  Her illustrations touched on the Fathers of Confederation - all white males - to today, where a DJ from Kenya, Shad, is a Canadian celebrity; in art, the Group of Seven to today's gay aboriginal artist Kent Monkman.
 
She talked about how she developed the concept and format of her Portrait of Canada. What aspects are unique and embedded in our national psyche?  She chose federalism, Medicare, geography, the arts as preoccupations, as important in past efforts to accommodate different points of view.   Of the nine great Canadians in her book whose stories exemplify the last 150 years of our history, she talked about Georges-Etienne Cartier (the importance to Quebec of a federal political structure), Margaret Atwood (Canadian identity), Bertha Wilson (the Charter of Rights and Freedoms).  She paid renewed attention to the treatment of indigenous peoples from first settlement to today and she chose Elijah Harper to represent the failure of the Meech Lake Accord by putting the spotlight on indigenous claims.   
She concluded that the importance of history was to give us a picture of where we came from:  to let us understand that modern mature progressive Canada has problems but is fundamentally sturdy. 
The lecture was generously supported by Donald Walcot.
---
F.R. Scott Lecture 2017 - Anna Maria Tremonti: It's Time to Take Our Journalism Back
February 15, 2017
Watch a video recording of the lecture by clicking here.
Excerpt from The McGill Reporter review of the lecture: 
Anna Maria Tremonti says it's a great time to be a journalist. "Alternative facts" and "fake news," she says, will lead to a search for the real stories. That will revitalize and relaunch the news media.
The award-winning journalist gave this year's F.R. Scott Lecture, organized by the Friends of the McGill Library, before a crowded amphitheatre in the McConnell Building.
Tremonti has been host of CBC's prestigious current affairs show The Current since its inception in 2002. Before that she reported for CBC TV for 19 years including two years with the The Fifth Estate and nine years with The National.
Tremonti pointed out to the crowd that journalists cannot take back journalism alone. "What are you reading and watching, and listening to – what do you click on your computer?" she asked. "Do you simply want your beliefs reflected back at you? Are you turning them over in your head and thinking about them again? Have you tried to think differently? If you aren't actively engaging in the wider world, if you aren't curious and seeking the truth, you aren't helping. And we need your help. Because we need to take journalism back from those who would traffic in fabrication, back from spin masters of political public relations, back from those who deride facts to push their own interests and angry bias, and back from those who would push us toward the frivolous and away from the substantive."
Talking about her career in journalism Tremonti said the once thick line between fact and fiction has thinned. That line is very important, she told the crowd. With the rise of "fake news" or "alternative facts" powerful people have been able to walk away from the consequences of what they say and do. When you are tweeting out your policies there is no critical follow up.
Tremonti attacked government and corporate secrecy, and gave an impassioned speech about the importance of long-form and in-depth journalism. She implored journalists to take back journalism by challenging their bosses, offering alternatives to fluffy and vapid stories, and demanding worthwhile assignments. The more substantive ideas "small-t trump the fluff" she said laughingly. Do the stories of substance and explain why they matter.
Ann Vroom, President of the Friends of the Library, talked about the importance of scholarship and independent journalism as ways to offset "alternative facts" in her opening remarks.
Andrew Potter of the McGill Institute for the Study of Canada (MISC) talked about the decimation of the staffing of newspaper newsrooms at the same time as the rise of "fake news" which he called propaganda, or lies. Potter quoted from a poem by FR Scott entitled "Press Report" in which Scott lamented the coverage of something he had said. Potter reminded the crowd that a crisis of truth is not just a creature of our time.
The Lecture was generously supported by the Honourable John Gomery and the Honourable Pierrette Rayle.
---
Exhibition: Every Stamp a Story
January 12 - June 28, 2017
McLennan Library Building Lobby and 4th Floor Lobby
EVERY STAMP A STORY brings together more than 200 natural history stamps from over 135 countries from the mid-19th century to the present. Their stories are astonishing, surprising, fascinating and often unexpected. They were selected from the more than 50,000 in the David Lank Collection, the largest such philatelic resource of any university, which is housed in McGill's Rare Books and Special Collections. The exhibition gratefully acknowledges the support of the Friends of the McGill Library who have included it in their annual public program designed to foster knowledge and support for the McGill library system by students, alumni and the public at large.
David Lank joined the Desautels Faculty of Management in 1999. As Director Emeritus of the Dobson Centre for Entrepreneurial Studies, he taught MBA level courses in entrepreneurial start-ups, early-phase management and entrepreneurial leadership. In addition, he has designed and has supplied the major course content for several undergraduate courses, including Technological Entrepreneurship. As founder in 1968 and now Chair of Helix Investments, he has been personally involved in the venture capital funding of 147 companies as well as numerous other entrepreneurial initiatives. He was the curator of the touring exhibition Audubon's Wilderness Palette -The Birds of Canada. He is a Fellow of the Explorer's Club of New York, the Royal Society of Arts in London, formerly a Fellow of the Grolier Club, the American Antiquarian Society and the Angler's Club. He was Chairman of the Atlantic Salmon Association for 10 years and was inducted into the Atlantic Salmon Hall of Fame. He has sat on the boards of Wildlife Habitat Canada and the Zoological Societies of Canada and Montreal, and was an Adjunct Curator of the Cleveland Museum of Natural History. David Lank also served on the selection committee for the US Department of the Interior Duck Stamp competition, and on the annual competition of Wilderness Habitat Canada and La Fondation de la Faune du Quebec. He was also a director of Muséums de l'Histoire Naturelle de Montréal. Author of more than 40 books, his broad experience in wildlife art and cultural and conservation organizations led to his being named to the Order of Canada in 1996. 
Access a video recording of the lecture here.
"These stamps have stories worth hearing", McGill News, December 2016
"New stamping ground for postage artifacts at McGill University", CBC, January 14, 2017
Recap "Exhibit Opening & Lecture: Every Stamp a Story", Library Matters, January 23, 2017
"Every Stamp tells a story at McGill's McLennan Library", Montreal Gazette, March 7, 2017
---

Exhibition Opening & Lecture - Every Stamp a Story
January 12, 2017
Lecture by David M. Lank CM, F.R.S.A., F.R.C.G.S.
In its first event of the year, the Friends of the McGill Library presented David Lank, Director Emeritus of the Dobson Centre for Entrepreneurial Studies at McGill, who gave an illustrated lecture to introduce "Every Stamp a Story," the exhibition of 200 stamps and related postal history material which forms part of the 50,000 natural history stamps in the Lank Collection.  Principal Suzanne Fortier acknowledged the presence of the Chairman of the Board, and other McGill and civic dignitaries before introducing the curator to the overflow audience. This collection, the world's largest featuring birds, mammals and other wildlife, is housed in McGill's Rare Books and Special Collections in the McLennan Library Building. The Exhibit will remain on display there and on the Mezzanine of the Library until May 14, 2017.
David's main focus this evening was the stunning beauty of the artwork on natural history stamps and the unexpected stories behind each. He showed his enthusiastic audience Gazelles from South-West Africa, Woolly Mammoths from Moldova, Canada's own Beaver (our 1851 3d stamp being the first in the British empire not to show Queen Victoria), a gorgeous impressionistic Wandering Albatross from the Terres Australes et Antarctiques Françaises, Dragonflies from Japan, Buffalo in the snow from Canada, Bald Eagles from Curaçao, a Peregrine Falcon (twinned appropriately with a stamp showing a jet) from Gibraltar, a Pelican from Albania, a Frigate Bird from the Gilbert and Ellice Islands, Chamoix from Liechtenstein, and many more. Some of his stamps showed not just the animal but also its habitat (Buffalo in the snow, Moose in wetlands, Trumpeter Swans along a northern river…). David introduced Lyse Rousseau, the doyenne of Canadian stamp dealers and the sponsor of the evening, and wildlife artist Claudio d'Angelo, who has painted the birds shown on many stamps issued by the Fondation de la faune du Québec, to the audience,
David also gave us a glimpse of the history of  postal systems, with actual 4,000-year old clay tablets from ancient Babylon,  from biblical times (see the book of Esther), to delivery by horse-drawn chariots in the Roman era, through privately run trans-border post by stagecoach in Europe (such as the service by the Taxis family as early as the 14thcentury), to the Pony Express in the western US, to pigeon post in New Zealand before Kitty Hawk, to delivery by zeppelin. In the early 19th century, when many postmen were illiterate, urgent letters were indicated by feathers affixed with sealing wax! The first adhesive stamp, paid by the sender (a radical improvisation at the time), was the imperforate British Penny Black of 1840, which is on display.
Michael Meighen, the Chancellor of McGill, thanked David, and introduced Robert Waite, Chair of the Stamp Advisory Committee of Canada Post. He explained the process for deciding on the design of postage stamps, and remains optimistic about the future of the traditional postal system. Mr. Waite officially declared the Exhibition to be open.
Access a video recording of the lecture here.
---
Annual General Meeting 2016
December 1, 2016
Presentation of the Friend of the Year Award to the Joan and Clifford Hatch Family Foundation.
The Joan and Clifford Hatch Family Foundation was named for an extraordinary couple who, counting 7 McGill graduates among their children and grandchildren, initiated parents' giving at McGill more than 50 years ago by establishing the McGill Parents' Fund in 1963. The Hatch children carry on their inspired philanthropy with this Foundation and continue to be great supporters of McGill. Gail Hatch Todgham and Mary Hatch were present to accept the award.
Click here to read an excerpt of the speech given at the ceremony by Friends of the Library chair, Ann Vroom.
---
Shakespeare Lecture 2016 - Graham Abbey: A Muse of Fire: the enduring power of Shakespeare's history cycle. With Michelle Giroux.
November 15, 2016
On Tuesday evening, November 15th, husband and wife Graham Abbey and Michelle Giroux, two of Canada's foremost Shakespearean actors, transformed Leacock 232 into a Shakespearean lecture hall and stage. Mr. Abbey and Ms. Giroux have just completed performances at the Stratford Festival in Breath of Kings, a two-play six hour adaptation by Mr Abbey of four of Shakespeare's history plays - Richard II, Henry IV parts 1 and 2 , and Henry V; a project to which Mr Abbey dedicated himself for 15 years.
The title of this year's  Shakespeare Lecture (presented in partnership with the Stratford Festival) was A Muse of Fire, which as Mr. Abbey explained, reflects the passion and intensity of the history plays as a symphony of music telling interrelated domestic  stories of kings and queens  and common life.
The  domestic stories, Mr. Abbey told us, are the great draw of the history plays, dramatizing universal themes of enduring relevance; leadership and legitimacy, family and  crown succession, war and morality, revenge and honour.
The  classroom became a  vibrant Shakespearean stage as Mr. Abbey and Ms. Giroux delivered excerpts from Breath of Kings to illustrate, in the beauty and immediacy of Shakespeare's language, the themes which Mr. Abbey had described.

A Muse of Fire was sponsored by Michael Sabia and Hilary Pearson, and the Friends of the Library are grateful for their support.
Check out the McGill Reporter interview with Abbey by clicking here.
---
F.R. Scott Lecture 2016 - The Honourable Rosalie Abella, Supreme Court of Canada
October 19, 2016
The 2016 F. R. Scott Lecture was given on October 19 by the Honorable Rosalie Abella, Justice of the Supreme Court of Canada. McGill's Principal and Vice-Chancellor Suzanne Fortier graciously introduced the guest speaker.
Moyse Hall was packed – it was a standing room only event with McGill alumni, students, and Friends – but listening to Justice Abella seemed, somehow, an almost intimate experience. Justice Abella actually appeared to be speaking one-on-one to each member of the audience, as if in one's own living room. The speech itself – lasting a full hour – seemed to pass by in a matter of minutes, so rapt and attentive was the audience.
In her address, Justice Abella began with the challenge of re-thinking our system of delivering Justice in the light of the enormous social and economic changes that have been and are being experienced by all societies including our own.
Justice Abella then traced the history – all the way from ancient Greece through modern times - of the development of both civil rights and human rights, all of which contribute to the progress from which we all benefit of the "moral arc" toward a truly just society.  The speech was a real "tour de force," quoting  – in each case entirely appropriately - not only the ancient Greeks but also the great American jurist, John Marshall, and the great Canadian legal scholar, F.R. Scott after whom this lecture series is named.
So attentive was the audience and so fascinating the presentation that the Question and Answer period might have gone on more or less indefinitely had not the Dean of the Faculty of Law, Robert Leckey, risen to thank Justice Abella and draw the evening to a close. 
The F.R. Scott Lecture series is sponsored by the Honourable John Gomery and the Honourable Pierrette Rayle.     
---
Anny Scoones Reading
May 10, 2016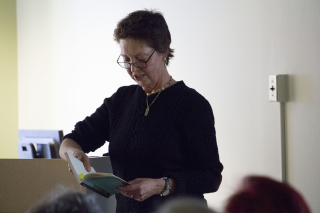 On May 10, 2016, the Friends of the McGill Library were pleased to welcome an appreciative audience to a reading of Last Dance in Shediac, Memories of Mum, Molly Lamb Bobak.  Anny Scoones, the author and only daughter of celebrated Canadian artists Molly and Bruno Bobak, interspersed her touching and humorous stories with wry asides that added to the intimacy of the event. Molly Lamb Bobak, who lived from 1922-2014, was Canada's first female war artist and much-loved by all who knew her, for her warmth and spontaneity as well as for her prodigious talent. The memoir describes some of the road trips which Anny and her mother took toward the end of the artist's life and captures the immediacy and poignancy of those declining years. Images from the book and a presentation of the Bobak paintings in McGill's visual arts collection rounded out the event.
Anny Scoones was raised in Fredericton, New Brunswick, has served as an elected city councillor, and now teaches English in Victoria, B.C. Last Dance in Shediac, published by TouchWood Editions, is her fifth book.
---
2016 Hugh MacLennan Lecture and Blue Metropolis First Peoples Literary Prize Event
April 15, 2016
On April 15, 2016 McGill's Friends of the Library hosted the Blue Metropolis First Peoples Literary Prize Event at the 2016 Hugh MacLennan Lecture. Noted First Nations advocate and winner of the 2014 Governor General's Award for English language fiction, Thomas King was the prize recipient and evening's guest speaker. 
Friends of the Library Chair Ann Vroom welcomed everyone, followed by Blue Met Chair  Cameron Charlebois who pointed out that Montreal is on the traditional territory of the Kanien'keha:ka, which has been a meeting and conversation place for thousands of years.
As is traditional at worldwide literary events, there was a special Pen Canada Reading, this evening's by Montreal journalist Mark Abley, to focus on the plight of an imprisoned journalist, in this case Raif Badawi in Saudi Arabia. The audience was invited to sign a petition at the end of the evening seeking his release.
Jason Edward Lewis, digital media poet and artist and Concordia University Research Chair in Media and the Indigenous Future Imaginary presented the  Blue Met First Peoples' Literary Prize to Thomas King.
After a few words of acceptance, King was interviewed on stage by CBC Radio personality, Rosanna Deerchild, host of Unreserved. The warm and witty exchange touched on King's childhood, the influences in his writing, and his interest in slices of everyday life rather than grandiose themes. He talked about his use of humour to disarm his readers and to open their minds to the discussion of serious issues.
The bantering back and forth between King and Deerchild made for a delightful evening for all who attended and gave them an insight into the background and interests of this noted writer. The evening was graciously sponsored by Don Walcot for McGill's Friends of the Library and by the J.W. McConnell Family Foundation and the Chadha Foundation for the Blue Metropolis First Peoples Prize Event.
Click here to view the recording of the event.
---
The Golden Eagle Hunters: A Kazakh Photo Essay
An illustrated lecture by artist & photographer, Bonnie Folkins
March 22, 2016
Upwards of 150 people filled an amphitheatre in the Otto Maass Building on Tuesday, March 22, 2016 to attend an illustrated lecture by Bonnie Folkins, a member of the Long Riders' Guild and a fellow of the New York Explorers Club, on the Kazakh Golden Eagle hunters. Following an introduction by Friends of the McGill Libraries board chair Ann Vroom, Folkins delighted the audience with a presentation of photos taken on numerous visits with the Kazakh people of Mongolia, a semi-nomadic group who retain the traditions of their ancestors, travelling in search of grazing land and water for their animals.
Folkins first encountered the Kazakhs of Mongolia on a trip to their part of the world in the far western reaches of Mongolia in 2007. She describes it as a life-changing experience and she has returned many times, capturing the people and their way of life in wonderful photos.
Outstanding amongst these are a series of portraits of the Golden Eagle hunters, men in the community who have kept up the ancestral tradition of hunting on horseback using trained Golden Eagles. The photos of these men in traditional dress with their magnificent eagles are arresting. So was the description of the process of capturing and training these splendid animals and the evidence of the affection and trust that develop between the hunter/master and his bird.
Folkins has ridden on horseback over 1100 miles in a single journey through Mongolia and over 2100 miles in two trips through Kazakhstan. She has lived with families as she worked to document their way of life. During this time, she has developed a respect and love for the open, hospitable, good and honest people of this nomadic community. Her descriptions of their dwellings, diet, handicrafts, their traditions and the ways in which they are adapting to the 21st century without losing their way of life kept the audience enthralled – as was clear from the prolonged question and answer period that followed the talk.
View some of Bonnie Folkins' photos at: http://bonniefolkins-photography.com