Tél: 514 398 2575     
E:

anatomysec.med

[at]

mcgill.ca
Fax:  514 398 5047
*If you are an administrative or medical member of a health care institution and wish to proceed with a body donation and confirm a transfer to our university, please consult these documents.
*Si vous êtes membre administratif ou médical d'un institut de la santé (hôpital, résidence, etc.), et vous voulez effectuer un don de corps et confirmer le transport à l'Université, SVP consulter les documents suivants.
Bodies donated to science play a crucial role in the teaching of medical students in our universities, as well as in a variety of important medical research studies.  Our teaching and research institutions are indebted to the generosity of individuals who choose to make this invaluable contribution to the advancement of medical research.
Through these donations, university students in the health sciences have the opportunity to receive important lessons in human anatomy, work first-hand with the human body, and practice the many techniques that will be essential to them in their future medical and scientific practices.  
McGill University is the only educational institution in the region of Montreal—and one of only five institutions in the Province of Quebec—that is affiliated with the Body Donor Program coordinated by Quebec's Ministère de la Santé et Services sociaux.  Here at McGill, our staff, researchers, and students working with bodies bequeathed to the Body Donor Program adhere to a strict protocol and Code of Ethics, ensuring a professional and respectful environment where the dignity of the body is of the utmost importance. 
If you are interested in the Body Donor Program and desire more information, please consult the list of answers to frequently asked questions located below, as well as an informational pamphlet.  For additional questions, or to request a Body Donor Card, please call 514 398-2575 or e-mail vittoria.catania [at] mcgill.ca.
Programme de don de corps
Les corps donnés à la science jouent un rôle très important dans l'enseignement des universitaires qui étudient dans les domaines de la médicine et de la santé.  Grâce à ces dons, les étudiants peuvent suivre un cours pratique d'anatomie humaine, en plus de pratiquer les différentes manoeuvres rattachées à leurs futures spécialités.  Puisque ces corps sont essentiels pour une grande varieté de recherches médicales, nous voudrions tout d'abord souligner notre profonde appréciation de ces dons de fin de vie.
L'université McGill est la seule institution universitaire dans la région de Montréal—et parmi seulement cinq au Québec—qui offre un programme de don de corps sous la coordination du Ministère de la Santé et Services sociaux.  À McGill, les étudiants et les chercheurs qui travaillent avec les corps doivent en tout temps respecter notre Politique d'éthique, ce qui assure un lieu d'étude où le professionnalisme et le respect des corps sont primordiaux.
Si vous êtes interessé par le programme de don de corps ou si vous avez des questions, veuillez consulter notre foire aux questions (FAQ) qui se trouve ci-dessous.  Nous vous invitons également à consulter la brochure informative.  Pour d'autres questions, ou pour obtenir une carte de don de corps, veuillez téléphoner au 514 398 2575 ou envoyer un courriel au vittoria.catania [at] mcgill.ca.
Frequently Asked Questions
Are there any documents/forms that I must complete and return in order to donate my body?
"Registering" for body donation is a very simple process.  The only "document" required for registry in the Program is the Body Donor Card, which you must sign and then have signed by two witnesses. It is important to keep the card with you at all times (in your wallet with other forms of personal identification).  Since the body must be transferred to the University within a maximum of 48 hours, it is necessary to have the card readily available so that there are no delays in the transport of the donor's body.  The Body Donor Program here at McGill is overseen by the Ministère de la Santé et Services sociaux, which does not keep a registry of potential body donors.
Is there an age limit for body donation?
There is no age limit for participation in the Body Donor Program. The minimum age for donation is 18 years old.
Are bodies ever refused?
Bodies can be refused on rare occasions if they do not meet the criteria set forth by the University.  For example, a donor who was infected by one of a number of very contagious diseases, who has donated organs, who exceeds maximum height or weight limits, or who perished in a violent manner are some examples of extreme situations in which a body may be refused.
Are there costs related to body donation?
All costs are covered.  Neither the donor nor his/her family will be asked to pay any fees, unless: 1) the distance travelled to collect the body is greater than the limits determined by the educational institutions (60 km for McGill); or 2) upon completion of the research, the family wishes to retrieve the ashes, in which case the funeral home requires an administrative fee of $150.
Is it possible to have a funeral service/viewing of the body prior to donation?
Since the body must be collected by an educational institution within 24 to 48 hours after death, funeral or viewing services immediately prior to donation are unfortunately not possible. 
Will the identity of the donor be revealed to students and researchers?
Body donation is anonymous. Personal identification of the body is used by and accessible to only a very small number of administrative and technical staff. Researchers and students working with the bodies are unaware of the identity.
Will I be able to donate both my organs and my body once I pass away?
Due to the nature of the teaching and studies that work with the bodies, it is important that the body be unaffected by organ removal.  Therefore, the donor must choose between organ donation or body donation.
Will the findings of the research be made available to my family/friends?
Information on the specific procedures performed upon the body is not revealed after the studies. However, all donations are used by McGill professors and researchers for the basic teaching of anatomy, or by medical specialists who may want to investigate new surgical techniques.
How long will the study last? How long will you keep the body?
The study generally lasts between one and two years. In certain cases this may be longer.  Moreover, the study dates follow the cycle of the academic year (September through June)--if we receive a body in mid-December, for example, the study will not begin before the following September.
What happens to the body once you have completed the study or research?
McGill University's monument in Mount Royal Cemetery. If the family does not have specific burial plans, McGill offers a general cremation service, after which the ashes are buried in a site reserved for the University at Mount Royal Cemetery here in Montreal. In this case, all burial expenses are incurred by McGill University. Should the family wish that the ashes be returned to them, we must be notified in writing within 2 weeks of the person's death. The family will be notified upon completion of our studies and may make arrangements to retrieve the ashes at the funeral home (administrative fees of $150). 
For a map showing the location of the plot belonging to McGill University at Mount Royal Cemetery, please click here.
Do you hold any kind of ceremony once you have finished the study?
All families of body donors are invited to our annual Commemorative Service, held each year in the month of June. At the time of the donor's death, we request notification from family members of the names and addresses of those who may wish to attend in the future, so that invitations may be issued accordingly. The donor will be honored during the summer following the completion of the studies. 
Foire aux questions
Est-ce qu'il y a des documents ou des formulaires qu'il faut remplir pour pouvoir donner mon corps?
Le seul «document» qui existe à cet effet est la carte de don de corps.  Elle doit être signée par le donneur ainsi que par deux témoins.  Puisque le corps doit être transporté à l'université dans un délai maximal de 48 heures, il est très important de conserver en tout temps cette carte sur votre personne (dans votre portefeuille avec vos pièces d'identité).  Le programme de don de corps à McGill est géré par le Ministère de la Santé et Services sociaux, qui ne conserve pas de registre sur les futurs donneurs.
Est-ce qu'il y a une limite d'âge pour les dons de corps?
Il n'y a pas d'âge maximum pour participer au Programme de don de corps.
Est-ce que les corps peuvent se faire refuser?
Selon les critères établis par l'institution d'enseignement, un corps ne sera pas accepté si:  il s'agit d'un décès causé par une maladie contagieuse, des organes ont déjà été enlevées, le corps dépasse les limites de poids ou de taille, le corps a été victime de blessures violentes, et d'autres cas extrêmes. 
Y a-t-il des frais?
Il n'y a pas de frais ni pour le donneur ni pour sa famille, sauf si:  1)  la distance du transfert du corps au moment du décès dépasse la limite permise par l'institution d'enseignement (60 km pour l'université McGill); ou 2) après l'étude la famille veut reprendre les cendres (frais administratifs de $150 payables au salon funéraire). 
Est-il possible d'avoir des services funéraires avant la donation?
Le corps doit être transporté à l'université dans les 48 heures suivant le décès, alors malheureusement un service funéraire n'est pas possible.
Est-ce que les chercheurs ou les étudiants connaîtront l'indentité du corps?
Le don de corps se fait dans l'anonymat.  Seulement le personnel administratif a accès aux informations sur l'identité d'un corps.
Est-ce que je peux donner et mes organes et mon corps?
Pour des raisons d'enseignement et de recherches, il est important que le corps ne soit pas affecté par l'enlèvement d'organes.  Il faut donc choisir entre les deux.
Est-ce que les résultats des recherches effectuées sur le corps seront transmis à mes proches?
Malheureusement, on ne peut pas fournir de détails sur un corps en particulier pendant la période d'étude.  De manière générale, les corps servent d'outils anatomiques pour les étudiants universitaires, ainsi que pour des spécialistes en médicine intéressés par de nouvelles techniques en chirurgie.
L'étude et/ou recherches sur mon corps dureront combien de temps?
L'étude peut durer entre un an et deux ans.  Exceptionnellement, l'étude peut durer au-delà de deux ans.  De plus, la durée de l'étude est par rapport à l'année scolaire (septembre à juin)—si le corps nous est donné au mois de décembre, par exemple, l'étude ne commencera qu'au mois de septembre suivant.
Qu'est-ce qui se passe une fois les recherches complétées?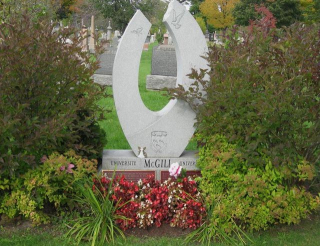 Le monument pour l'université McGill au cimetière Mont-Royal. Si la famille du donneur n'a pas déjà prévu un service funéraire privé, un service général de crémation est offert sans frais par l'université McGill.  Par la suite, les cendres seront enterrées au Cimetière Mont-Royal, où nous avons une fosse commune réservée pour l'Université McGill. Si par contre la famille voudrait demander le retour des cendres, il faut nous aviser de cette decision dans un délai de 2 semaines après le décès.  Une fois la période de recherches terminée, la famille sera avisée et pourra chercher les cendres au salon funéraire (frais administratifs de $150).
Pour une carte du Cimitière Mont-Royal et le lieu où se trouve la fosse appartenant à l'Université, cliquez ici. 
Aurez-vous une cérémonie après la fin de l'étude?
Oui.  Les familles sont invitées à une Cérémonie commémorative à la mémoire des défunts qui a lieu en juin.   Au moment du décès du donneur, nous demandons auprès de la famille les coordonnées des proches qui voudront y assister après l'étude, pour pouvoir envoyer les invitations officielles une fois l'étude terminée.