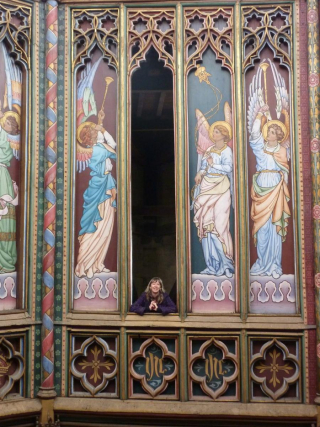 Professor
Professor Vanhaelen specializes in the study of seventeenth-century Dutch visual culture. Her book, The Wake of Iconoclasm: Painting the Church in the Dutch Republic (Penn State University Press, 2012) is the winner of the 2013 Roland H. Bainton Book Prize awarded by the Sixteenth Century Society and Conference for the best book written in English dealing with Art and Music History within the time frame of 1450-1660. The book explores the fraught relationship between art and religion after the iconoclasm, when sacred imagery was stripped from the Dutch churches. Taking up the history of painting in the aftermath of iconoclasm, the book reassesses Dutch realism and its pictorial strategies in relation to the religious and political diversity of the Dutch cities.
Her first book, Comic Print and Theatre in Early Modern Amsterdam: Gender, childhood and the city (Ashgate, 2003), explores shifts in the popular culture traditions of late seventeenth-century Amsterdam, particularly the ways that inexpensive printed imagery worked to define key urban spaces and generate new practices of everyday life.
Professor Vanhaelen is co-editor, with Bronwen Wilson (University of East Anglia) of a special issue of the journal Art History titled The Erotics of Looking: Materiality, Solicitation and Netherlandish Visual Culture (November 2012). The volume presents a collection of provocative essays by leading scholars of art that delve into ways that material and pictorial qualities of descriptive artworks appeal to beholders to become involved with them. Exploring complex interrelations between making, displaying, and engaging with paintings and prints, the volume brings forward mechanisms through which visual imagery fostered new forms of association in early modern Europe.
Professor Vanhaelen is co-editor with Joseph Ward (University of Mississippi) of Making Space Public in Early Modern Europe: Performance, Geography, Privacy (Routledge, 2013). This collection of essays is the second of two volumes resulting from a Major Collaborative Research Initiative (MCRI), funded by SSHRC: "Making Publics: Media, Markets, and Association in Early Modern Europe, 1500-1700". The book examines the how the spatial dynamics of public making changed the shape of early modern society, as cultural producers and consumers challenged dominant ideas about just who could enter the public arena, greatly expanding both the real and imaginary spaces of public life to include hitherto excluded groups of private people. The consequences of this historical reconfiguration of public space remain relevant, especially for contemporary efforts to meaningfully include the views of ordinary people in public life.
The Making Publics research project brought together scholars and graduate and postdoctoral students from a wide range of disciplines and geographical contexts who worked collaboratively to understand the ways in which cultural representations contributed to new forms of association before the normalization of the public sphere in the eighteenth century. Professor Vanhaelen's work in the MaPs project has been featured in the Canadian Broadcasting Corporation Radio series Ideas as Episode 5 "Painting Modernity" of the fourteen episode series "The Origins of the Modern Public".  
Professor Vanhaelen is currently a co-investigator in a SSHRC Partnership Grant, Early Modern Conversions: Religions, cultures, cognitive ecologies (http://earlymodernconversions.com), a five-year project that connects McGill faculty and students to other scholars, universities, and humanities and arts organizations around the world. The aim of the project is to develop an historical understanding of conversion that will enlighten modern debates about corporeal, sexual, psychological, political, and spiritual kinds of transformation. We study how early modern Europeans changed their confessional, social, political, and even sexual identities. These subjective changes were of a piece with transformations in their world—the geopolitical reorientation of Europe in light of emerging relations with Islam and the Americas; the rethinking and the translation of the knowledge of Greek and Latin Antiquity, Christianity, Judaism, and Islam; changes in and changing uses of the built environment; the reimagining of God. The project is partnered with eighteen research centres in Canada, USA, England, and Australia, and counts among its members international scholars, graduate students, postdoctoral fellows, artists, musicians, and members of the public.
Other publications include:
"Boredom's Threshold: Dutch Realism", Art History, vol. 35, no. 5, November 2012, 1004-1023.
 "The Erotics of Looking: Materiality, Solicitation and Netherlandish Visual Culture", Art History, vol. 35, no. 5, November 2012, 874-885 (co-authored with Bronwen Wilson).
 "Publishing the Private in Dutch Comic Culture", History Compass, vol. 10, issue 9, September 2012, 652-666.
"Recomposing the Body Politic in Seventeenth-century Delft", Oxford Art Journal. Vol. 31, no. 3, 2008, pp. 361-381.
"Utrecht's Transformations: Claiming the Dom through Representation, Iconoclasm and Ritual",  De Zeventiende Eeuw. December 2005: 354-374.
"Iconoclasm and the Creation of Images in Emanuel de Witte's Old Church in Amsterdam", Art Bulletin. Vol. LXXXVII, no. 2, June 2005: 249-264.
"Local Sites, Foreign Sights: A Sailor's Sketchbook of Human and Animal Curiosities in Early Modern Amsterdam", RES: Journal of Anthropology and Aesthetics. Vol. 45, Spring 2004: 256-272.
"Street Life in London and the Organization of Labour", History of Photography. Vol. 26, no. 3, Autumn 2002: 191-204.
Vanhaelen received her PhD in Art History in 1999 from The University of British Columbia in Vancouver. She was a Social Sciences and Humanities Research Council of Canada (SSHRC) postdoctoral fellow at The University of California Berkeley in 2000 before taking up a position at the University of Regina, where she taught before coming to McGill in 2003.
Current research projects include: early modern exhibitions of automata, clocks, hydraulics, and waxworks; Dutch garden and landscape architecture in a global context; boredom and Dutch realism; genre painting as a point of interface between private and public life.
Professor Vanhaelen's teaching overlaps with her research interests. She offers courses on early modern art and visual culture (1500–1700), historiography, methodology, and theory.

Graduate Seminars taught:
2017: Caravaggio, Caravaggisti, Caravaggio-mania: Painting the Destruction of Painting
2013, 2015: The Moving Image
2011: Advanced Pro-Seminar: Historiography and Methodology
2010: Between Worlds: Visual Strategies and Cross-cultural Mediations
2009: Boredom
2008: Making Publics / Producing Spaces
2007: The Disenchantment of Vision
2006: Iconoclasm and the Re-formation of Art
2005: Print and Popular Culture in Early Modern Europe
2004: Advanced Pro-Seminar, "Space in Art History"
2003: The Visual Culture of Everyday Life