On leave for the 2017-2018 academic year as a member of the Institute of Advanced Study, Princeton
Professor Hilsdale specializes in the arts of Byzantium and the wider Mediterranean world. Her research focuses on diplomacy and cultural exchange, in particular the circulation of Byzantine luxury items as diplomatic gifts as well as the related dissemination of eastern styles, techniques, iconographies and ideologies of imperium. Other academic interests include the intersection of ritual and representation, gender and patronage, image theory, as well as the art and architecture of medieval Spain.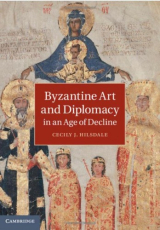 Her book, Byzantine Art and Diplomacy in an Age of Decline (Cambridge University Press, 2014) questions how political decline re-figures the visual culture of empire by examining the imperial image and the gift in later Byzantium (1261-1452). Providing a nuanced account of medieval artistic cultural exchange this study reassesses the temporal dimensions of power and the changing fates of empires.
Professor Hilsdale's research has received support from the Medieval Academy of America, the Social Sciences and Humanities Research Council of Canada, the National Endowment for the Humanities, the American Philosophical Society, the Dumbarton Oaks Center for Byzantine Studies, and the Fulbright Foundation.

Course offerings
In addition to undergraduate surveys of ancient and medieval art and architecture, Professor Hilsdale offers more specialized courses on such topics as Art and Crusade, the Arts of Medieval Spain, Medieval Constantinople, and Medieval Pilgrimage: Creating Sacred Landscapes. Recent graduate seminars include the Advanced Pro-Seminar, Istanbul Imagined, The Medieval Gift: Anthropological Theory and Art Historical Practice, Medieval Encounters with Islam, and Visual Cultures of the Medieval Mediterranean, and the Pre-Modern Thing: Matter and Entanglement.

Selected Publications
"Translatio and Objecthood: The Cultural Agendas of Two Greek Manuscripts at Saint-Denis," Gesta 56, no. 2 (Fall 2017): 151-78.
"Visual Cultures of the Medieval Mediterranean," in Peregrine Horden and Sharon Kinoshita, eds., A Companion to Mediterranean History (John Wiley & Sons, 2014), 296-313
"Gift," Studies in Iconography 33 (2012): 171-82. This special issue of the journal, edited by Nina Rowe, is dedicated to Medieval Art History Today: Critical Terms.
"The Imperial Image at the End of Exile: The Byzantine Embroidered Silk in Genoa and the Treaty of Nymphaion (1261)," Dumbarton Oaks Papers 64 (2010): 151-99.
"The Social Life of the Byzantine Gift: The Royal Crown of Hungary Re-Invented,"Art History 31/5 (November 2008): 602-31.
"Constructing a Byzantine Augusta: A Greek Book for a French Bride," Art Bulletin 87/3 (September 2005): 458-83.
"Towards a Social History of Art: Defining 'Mozarabic,'" Medieval Encounters: Jewish, Christian and Muslim Culture in Confluence and Dialogue 5/3 (1999): 272-89.