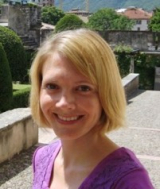 Chriscinda Henry's current research focuses on the relationship between secular art, visual pleasure, festivity, and recreation in Renaissance Italy. She is completing a book titled Playful Pictures: Painting, Leisure, and Entertainment in the Venetian Renaissance Home, which explores the role of art as interactive visual entertainment in the late fifteenth and early sixteenth centuries. Other current projects include a book on Northern European cultural tourism in Italy, 1550-1630, and an essay on gendered political allegory in Venetian wartime imagery of the early sixteenth century.
Professor Henry received her MA from Columbia University and her PhD from the University of Chicago. Before coming to McGill, she was ACLS/Mellon Postdoctoral fellow at Yale University and Visiting Assistant Professor of Renaissance and Baroque Art History at Oberlin College. Her work has been supported by the Fulbright Foundation, the Gladys Krieble Delmas Foundation, and the Mrs. Giles Whiting Foundation, among others.
Prof. Henry is on leave during the 2016-17 academic year. As Hanna Kiel Fellow at the Villa I Tatti in Florence, Italy, she begins a new project on the visual culture of carnival in Florence and Rome under the Medici (1465-1534).

Selected publications:
"Alter Orpheus: Masks of Virtuosity in Renaissance Portraits of Musical Improvisers," Italian Studies 71/2 (2016): 238-58.
"What Makes a Picture? Evidence from Sixteenth-Century Venetian Property Inventories," Journal of the History of Collections 23/2 (2011): 253-65.
"Whorish Civility and Other Tricks of Seduction in Venetian Courtesan Representation." In Sex Acts in Early Modern Italy: Practice, Performance, Perversion, Punishment, ed. Allison Levy, pp. 109-23. Aldershot, UK: Ashgate Publishing Ltd., 2010.