Highlights of the 2021 World Restart a Heart Campaign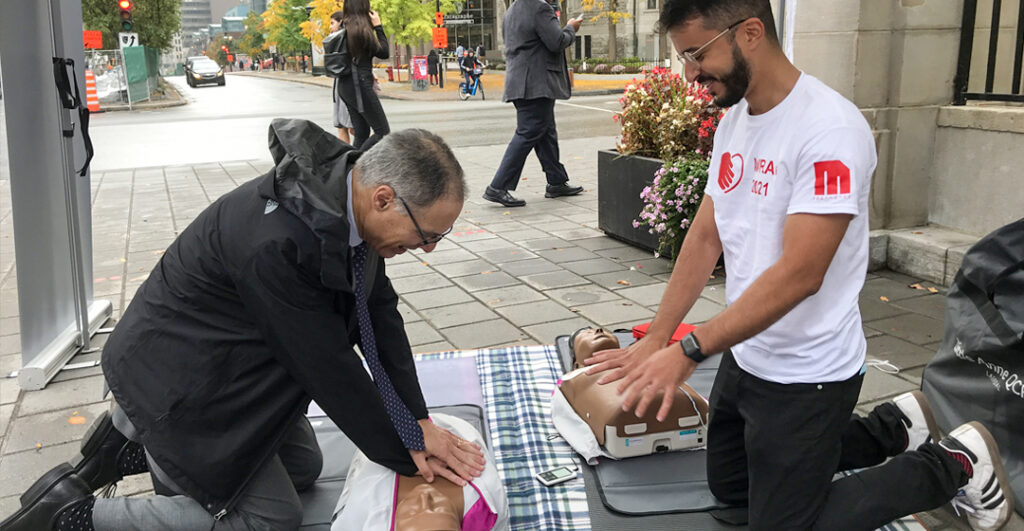 Dr. David Eidelman, Vice-Principal (Health Affairs) and Dean of the Faculty of Medicine and Health Sciences, brushes up on his CPR skills with Mehdi Hegagi (WRAH Logistics Lead).
The student-led 2021 McGill World Restart a Heart (WRAH) Bicentennial Campaign was a resounding success that reached over a million individuals in the community to increase awareness of bystander cardiopulmonary resuscitation (CPR) through an engaging series of virtual and in-person events and a compelling social media campaign. Here are some of the highlights.
Over 200 visitors safely practiced hands-on bystander CPR on simulated manikins at educational booths set up at the Jewish General Hospital (JGH) and on the McGill campus, with hundreds more stopping by to learn more about CPR and automatic external defibrillators (AEDs).
Members of the WRAH student committee visited 14 large classrooms, both virtually and in person, to educate McGill students on the importance of bystander CPR to over 3,000 students.
Four virtual events featuring astronauts, Olympians, cardiac arrest survivors and health care professionals were viewed by over 1,400 attendees and are available to view here.
An engaging series of 170 original posts, stories, quizzes and videos were shared on the WRAH Facebook, Instagram and Twitter accounts to reach over 100,000 unique viewers.
Since launching last fall, 425 individuals have completed the free 20-minute online Bystander CPR eModule.
The WRAH campaign was shared with members of the McGill community and featured on major news outlets to reach over a million viewers.  Watch the media coverage on CTV News, CBC Daybreak, and The Andrew Carter Morning Show here.
Congratulations to the WRAH team for organizing an outstanding initiative!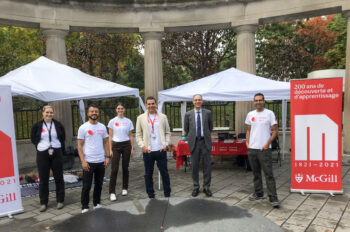 Left to right: Alexa Ehlebracht (WRAH Finance Lead), Mehdi Hegagi (WRAH Logistics Lead), Carla Apostolova (WRAH Ambassador Relations Lead), Jeremy Levett (Chair of the WRAH Committee), Dr. David Eidelman, Dr. Farhan Bhanji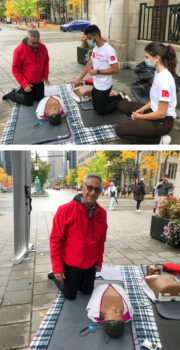 Dr. Gerald Fried, Associate Dean of Education Technology and Innovation at the Faculty of Medicine and Health Sciences and Director of the Steinberg Centre for Simulation and Interactive Learning, stopped by to encourage the students.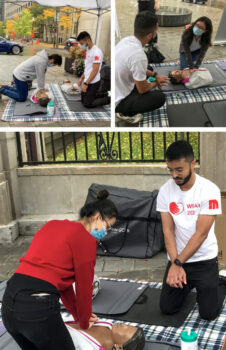 Mehdi Hegagi (WRAH Logistics Lead) teaches bystander CPR to the community on simulated feedback manikins.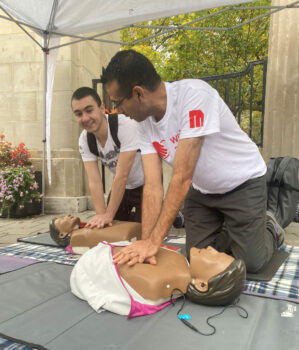 Dr. Farhan Bhanji (right) gets in on the action!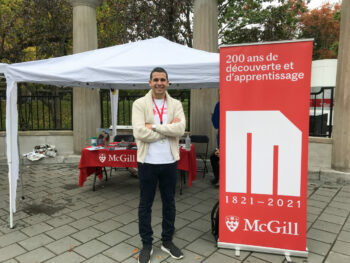 Jeremy Levett (Chair of the WRAH Committee)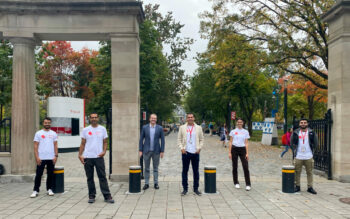 Left to right: Mehdi Hegagi (WRAH Logistics Lead), Dr. Farhan Bhanji, Dr. François de Champlain, Jeremy Levett (Chair of the WRAH Committee), Carla Apostolova (WRAH Ambassador Relations Lead), David Nassim (WRAH Communications Lead)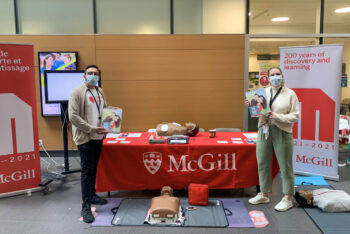 Nissim Benizri (WRAH Fundraising Lead) and Alexa Ehlebracht (WRAH Finance Lead) at the JGH booth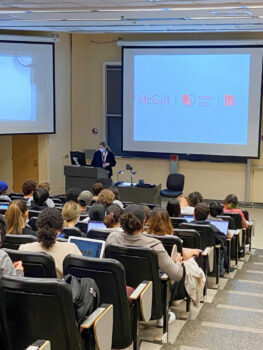 Presenting CPR basics in the McGill classrooms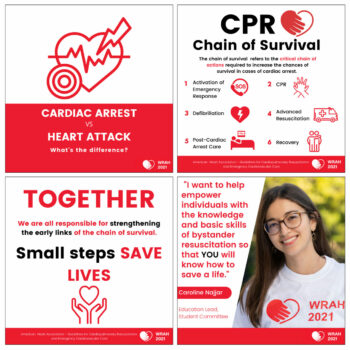 A compelling social media campaign