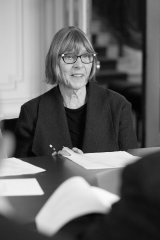 Marjorie Bronfman Professor Emerita
margaret.lock [at] mcgill.ca
PLEASE NOTE: Dr. Lock is no longer accepting new graduate students. Applicants interested in the medical anthropology program should contact Professors Hyde, and Stevenson
Cross-appointed in Anthropology, Lock's research focuses on embodiment, comparative epistemologies of medical knowledge, the global impact of biomedical technologies, epigenetics, and the microbiome. Author and/or co-editor of 18 books and 220 articles, her five monographs have won the Canada Council for the Arts Molson and Killam Prizes, a Trudeau Foundation Fellowship, a Gold Medal for Research by SSHRC and the McGill Medal for Exceptional Academic Achievement. Lock is a Fellow of the Royal Society of Canada, Officier de L'Ordre national du Québec, Officer of the Order of Canada, and an elected Member of the American Academy of Arts and Sciences.
Research interests:
Lock's research includes investigations into the revival of the East Asian medical system in Japan long after the adoption of biomedicine; the dynamics of 'school refusal syndrome'; the menopausal transition in Massachusetts, Manitoba, and Japan; adoption of the concept of brain death in Japan and North America respectively to legally procure organs for transplant; the reception of genetic testing in three American cities, and a critical investigation of knowledge about and management of dementia in North America and the UK. Her current work examines the social and political aspects of emerging knowledge about epigenetics and the microbiome. 
Selected Publications:
2016 Can Science Resolve the Nature/Nurture Debate? London: Polity Press, co-authored with Gisli Palsson
2013 The Alzheimer Conundrum: Entanglements of Aging and Dementia. Princeton University Press
2010 An Anthropology of Biomedicine.  Co-authored with Vinh-Kim Nguyen. Oxford: Wiley-Blackwell. 2nd Edition, February 2018.
2015 Comprehending Embodiment in the Era of the Epigenome, Current Anthropology 56:151- 177.
2013 The Lure of the Epigenome, The Lancet 381:1896-1897.
2012 The Epigenome and Nature/Nurture Reunification, Medical Anthropology special issue on Local Biologies, Med Anthropol. 2013, 32:291-308.
cvapril2017.docx