subscribe
Despite Canada being an important energy producer, not all Canadians can access or afford adequate levels of energy services at home to meet their needs, maintain healthy indoor temperatures, and live a decent life—a situation known as energy poverty. Depending on the measure, 6–19% of Canadian households face energy poverty. Health risks associated with energy poverty are documented in countries with milder climates.
Alfonso Mucci, Emeritus Professor in the Department of Earth and Planetary Sciences, has been elected an American Geophysical Union (AGU) Fellow. He joins 53 other individuals in the 2022 Class of Fellows. AGU, a nonprofit organization that supports 130,000 enthusiasts to experts worldwide in Earth and space sciences, annually recognizes a select number of individuals as part of its Honours and Recognition program.
On August 10, thirty or so undergraduate students gathered in Leacock 232 to share their experiences as researchers in the Faculty of Science over the summer.
The Faculty of Science's new Computational and Data Systems Initiative will help researchers unlock the power of data-intensive research methods
McGill University scientists have developed a new system for sharing the enormous amount of data being generated by the CHIME radio telescope in its search for fast radio bursts (FRBs), the puzzling extragalactic phenomenon that is one of the hottest topics in modern-day astronomy.
Stress increases people's tendency to avoid cognitively demanding tasks, without necessarily altering their ability to perform those tasks, according to new research from McGill University.
New research co-authored by McGill Earth and Planetary Science professor John Stix challenges conventional views about scientists' ability to reliably predict volcanic eruptions.
Read more
Psychology researchers at McGill University have used network science – a mathematical technique for revealing connections and patterns – to gain novel insights into Montrealers' experience of using French and English.
The unique approach has brought to light subtle differences as to which social settings Montreal bilinguals discuss certain topics and whether they use French, English or both languages to discuss those topics.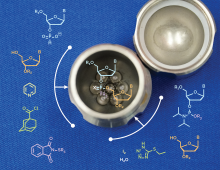 Scientists at McGill University have developed a solvent-free method for making oligonucleotides, short strands of DNA of growing significance in research and the pharmaceutical industry.
For human beings, the ability to generalize – to extract broad principles from our experiences of the world and use these principles to help us make decisions in new situations – is an essential skill for navigating everyday life. But for those working in the field of artificial intelligence, getting machines to generalize in this way has been a notoriously difficult challenge.
McGill University researchers are using cutting-edge computer simulations and analytical techniques to identify and validate promising compounds in the search for a treatment for COVID-19.
Nicolas Moitessier, a professor in the Department of Chemistry, is using computer simulation software that he has developed over the past 15 years to predict the properties of molecules that have yet to be made.
In a step forward for the field of quantum mechanics, McGill University researchers have achieved a breakthrough in sensitive measurements of the wave-like properties of electrons.
Around 75 students joined faculty and staff from the Faculty of Science at Thomson House last week to celebrate their experience as undergraduate researchers over the summer.
In his welcoming remarks, Bruce Lennox, Dean of the Faculty of Science, acknowledged the students' contributions in McGill's "intense research environments".