2021 Events
McGill SDG Week

February 8th - 12th, 2021
The first annual McGill University SDG Week is taking place February 8th -12th. The week's events will be hosted by the McGill SDG Student Hub in collaboration with various clubs and student associations. The week be filled with presentations and panel discussions to help students learn about, engage with, and take action on the 17 Sustainable Development Goals.
The McGill SDG Student Hub is affiliated with the UN Sustainable Development Solutions Network Youth Division, and the role is supported by the MSSI Hub.
More information is available here.
2020 Events
2020 MSSI Research Symposium
November 9th & 10th, 2020
The 3rd Annual MSSI Research Symposium will take place in virtual format on the afternoons of November 9th & 10th, 2020. Join us for keynote talks, panel discussions with MSSI researchers and a virtual research fair for students.
November 9th is dedicated to our Landscapes and Urban research themes, while November 10th is dedicated to our Materials and Transitions research themes. This event is free and open to all.
Register here for Day 1
Register here for Day 2
---
DECADE OF ACTION  - PANEL AND WORKSHOP
October 14th, 2020
This panel discussion and workshop will identify the accelerated actions needed to achieve the 17 United Nations Sustainable Development Goals (SDGs) and discuss ways in which government, business, academia and society can be mobilised, with specific emphasis on Québec.
The MSSI is organizing this panel in collaboration with Accélérer 2030, CIRODD, Concordia University, Montréal International, & SDSN-Canada.
More information and registration is available here.
---
Sustainability Webcasts
Fall 2020
We have worked with University Advancement to develop a four-part series on sustainability featuring researchers from the MSSI.  
The final webcast is October 15th at noon. Watch it here.
You can watch a recording of the first two webcasts in our News section.
---
Past events
Workshop: Metrics for Sustainability Governance
February 17th, 2020
Read a recap here.
---
Sustainable Foods Future: 10th Sustainability Research Symposium
January 20th, 2020, Thomson House
The Sustainability Research Symposium (SRS) is an annual one-day conference led by students for students. This symposium is supported by the Dean of Science and generously funded by the McGill Sustainability Systems Initiative (MSSI). By bringing together various disciplines and perspectives on sustainability, the SRS is an interdisciplinary event for students, faculty, and other community members that smooths the way for sustainable dialogue at McGill University and beyond.
For more information, please visit the SRS website.
2019 Events
Transitional Justice and Climate Change
November 26th, 2019, Thomson House
The MSSI, in collaboration with the McGill Centre for Human Rights and Legal Pluralism, hosted Professor Sonja Klinsky of Arizona State University. The presentation was followed by a discussion with McGill Faculty members Megan Bradly and Sébastien Jodoin. 
Read a recap here.
---
Bursting The Reality Bubble
October 17th, 2019, Bronfman Building Room 151
Ziya Tong is an award-winning science broadcaster and author. This event was co-hosted with the Department of Art History and Communication Studies.
---
Sustainability Transitions: 2nd Annual MSSI Research Symposium
October 16th, 2019, Faculty Club Ballroom
This year's symposium was focused on "Sustainability Transitions". Faculty, students, staff and members of the public joined us for a workshop, keynote and panel discussion to delve deeper into what transitions mean to us as individuals and as a society. 
This year's invited speaker was Jochen Markard, Senior researcher and Lecturer at the Group for Sustainability and Technology, ETH Zurich.
A summary of the event, including recordings of the key and panel, are available here.
---
Renewable Resources for a Sustainable Society
September 23rd, 2019, 3- 5 p.m., Redpath Auditorium
Prof. George Phillidipidis
Patel College of Global Sustainability
University of South Florida
Read a recap and watch the recording here.
---
Charting a New Path along the Environmental Policy Tightrope
February 2019
Prof. Kai Chan
Institute for Resources, Environment and Sustainability
University of British Columbia
Learn more and watch the talk here.
---
Sustainability Soirée
January 2019
This was our first co-hosted event with the McGill Office of Sustainability. Sustainability Project Fund teams and MSSI researchers showcased all of the exciting and innovative ways that sustainability is being addressed at McGill, from research to practice.
---
Innovations Towards a Sustainable Future: 9th McGill Sustainability Research Symposium
January 2019
The student led Sustainability Research Symposium celebrated it's 9th year!
For more information, please visit their website. You can download the 2019 report here.
2018 Events
MSSI Sustainable Landscapes Theme "Pitch or Enrich"
December 2018
A MSSI Landscapes research theme initiative that invited researchers from across McGill to pitch bold ideas for landscape research or participate by enriching the ideas of their peers.
More information on the theme website.
---
MSSI Research Theme Symposium
November 2018
An afternoon of MSSI sponsored research and community.
Watch the Materials, Urban and Landscapes research theme updates.
---
Using research to inform policy
November 2018
Dr. Katy Gibbs
Executive Director
Evidence for Democracy
Learn more and watch the talk here.
---
MSSI Consultation Workshop: Transitioning to Sustainability
November 2018
---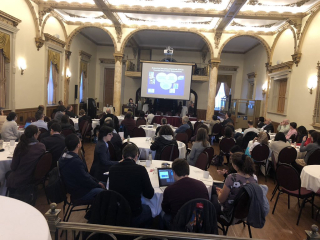 2018 Cells to Society Symposium - Environment & Health: Sustainable Materials
October 2018
A full-day symposium hosted by the MSSI Materials research theme. 
More information is available here.
---
BASE CODE: How convergent technologies are transforming the future of sustainable materials, and the challenges and opportunities they in turn present
October 2018
Prof. Andrew Maynard
School for the Future of Innovation in Society
Arizona State University
Learn more and watch the talk here.
---
MSSI Visioning Workshop
September 2018
What is the future of agricultural or other natural resource sustainability over the next two decades? The MSSI scenario building workshop, led by Professor Elena Bennett, followed the STEEP method for scenario building.
Download a recap and the results of the workshop: 
MSSI Visioning Workshop Recap
---
Academia's Emerging Crisis of Relevance and the Consequent Role of the Engaged Scholar
April 2018
Prof. Andrew Hoffman
Professor of Management & Organizations and Environment & Sustainability
University of Michigan
Learn more and watch the talk here.
---
Borders and Sustainability: 8th McGill Sustainability Research Symposium
March 2018
This was a student-led symposium that invited students and researchers to come together and share their ideas. The event featured keynote lectures, grad talks, a poster and networking session and a new applied sustainability workshop.
---
Pursuing research impact through novel partnerships
February 2018
Dr. Georgina Cundill Kemp
Senior Program Officer with the International Development Research Centre (IDRC)
Learn more and watch the talk here.
2017 Events
---
New cities: Utopian wishes and PowerPoint dreams
December 2017
Dr. Sarah Moser
Assistant Professor in McGill's Dept of Geography
Director of the Urban Studies Program
Learn more and watch the talk here.
---
Tropical Forests and Climate Change: How research can help transform a problem into a solution
October 2017
Frances Seymour
Distinguished Senior Fellow, WRI
Learn more and watch the talk here.
---
Global Sustainability from the bottom up
September 2017
Dr. Amy Luers
Executive Director, Future Earth
Learn more and watch the talk here.
---
MSSI Research Theme Launch
September 2017
Launch of the first three Research Themes:
Adapting Urban Environments for the Future; Creating Sustainable Materials for the Future; and Sustaining Landscapes for the Future.
Learn more and watch the event here.
---
Sustainability Science and Practice
June 2017
Dr. Pamela Matson
Dean of the School of Earth, Energy and Environmental Sciences
Stanford University
Learn more and watch the talk here.
---
Consultation Workshops on the SSTI Research Themes
Spring 2017
MSSI Research Theme workshops brought together over 70 researchers from across McGill to generate new, innovative ideas for sustainability research that cut across traditional academic disciplines. 
---
Call for suggestions for MSSI Research Themes (NOIs)
Winter 2017
The MSSI asked the McGill research community to submit 4-page proposals describing potential research themes. Forty proposals were submitted. A description of the process and list of the proposals can be found in the link below.
2016 Events
---
Lightning Talks
November 2016
A series of 4-minute talks in which faculty presented their research in the context of sustainability questions and highlighted the benefits of input from multiple disciplines.
---
MSSI Opening Cocktail
Fall 2016
The MSSI opening launch cocktail was attended by more than 70 guests from eight faculties across McGill.