Upcoming MSSI Events
MSSI Speaker Series: George Philippidis, September 23rd, 2019
2nd Annual MSSI Research Symposium, October 16th, 2019
---
September 23rd, 2019
3 - 5 p.m.
Redpath Auditorium
Join us for the McGill Sustainability Systems Initiative's first invited speaker of the 2019-2010 academic year:
George Philippidis
Associate Dean and Associate Professor
Patel College of Global Sustainability
University of South Florida
The event will be a one-hour talk followed by refreshments and discussion. More details coming soon.
October 16th, 2019
Faculty Club
3450 rue McTavish
Join us for an afternoon of research updates, discussions and networking with McGill sustainability researchers. This year's invited speaker is Jochen Markard, Senior researcher and Lecturer at the Group for Sustainability and Technology within the Department of Management, Technology, and Economics of ETH Zurich.
More details will be available early Fall 2019.
MSSI Speaker Series
Past Speakers
Prof. Kai Chan, February 2019

"Charting a New Path along the Environmental Policy Tightrope: Including and Rewarding Stakeholders without Giving Away the Farm"
Dr. Katy Gibbs, November 2018

"Using research to inform policy"
Prof. Andrew Maynard, October 2018

"BASE CODE: How convergent technologies are transforming the future of sustainable materials, and the challenges and opportunities they in turn present"
Prof. Andrew J. Hoffman, April 2018 

Academia's Emerging Crisis of Relevance and the Consequent Role of the Engaged Scholar
Dr. Georgina Cundill Kemp, February 2018

Pursuing research impact through novel partnerships
Dr. Sarah Moser, December 2017

New cities: Utopian wishes and PowerPoint dreams
Frances Seymour, October 2017

Tropical Forests and Climate Change: How research can help transform a problem into a solution
Dr. Amy Luers, September 2017

Global Sustainability from the bottom up
Dr. Pamela Matson, June 2017

Sustainability Science and Practice
---
---
---
---
---
---
---
---
---
Previous MSSI Activities
MSSI/MOOS Sustainability Soirée, Winter 2019
MSSI Sustainable Landscapes Theme "Pitch or Enrich", Fall 2018
MSSI Research Theme Symposium, Fall 2018
MSSI Consultation Workshop: Transitioning to Sustainability, Fall 2018
2018 Cells to Society Symposium - "Environment & Health": Sustainable Materials, Fall 2018
MSSI Visioning Workshop, Fall 2018
Call for suggestions for MSSI Research Themes (NOIs), Winter 2017
Proposals for MSSI research themes from the McGill research community.
MSSI Research Theme Launch, Fall 2017
Launch of the first three Research Themes: Adapting Urban Environments for the Future; Creating Sustainable Materials for the Future; and Sustaining Landscapes for the Future.
Consultation Workshops on the MSSI Research Themes, Spring 2017
Cross faculty workshops exploring research ideas around sustainability.
Lightning Talks, Fall 2016
Short talks by McGill researchers on their areas of interest in sustainability.
MSSI Opening Cocktail, Fall 2016
The MSSI opening launch cocktail was attended by more than 70 guests from eight faculties across McGill.
---
This was our first co-hosted event with the McGill Office of Sustainability. Over 100 participants came out to meet Sustainability Project Fund teams and MSSI researchers to learn about all of the exciting and innovative ways that sustainability is being addressed at McGill, from research to practice.
---
View the event poster:
MSSI Consultation Workshop: Transitioning to Sustainability
---
---
Download the PDF version: 
MSSI Visioning Workshop Recap
---
The MSSI asked the McGill research community to submit 4-page proposals describing potential research themes. Forty proposals were submitted. A description of the process and list of the proposals can be found in the link below.
---
In Spring 2017, the MSSI Research Theme workshops brought together more than 70 researchers from across McGill. Their task: to generate new, innovative ideas for sustainability research that cut across traditional academic disciplines. These ideas were used to help identify themes for the first three MSSI Research Programs. The starting point for the conversations was the Grand Challenge NOIs and individual research interests. Discussions transcended and built on these to generate exciting research ideas.
---
A series of 4-minute talks in which faculty presented their research in the context of sustainability questions and highlighted the benefits of input from multiple disciplines. Talks were followed by a panel discussion.
MSSI-supported events
Past events
TISED seminar: Development of Emerging Nanomaterials for Sustainable Energy Applications, June 12th, 2019
Light, Night & Urban Sustainability, April 9th, 2019
Innovations Towards a Sustainable Future, January 2019
9th McGill Sustainability Research Symposium
Borders and Sustainability, March 2018
8th McGill Sustainability Research Symposium
Symposium on Nitrogen, Nitrogen Footprints and their Management, November 2016
A symposium organized by the Trottier Institute for Science and Public Policy that was themed around the effects of human activities on the nitrogen cycle, nitrogen footprints and their management.
---
Upcoming events
On June 12 from 5:30-7:30 pm, Dr. Joel Pedersen hosted a research seminar and panel discussion by international experts on the development of emerging nanomaterials for sustainable energy applications.
Speakers included: Joel Pedersen (TISED and University of Wisconsin - Madison), Matthew Eckelman (Northeastern University) Robert Hamers (University of Wisconsin - Madison), Desirée Plata (MIT), Jérôme Rose (CEREGE) and Robert Tanguay (University of Oregon).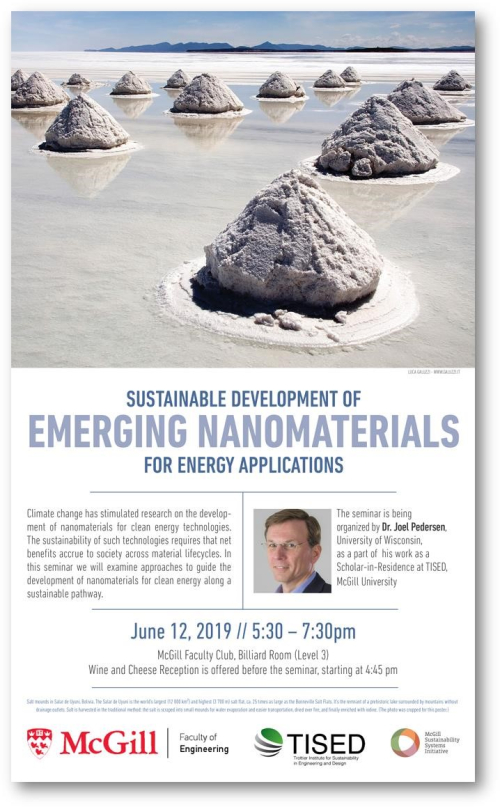 Past events
Tuesday April 9th, 2019
Thomson House, 2nd floor, 3650 McTavish St.
MacDonald Harrington Building, rm 114, 815 Sherbrooke St. West
Full program and more information here.
This one-day symposium was organized by Professor Will Straw (James McGill Professor of Urban Media Studies) and The Urban Night, an interdisciplinary research project on cities and the night. It was supported through MSSI's Urban Environments theme through their New Opportunities Fund.
This symposium tackled the question of how the night-time of cities might be made environmentally sustainable, accessible, safe and culturally effervescent.  A key (but not exclusive) focus of the symposium was the role of lighting in the night-time experience of cities.
The night-time of cities has emerged in the last 15 years as a key concern of public policy across multiple sectors.  New instruments of municipal governance (like night mayors), studies of night-time economies, activism to achieve the safety of women in the urban night, the extension of cultural activities into late night (nuits blanches, etc.), night-time transportation initiatives (the Nochebus in Mexico City), and movements for the preservation of  music venues are all symptoms of the new attention which cities and city-dwellers are paying to their nights.
How might we sustain an experience of the night which is unmarred by endless conflicts over noise and illumination, safe for all genders and sexualities, accessible by public transportation and culturally diverse and effervescent?  The symposium tackled these issues with experts from a variety of fields.
"Innovations Toward a Sustainable Future"
The student led Sustainability Research Symposium celebrated it's 9th year! For more information, please visit their website. You can download the 2019 report here.
---
Past events
---
External Event
The following events are external to the MSSI which are of interest to the McGill sustainability community.
Upcoming events
Multiscale Mechanochemistry & Mechanobiology: From Molecular Mechanisms to Smart Materials, July 29th - 31st, 2019
Sustainability: Transdisciplinary Theory, Practice, and Action, Oct 16-18th, 2019 (abstracts deadline May 25th)
Past events
Youth Climate Lab Policy Jam, March 28, 2019
Next Generation Membrane Materials for Desalination and Wastewater Reuse - Prof. Menachem Elimelech, March 22, 2019
Green Chemistry: The Path Forward, January 31st, 2019
McGill Continuing Education courses in science communication
Trottier Institute for Science and Public Policy (TISPP) Annual Symposium, November 19th, 2018
TISED/GHP Innovative Solutions for Planetary Health Seed Grant Program Reception, November 19th, 2018
---
The 2nd Conference on Multiscale Mechanochemistry and Mechanobiology, which will take place at McGill University in Montreal, Canada from July 29 – 31, 2019.
Registration is now open and we are looking forward to your submissions. The abstract deadline for contributed talks is March 31, 2019 (posters: June 15, 2019).
You will find more information in the flyer below and on conference website.
University of Toronto Mississauga, October 16-18th 2019.
This inaugural STTPA conference, in collaboration with all who are committed to sustainability, seeks to bring together academics and students across all disciplines, Aboriginal leaders and scholars, business executives, civil society, policymakers, sustainability professionals and other sustainability lovers to explore innovative forms of theory, practice, and action that can help craft a path towards sustainability.
Deadline for abstract submission is April 25th, early bird registration closes August 30th.
Past events
The Youth Climate Lab, a youth-for-youth non-profit focused on accelerating youth-led climate action in policy and entrepreneurship, is hosting a Policy Jam on Thursday, March 28th, from 6 - 9 pm. The goal of this event is to co-create creative policy recommendations for Canada's National Strategy for the 2030 Agenda for Sustainable Development. This is an excellent opportunity for students and/or young professionals to build their skills and solutions for the Sustainable Development Goals and future of work.The event (and food!) is free, please register through the Facebook event.

These events are part of the Our2030 Lab Series we are hosting in Ottawa, Toronto, Montreal, and Vancouver. We are recruiting youth across the country to join us in building our skills, leveraging our passions and strengths, and thinking differently when it comes to taking action on the SDGs and Future of Work.
Veuillez noter que des animateurs bilingues seront sur place pour permettre aux participants de contribuer dans les deux langues officielles. Tous les résultats seront publiés en français et en anglais.
Dr. Paul Anastas, Director of the Center for Green Chemistry and Green Engineering at Yale University and "father of green chemistry", will be speaking in the Macdonald Campus Agora Speaker Series on January 31st. More information here.
The McGill Writing Centre in the School of Continuing Education is offering two courses directed at graduate students and early career researchers:
CCOM 614 Communicating Science to the Public
YCCM 600 Scientific Writing and Publishing: Graduate ESL
Date: November 19th, 2018 (2:30 pm - 6:30 pm)
Location: Faculty Club Ballroom and Lounge
For more information, please see the announcement
TISPP
The Trottier Institute for Science and Public Policy (TISPP) was founded with the generous support of Lorne Trottier. Mr. Trottier has promoted science and its use in public policy in Canada, particularly in discussions related to climate change and technology. TISPP provides research grants to McGill University faculty to pursue projects that utilize science in the development, or informing, of public policy. Each year TISPP organizes a public symposium with a theme that focuses on an area where McGill faculty are actively working at the science-public policy interface. The public symposium is also an opportunity for TISPP research fellows to present their research.
This year, the first session of the TISPP symposium will explore the relationship between science, public policy and the Canadian peat industry. Canada contains about 25% of the world's peatlands: they cover 12% of Canada (1,130,000 km2 in area) and contain about 150 Pg C (1015 g C), about half the carbon stored in Canada's terrestrial ecosystems. Most pristine peatlands are small but persistent sinks of atmospheric carbon dioxide and sources of atmospheric methane – the two most important carbon greenhouse gases. Canada also has an active peat moss industry that extracts peat for use in horticulture and floriculture, nurseries, and home use. This industry is worth $750,000,000 annually and employs approximately 5,000 people. Peat extraction completely alters the hydrology, ecology and carbon functions of these ecosystems. Even though the industry has affected only a tiny fraction of Canadian peatlands (approximately 300 km2, or <0.03% of Canadian peatlands), they have become a world leader in developing viable techniques for ecological restoration to ensure the re-establishment of peatland biological diversity and carbon functions equivalent to those found in pristine peatlands. These techniques have come about because of the industry's active engagement and significant support for scientific research. The Canadian industry has become a strong advocate for the use of evidence-based science to develop environmental policy and the standards and certification to ensure the sustainability of ecosystems that have been used for the extraction of peat. The first session will explore the strong links between fundamental scientific research, the economics and environmental and social responsibility of a resource industry, and an emerging and constantly changing provincial, federal and international public policy arena.
The second part of the symposium will explore science and public policy related to health in the built environment, the use of isotopes in methane mitigation, and theory and practice of emissions cap-and-trade systems.
Date: November 19th, 2018 (5:00 pm - 7:00 pm)
Location: Faculty Club Billiard Room
To register:mcgill.ca/tised/events/20181119
For more information:mcgill.ca/tised/TISED-GHP-Reception
Environmental degradation greatly affects human health. Solving these problems requires interdisciplinary collaboration. The Faculty of Medicine's Global Health Program and the Faculty of Engineer's Trottier Institute for Sustainability in Engineering and Design (TISED) jointly provide research funding through the TISED/GHP Innovative Solutions for Planetary Health Seed Grants program for research at the interface of global health and sustainable development. The program funds bold and high-risk research projects at the nexus between disease, rapid environmental degradation and climate change. Each research project is led by researchers from the Faculty of Medicine and the Faculty of Engineering.
Join us for a 5-a-7 reception on November 19th to hear more about the first two research projects on water pollution and another on air pollution, respectively, funded through this program!
High speed, portable PCR system for rapid and in-situ water quality testing
Dr. Andrew Kirk, Department of Electrical and Computer Engineering, Faculty of Engineering
Dr. Mark Trifiro, Department of Endocrinology in the Faculty of Medicine
A pilot study of the acute cardiovascular impacts of exposure to traffic-related air pollution and its oxidative potential among adults in urban Colombia
Dr. Jill Baumgartner, Department of Epidemiology, Biostatistics and Occupational Health in the Faculty of Medicine
Dr. Omid Rouhani, Department of Civil Engineering in the Faculty of Engineering
The presentations will be followed by an expert panel discussion on the challenges at the nexus of environmental degradation and human health. There will also be a networking cocktail (food and refreshments) afterwards.