See our newsletters:
---
September 2020
Towards Disability-Inclusive Climate Action
This event, taking place during Climate Week NYC, is organized by the Centre for Human Rights and Legal Pluralism at McGill is and part of Prof. Sébastien Jodoin's MSSI-funded project "Including Persons with Disabilities in Multilateral Climate Governance". The event is on Tuesday, September 22nd, 2020 from 4:00-6:00 (EST).
---
September 2020
Newly appointed Professor of Practice - Dr. Karim Zaghib
Professor Karim Zaghib also named Strategic Advisor to Investissement Québec, will play key role in plan to transform Québec into global lithium battery materials supplier.
---
September 2020
Sustainability Research Webcasts
We have worked with University Advancement to develop a four-part webcast series featuring MSSI researchers. You can watch recordings of the four webcasts below.
What is sustainability, anyways?
Will COVID-19 change the way we approach sustainability?
Why is sustainability research so challenging?
How can sustainability research be translated into real-world changes?
---
September 2020
First round of SSH-Ideas projects announced
Last Spring we launched the SSH-Ideas Fund, developed specifically for projects led by researchers in the social sciences and humanities. See the announcement here.
---
July 2020
5 new research projects
The recipients of the 2020 Ideas Fund have been announced. See the announcement here.
---
July 2020
Student opportunity: McGill SDSN-Youth Campus Coordinator
The MSSI is appointing a new SDSN-Youth Campus Coordinator of the 2020-21 academic year. You can read about the experience of last year's Coordinator here.
See the full call here.
---
April 2020
Two postdoc positions
The MSSI's Urban theme is hiring two postdocs to develop the Montreal Sustainability Dashboard (MSD), a platform for integrating sustainability knowledge at the regional scale to improve research, policy making and public engagement.
See the full call here.
---
March 2020
New research projects
The recipients of the 2020 Innovation Fund have been announced. See the full list here.
---
January 2020
Sustainability Mentorship Program
The Research and Sustainability Network (RSN), a student-led initiative to help undergraduate students interested in sustainability research, launched their flagship "Sustainability Mentorship Program" this past fall. This program pairs undergraduate students with graduates students involved in sustainability research. They are always welcoming new mentors and mentees, you can find more information on their Facebook page.
---
January 2020
FRQ-IIASA postdoctoral program
The program will enable Quebec postdoctoral fellows to participate in postdoctoral programs at the International Institute for Applied Systems Analysis (IIASA). Two postdoctoral fellowships will be awarded by the program for one year with the possibility of a one-year extension.
The research interests of the fellows should be aligned with sustainable development goals as stand-alone topics or combined with any of the IIASA program areas: 
Advanced Systems Analysis
Air Quality and Greenhouse Gases
Ecosystems Services and Management
Energy
Evolution and Ecology
Risk and Resilience
Transitions to New Technologies
Water
World Population
The call will be launched on January 13th, 2020 with an application deadline of March 18th, 2020. More information here.
---
December 2019
New report: The Rights of Disabled Persons in the Context of Climate Change
Professor Sébastien Jodoin (Faculty of Law) has released a new report with the Center for International Environmental Law (CIEL). This report reminds Parties to UN Climate Agreements of their commitments to taking a rights-based, disability-inclusive approach to climate action. This work is connected to research that was partially funded through the MSSI's Adapting Urban Environments theme.
---
November 2019
New publication: Potential increase in oil and gas well leakage due to earthquakes
This (open-access) publication, from researchers in the Department of Civil Engineering and Applied Mechanics and the Department of Earth and Planetary Sciences at McGill, identified North American "hot spots" for potential leakage from oil and gas wells due to earthquake activity. Wells can contribute to groundwater contamination through fluid leakage and air pollution through greenhouse gas emissions, but little is known on role that increased seismic activity is having on well leakage. These hot spots are areas that have a high density of oil and gas wells and a high density of earthquake activity.
The research behind this publication was funded through the 2018 MSSI Ideas Fund awarded to Prof. Mary Kang.
---
November 2019
Save the date - Genome Quebec networking event
Networking Event • LSARP 2020
Genomic Solutions for Natural Resources
and the Environment
This full day event will be taking place on January 27th, 2020. More information to come.
---
November 2019
Knowledge Synthesis Grant (2020) – Living within the Earth's Carrying Capacity (SSHRC, NSERC & CIHR)
Application Deadline: January 7, 2020, 5 p.m.
Knowledge Synthesis Grants are not intended to support original research. Rather, they are intended to support the synthesis of existing research knowledge and the identification of knowledge gaps. This call is particularly focused on the state of research knowledge emerging over the past 10 years. The horizon for impacts may be as much as 20 years. The upcoming call will have a focus on "Living Within the Earth's Carrying Capacity", one of SSHRC's new global future challenges.
McGill applications must go through the Office of Sponsored Research (OSR). Contact Joanna Mastalerek, Grants and Agreements Officer, 514-398-7300.
---
October 2019
New publication: Abrupt changes across the Arctic permafrost region endanger northern development
Bernardo Teufel and Professor Laxmi Sushama of the MSSI Sustainable Landscapes theme have a new publication in Nature Climate Change. Their study uses regional climate models to project the impacts of a warming Arctic region on permafrost melting and soil moisture content.
These changes have important implications for northern landscapes in terms of infrastructure and wildfire frequency, and highlights the importance of considering abrupt climate shifts when incorporating climate change information into decision-making for northern communities.
Read the details of their study here and the McGill news article here.
---
October 2019
EUL Seminar Series: The Imperative for a Global Systems Approach to Address Energy and Climate Challenges
Dr. Shaffiq Jaffer
VP Corporate Science and Technology Projects in North America (NA) at TOTAL
Date: Friday, Nov. 1st, 2019
Time: 11:30 AM
Place: Trottier Building, ENGTR 2120
Pizza will be served.
---
September 2019
Book Launch
Hamish van der Ven, Assistant Professor in the Department of Political Science and School of Environment, is celebrating the publication of his book: Beyond Greenwash: Explaining Credibility in Transnational Eco-Labeling (Oxford University Press, 2019).
3:00-4:30 pm, Thursday, October 17th
Paragraphe Bookstore, 2220 McGill College Avenue
Guest Speakers: Juliet Johnson, Sébastien Jodoin, Yann le Polain de Waroux, and Hamish van der Ven
Wine and cheese/fruit reception to follow.
More details here.
---
July 2019
Sustainable Development Goals Funding Program
*Applications should go through the Office of Sponsored Research. Interested applicants: please contact Agnes Wong, OSR Grants & Agreements Officer - agnes.wong2 [at] mcgill.ca*
There is an open funding call available through Employment and Social Development Canada. Up to $100K for a maximum 12-month project that advances a minimum of two U.N. Sustainable Development Goals. Application period is ongoing.
In 2015, Canada and all other United Nations Member States, committed to implementing the 2030 Agenda for Sustainable Development, which set 17 Sustainable Development Goals (SDGs) to eliminate poverty, protect the planet and ensure prosperity by the year 2030.
In November 2018, we launched the Sustainable Development Goals (SDG) Funding Program to support projects aimed at:
building awareness of the 2030 Agenda
increase partnerships and networks
advance research
further Canada's implementation of the 2030 Agenda
See the full posting: https://www.canada.ca/en/employment-social-development/services/funding/sustainable-development-goals.html
---
June 20th, 2019 
Ideas and Innovation Fund recipients announced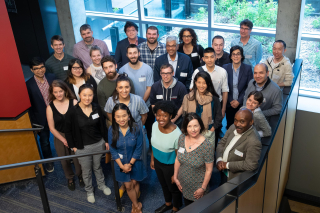 This year's recipients of the MSSI Ideas and Innovation funds can be seen here, and you can read the McGill Reporter coverage here.
---
April 1st, 2019
MSSI wins the 2019 Catalyst Award for Sustainability in Research and Education!
The MSSI, along with 6 other individual and team recipients, were awarded for their contributions to the culture of sustainability at McGill University. You can read more about the Catalyst Awards and see the other recipients here, and watch our nomination video below!