Event
Lin Centre Annual Lecture By Elizabeth Anderson
Thursday,
March
28,
2019
16:30
to
18:00
Faculty Club
Ballroom, 3450 rue McTavish, Montreal, QC, H3A 0E5, CA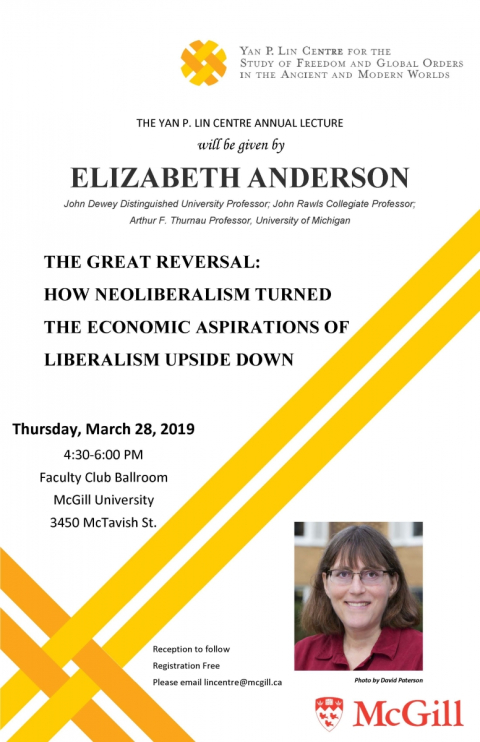 Lin Centre Annual Lecture
By Elizabeth Anderson
The Great Reversal: How Neoliberalism Turned the Economic Aspirations of Liberalism Upside Down
BIO
Professor Elizabeth Anderson specializes in ethics, social and political philosophy, feminist theory, social epistemology, and the philosophy of economics and the social sciences. She is particularly interested in exploring the interactions of social science with moral and political theory, how we learn to improve our value judgments, the epistemic functions of emotions and democratic deliberation, and issues of race, gender, and equality. She is the author of Value in Ethics and Economics, The Imperative of Integration, and, most recently, Private Government: How Employers Rule Our Lives (And Why We Don't Talk About It), as well as articles on value theory, the ethical limitations of markets, facts and values in social scientific research, feminist and social epistemology, racial integration and affirmative action, rational choice and social norms, democratic theory, egalitarianism, and the history of ethics (focusing on Kant, Mill, and Dewey). Professor Anderson is currently working on a history of egalitarianism from the Levellers to the present.
ABSTRACT
Before the Industrial Revolution, liberals advanced ideals of private property and free markets explicitly designed to vindicate the claims of workers against passive private property owners. Today, neoliberal policymakers, purportedly invoking the same liberal ideals, place the interests of capital owners ahead of the interests of workers. I discuss why this reversal took place, and expose the contradictions in neoliberal ideology.
Reception to follow