One of the keys to the success of the MIF is in the community it has been able to bring together. This network of entrepreneurs, investors, innovators, and facilitators has the ability to help propel recipient teams toward success, much faster than they would be able to do on their own.  Intewrsted in becoming a member of our ecosystem? Have experience as an entrepreneur that you want to share with one of our teams? You can get started by signing up here.
In the meantime, take a moment to peruse our gallery of advisors and experts. We sincerely appreciate our advisors for their generosity. Thank you!
Alex Shee
VP Corporate Development and Strategy
Sama
"MIF participants have innovative and novel technologies that solve important business pain points at scale. I am impressed by their ambition to scale these big ideas and shape the world."
Role: RAB member
Andrew Wong
Director
TRIREC
"There is a wealth of untapped talent at McGill University, waiting to be nurtured and developed. As a VC, my aim is to utilize my expertise to assist aspiring founders who emerge from the MIF and the broader McGill ecosystem. Together, we can empower them to launch and scale their startups."
Role: Jury member, RAB member
Bobbi Bidochka
Venture Associate
TandemLaunch
"Perfection is the enemy of good enough. Talk to your customer and get your product out fast and constantly iterate."
Role: RAB member, Selection Day judge
---
Christian Cawthorn
Partner, Patent Agent
Norton Rose Fulbright
"To every emerging entrepreneur, never hesitate to invest in yourself in your projects, you will get more knowledge, become a more experienced entrepreneur and a better person for it. Love the risk and learn how you can control your risk. Success to All!"
Role: RAB Member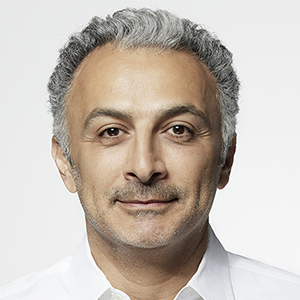 Fadi Albatal
COO
Innovobot
"The McGill Innovation Fund is one of the best places to discover great ideas at the forefront of technology development and application. Meeting with researchers that aspire to make a difference, and be the next generation of entrepreneurs, and being able to help guide their journey is both inspiring and fulfilling."
Role: Selection Day judge
Frances Arthur
Senior Director, Talent Acquisition
SNC Lavalin
"I've had the privilege to play an advisor role in several start-ups and my observations have been that surrounding oneself with great advisors, having an engaged team, being open to criticism and staying the course no matter what challenges / obstacles stand in the way …. guarantees great results."
Role: RAB member
---
Hugo McGuire
CEO
eNUVIO Inc.
"It takes a lot of courage and grit to create a business, so if you want to do so, you should at least follow your passions and try your best to have a positive impact."
Role: RAB Member
Inès Holzbaur
Founder and Managing Partner
AmorChem
Role: RAB Member
Jeremy Lawson
P. Eng., Partner, Patent Agent
ROBIC LLP
"Make sure your intellectual property (IP) strategy stays in-step with your technology and business as both grow and evolve"
Role: Selection Day judge
---
Pascal Labrecque
Entrepreneur/Investor in Health Tech
"The most successful entrepreneurs I've met are curious and thrive when out of their comfort zone."
Role: RAB Member
Wayne Brown
VP Innovation and IP
Coanda Research and Development Corp. (A Tetra Tech company)
"As a serial entrepreneur it has been a rewarding and invigorating experience working with some of the incredible innovators that have chosen to make McGill their home. The MIF represents a unique and targeted approach to supporting these talented people in advancing the next generation technologies, and has provided me with a meaningful opportunity to give something back."
Role: RAB Member
William Heller
Managing Partner
Sustainable Energy Advisors Ltd
"The addition of the MIF to McGill's innovation ecosystem is a key step in helping innovators bridge the existing and significant support gap between the early idea stage and an advanced concept that can attract commercial investment."
Role: Selection Day judge
---
Other MIF Experts
Alexandre Ouimet-Storrs (Jury member, RAB member, speaker)
Bonnie Chau (RAB member)
Bryan Martin (RAB member)
Francois Lamoureux (RAB member)
Frederic Aouad (Jury member, RAB member)
George Gicopoulos (RAB member, speaker)
Guillaume Chalifoux (RAB member)
Jacob Lavigne (Jury member, RAB member, speaker)
Jessika-Kina Ouimet (Jury member, RAB member, speaker)
Josh Pottel (Jury member, RAB member, speaker)
Katy Yam (Jury member, speaker)
Lukas Durand (RAB member)
Manuel Cruz (speaker)
Marc-Alain Guilbert (Jury member, RAB member)
Mario Venditti (RAB member)
Maxime Devourdy (RAB member)
Michael Mee (Jury member, RAB member)
Mitchel Benovoy (RAB member, speaker)
Paul Konig (Jury member, RAB member)
Richard Markoff (RAB member)
Sahar Ansary (Jury member, RAB member)
Samira Khajehi (Jury member, RAB member, speaker)
Serge Shahanian (Jury member, RAB member, speaker)
Stefan Larson (RAB member)
Terence Kao (RAB member, speaker)
Thomas Park (Jury member, RAB member, speaker)
Tony Falco (RAB member, speaker)