Upcoming Events
1st WASAG International Forum on Water Scarcity in Agriculture
March 19-22 2019: Praia, Cabo Verde, West Africa
Under the patronage of Cabo Verde, in collaboration with Italy and FAO, WASAG announces its 1st International Forum on Water Scarcity in Agriculture. The forum aims at identifying concrete – practical, innovative and collaborative- solutions to address water scarcity in agriculture in a changing climate. With a focus on Cabo Verde, Small Island Developing States (SIDS) and West African countries, the forum is expected to illustrate how water scarcity in agriculture can be addressed and turned into an opportunity for sustainable development, food and nutrition security. This forum coincides with the celebrations of the World Water Day 2019 which this year adopts  the theme of 'Leaving no one behind'. More info is available here.
---
Recent Events
ASABE Global Water Security Conference for Agricultural and Natural Resources
October 3-6th, 2018. Taj Krishna Hotel, Hyderabad, India.
The American Society of Agricultural and Biological Engineers (ASABE), in partnership with the Indian Society of Agricultural Engineers (ISAE) organized an international conference on Global Water Security for Agriculture and Natural Resources. The purpose of the conference was to bring farmers, researchers, practitioners, entrepreneurs, and policy makers together on a common platform to discuss current and future water security problems, share research, and discuss creative solutions that can be applicable at various scales in different regions. The conference focused specifically on water security for producing food, fiber, and energy crops as well as maintaining water quality and quantity needed for ecosystem health and services. Dr. Chandra Madramootoo was invited as a keynote speaker, and the title of his talk was: Bridging the Great Productivity Divide:  Water and Crops. More information about the conference can be found here
International Conference and 69th International Executive Council Meeting of the ICID
August 12-17th, 2018- Saskatoon's Arts and Convention Centre, Saskatchewan, Canada.
The International Commission on Irrigation and Drainage (ICID) hosted its 69th International Executive Council Meeting in Saskatoon; home to world-class agriculture research and education institutions that support sustainable innovations in agriculture. As managing water effectively is key to sustainable agriculture for ensuring food and water security and for creating greater resiliency to climate variability, the theme of the conference is "Innovative and Sustainable Agri-Water Management: Adapting to a Variable and Changing Climate". The week-long conference included discussions of Competing Water Demands (Sub-Theme I), Resilient Agriculture (II), Irrigation and Drainage in Perspective (III), and more. Dr. Chandra Madramootoo co-chaired the event. More information about the event and presentations can be found here
Artificial Intelligence in Emerging Economics: A Global Responsibility?
June 13th, 2018 - International Economic Forum of the Americas; Conference of Montreal
How will AI drive development in the southern hemisphere? How can we tackle the risks inherent in designing, developing and deploying AI in such a way as to maximize the benefits and minimize the harm? What opportunities are there for AI leaders to support beneficial AI implementation in southern countries, and what are their responsibilities in that regard? These questions were discussed by world leaders in AI and Development Policy. More information about the event can be found on p.17 of this document: 
icid_ai.pdf
MIT Expert Workshop on Climate Change, Agriculture, Water and Food Security
May 8-9, 2018 - Abdul Latif Jameel World Water and Food Security Lab at MIT, Cambridge, Massachusetts.
The J-WAFS Lab at MIT held an invitation only expert workshop which brought together a group of specialists from around the world to explore the interactions of food, water, and agriculture in a changing climate. Professor Chandra Madramootoo, a Visiting Scholar at the MIT J-WAFS Lab, was one of the organizers of the workshop. Graduate student Samuel Ihuoma served as one of the student note-takers. More details about the workshop can be found in the following article posted on MIT News, here. Pictures taken by Andi Sutton from the J-WAFS lab.
The first photo is members of the organizing committee. From Left to Right: Dr. John Reilly, Dr. Renee Robins, Prof. John Lienhard, Prof. Susan Solomon, Prof. Chandra Madramootoo. The second photo is group photo of the workshop participants at MIT's Endicott House in Dedham, MA.
Smart Water for Agriculture: How to Boost Water Productivity in Africa (webinar)
April 24th, 2018 - Webinar (https://metameta.adobeconnect.com/smartwater/), 8 am 
The Smart Water for Agriculture project is hosting a webinar led by Abraham Mehair Haile, coordinator of the SWA, who will share the lessons learnt in the course of the SWA's implementation thus far. Smart Water for Agriculture has been identifying water-productive technologies most relevant to small- and medium-scale farmers in Kenya while bringing together different stakeholders to encourage sector development. The project's goal is to increase water productivity by 20% for 20 000 African farmers. The webinar will delve into the project's successes, failures and the insights they offer for improving water productivity in Africa.
Symposium on Climate Change, Agriculture, Water and Livelihoods
April 4th, 2018 - Room MS2-022 (Macdonald-Stewart Building), 2 pm
The Water Innovation Lab in conjunction with the Global Framework for Water Scarcity in Agriculture (WASAG) hosted four experts from the FAO, MIT and IDRC to discuss the relationships between climate change, agriculture, water and livelihoods. More specifically, the speakers covered the following topics: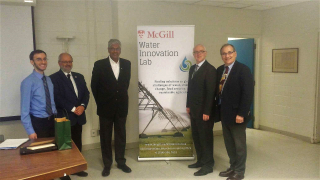 Dr. Ross Alter also later gave an in-depth lecture to members of the Water Innovation Lab, with further details about his research in the link between irrigated agriculture and regional climate change. His presentation is available below:
Irrigation and Regional Climate Change (Dr. Ross Alter)
A report summarizing the proceedings of the symposium was also prepared and can be found below:
McGill WASAG Proceedings
8th World Water Forum
March 13-28th, 2018 - Convention Center Ulysses Guimarães, Brasília, Brazil
The World Water Forum is the world's biggest water-related event and is organized by the World Water Council (WWC), an international organization that brings together all those interested in the theme of water. Its mission is "to promote awareness, build political commitment and trigger action on critical water issues at all levels to facilitate the efficient conservation, protection, development, planning, management and use of water in all its dimensions on an environmentally sustainable basis for the benefit of all life on Earth". The World Water Forum contributes to the dialogue of the decision-making process on water at the global level, seeking to achieve the rational and sustainable use of this resource. Given its political, technical and institutional scope, one of the Forum's main features is the open, democratic participation of actors drawn from different sectors, making it an event of the greatest importance on the international agenda.
Bilateral India-Quebec Workshop on Climate Change
February 15th, 2018 - Hotel Le Meridien, Dehli
The Shastri Indo-Canadian Institute (a binational organization that promotes understanding between India and Canada through academic activities and exchanges) and Government of Quebec jointly organized this workshop whose main objective workshop was to develop a bilateral research agreement between Quebec and India. The first theme covered by this agreement was Climate Change but it may be broadened after a first pilot launch of such an agreement. It is hoped that the collaborations forged at this workshop may lead to a later signing of an MOU. The workshop was a closed group event with only 6-7 persons from India and Quebec each inclusive of Government of Quebec Emissary on climatic changes, CEO of Ouranos Consortium and Canada Research Chair in Regional Climate Modeling among others.
Professor Chandra Madramootoo, President Honoraire of the International Commission on Irrigation and Drainage (ICID), was part of the delegation accompanying the Minister of International Relations, Mme Christine St. Pierre and the Director of FQRNT, Dr. Maryse Lassonde, to the workshop. Professor Madramootoo spoke on the topic of Water Management in Agriculture in light of a Changing Climate and visited the ICID Central Office in New Delhi on February 21. Professor Madramootoo discussed the preparations for the ICID meetings to be held in Canada, August 12-17, 2018, ICID participation in the 8th World Water Forum in Brasilia as well as on-going ICID activities worldwide.  
You can find the workshop's draft itinerary here. 
Bilateral India-Quebec Workshop on Climate Change 
---
MIT Water Summit 
November 6th-7th, 2017
The MIT Water Summit brought together representatives of industry, academia, government, and NGOs to reflect upon the most pressing questions in the water sector.  As populations continue to grow and demand for food rises, the role of water in meeting future food needs will become increasingly critical. The 2017 MIT Water Summit focused on issues at the heart of the food-water nexus, reflected on the role of water in food production – both in agriculture and aquaculture – and evaluated the innovation, policy, and technologies required to support healthy and sustainable communities. Professor Chandra Madramootoo inaugurated the event as the lead keynote speaker on the Food-Water Nexus. More information here.
---
Seminar Series
 November 9th, 2017 - R2-046 (Raymond Building). 10:00 - 11:30 am
The Department of Bioresource Engineering held a Senior Undergraduate & Graduate Seminar series from 10:00 - 11:30 am in the Raymond Building. The series showcased presentations from eight different students, including:
What is Linux? by Ryan Knight 
Machine Vision for Crop Yield Estimation by Amanda Boatswain Jacques 
Anti-nutrients in Food (the silent killer) by Philip Wiredu Addo 
Daylighting Urban Streams by Gregory Wilson
Analytical Hierarchy Process: A Multi Criteria Decision Technique by Kosoluchukwu Ekwunife 
Biogas - An Alternative Fuel in India by Rigve Rigve 
Microcatchment Water Harvesting by Khishigsuren Altangerel
Citizen Science - Rediscovering an Old Paradigm by Giancarlo Cesarello
---
Modernizing Irrigation and Drainage for a New Green Revolution
October 8-14th, 2017 - Mexico City, Mexico
The International Commission on Irrigation and Drainage (ICID) hosted the 23rd International Congress on Irrigation and Drainage. The week-long conference included discussions of water productivity, the state of knowledge of irrigation techniques and practicalities within given socio-economic settings, irrigation techniques for reuse of wastewater in agriculture and its impact on health and environment, a global review of institutional reforms in irrigation sector for sustainable agriculture water management, and the potential challenges of water use in food value chains. 
---
Agenda 2030 and Zero Hunger: Where should we begin?
September 28th, 2017 - 2pm, Macdonald-Stewart Building MS2-022 (Faculty Lounge)
Speaker: Dr. Kanayo Nwanze, former president of the International Fund for Agricultural Development (IFAD).
---
World Food Day, October 2017
October 16th, 2017 - Macdonald-Stewart Building MS2-022 (Faculty Lounge)
10am: Presentation by Vimlendran Sharan, director of the Food and Agriculture Organization (FAO) Office for North America, and Jean Lebel, president of the International Development Research Centre (IDRC). Their discussions will be followed by a panel with two students in Global Food Security. The panel will be moderated by Dr. Chandra Madramootoo. A recording of the panel can be found here, and pictures can be found here.
---
Press Release on Agricultural Greenhouse Gas Emissions Research
June 12th, 2017 - Macdonald-Stewart Building MS2-022 (Faculty Lounge)
Two McGill-led projects, one of which managed by Dr. Chandra Madarmootoo, intend to investigate novel ways in which emissions can be reduced through improved water and biosolids management. The funding is being provided under the Agricultural Greenhouse Gases Program, which supports projects that will create technologies, practices and processes that can be adopted by farmers to mitigate greenhouse gas emissions. Dr. Madramootoo's project will receive more than $1.6 million to study the effects of different water management systems in Eastern Canada. The project aims to provide information on water-management practices that reduce greenhouse gas emissions while increasing agricultural productivity. Press release. Project description.
---
Innovation 2030+ Symposium
March 24th, 2017 - McGill New Residence: 3625 Park Ave, Montreal
The Innovation 2030+ Symposium brought together over 100 individuals from a vibrant variety of backgrounds to discuss moving forward in a world framed by the UN goals for sustainable development. Speakers included experts from various international development agencies, public policy think-tanks, research institutions, NGOs, and philanthropic foundations, while the participants consisted of students, staff, alumni, and development experts from the Quebec-Montreal-Ottawa corridor. Although diverse in disciplinary backgrounds, the symposium's success was due to the common interests in areas of agriculture, food security, nutrition, water, environment and economics, and the shared commitment to creating a better world for future generations
To access to summary report: 
innovation2030report