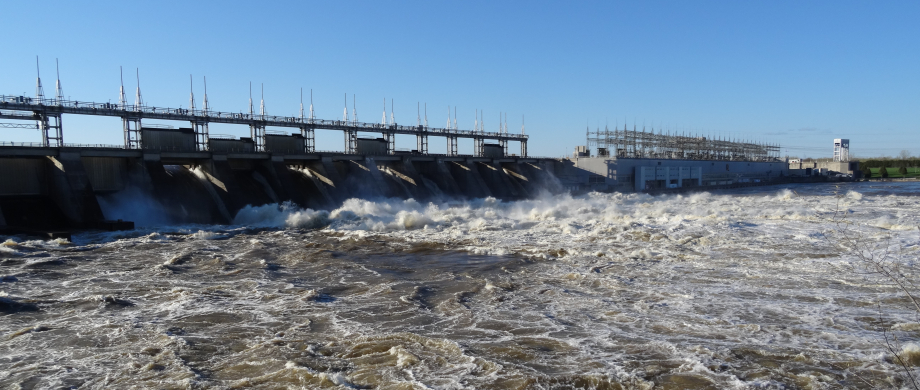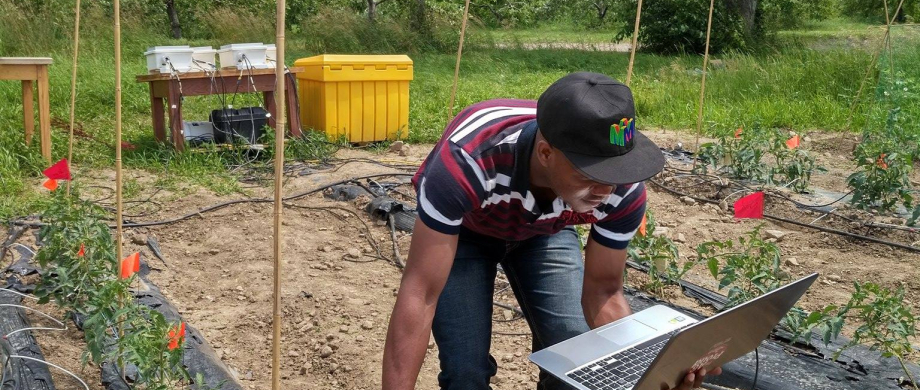 The mission of the Water Innovation Lab is to develop technologies, best practices, and to disseminate knowledge on sustainable water, food and environmental systems.
---
Research at the Water Innovation Lab is framed by the UN Sustainable Development Goals.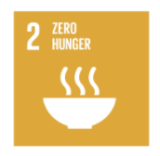 News
New life in the Water Innovation Lab Family
December 23rd, 2019
This winter Samuel Ihuoma, Ph.D Student with the Water Innovation Lab, and his wife Ifeoma Obasi Ihuoma welcomed into the world their beautiful baby boy; Chinaraekene Jeffrey Ihuoma. Congratulations to the happy family!
Dr. Madramootoo presented with World Irrigation and Drainage Prize
September 2019. Bali, Indonesia
Prof. Chandra Madramootoo was presented with the World Irrigation and Drainage Prize during the Opening Ceremony of the World Irrigation Forum by H.E. M. Basuki Hadimulyono, Minister for Public Works and Housing (PWH), Indonesia, H.E. Tian Xuebin, Vice Minister, Ministry of Water Resources of PR of China, and  Felix B. Reinders, President, ICID. Prof. Madramootoo was recognized for his sustained, long standing and highly committed work in irrigation and drainage sector worldwide through education, research, planning and international project implementation.
Dr. Madramootoo elected to the Canadian Academy of Engineering 
June 2019. Quebec City, Quebec
He was recognized for his engineering research, leading to new technologies and improved water management practices in agriculture. He has received several awards for his research, teaching and contributions to the engineering profession. He has published extensively and presented his research findings at national and international conferences. At McGill University, he was the founding Director of the Brace Centre for Water Resources Management, Dean of the Faculty of Agricultural and Environmental Sciences, and Associate Vice-Principal of the Macdonald Campus. He actively contributes at leadership levels in international water organizations, and international research and development institutions. 
Water Innovation Lab student wins Jury Prize for the NSERC Science Exposed
November, 2018
Science Exposed is a contest organized by NSERC devoted exclusively to images of scientific research, in all fields of study. Candidates were to submit an image that showcases Canadian research and fosters interest in science and scientific curiosity in all audiences. Naresh Gaj, Ph.D Candidate with the Water Innovation Lab, won one of three Jury Prizes in 2018. His image shows the simulation of groundwater flowing towards circular openings in a plastic drainage pipe. After being shortlisted, Gaj was interviewed by Water Canada in May 2018, which allowed his image to gain considerable public interest. 
You can see his picture alongside the other finalists here: https://www.nserc-crsng.gc.ca/ScienceExposed-PreuveParLimage/past_winners-images_des_gagnants_eng.asp 
His interview with Water Canada can be found here: https://www.watercanada.net/canadian-science-photo-contest-features-water-in-its-glory/
Former Student Honoured among Canadian Women Leaders in Global Health
October 15-19, 2018: Beijing, China
Canadace Young-Rojanschi (Ph.D '13 with Dr. Madramootoo) is an engineer practicing in the field of environmental health. Her primary area of work has been in disrupting the fecal-oral transmission of pathogens through water, sanitation, and hygiene interventions. Click here to see the complete list of honourees, and here for more information about Dr. Young-Rojanschi.
The CWIGH List, initiated by Jocalyn Clark from The Lancet and founded in collaboration with Eva Slawecki from the Canadian Society for International Health and Sarah Lawley from the Government of Canada, is inspired by a broader global movement to recognize the achievements and expertise of women in global health. The main goal of the list is to help diversify the production and translation of knowledge and improve the quality, equity, and impact of Canadian science and policy on global health worldwide
Videos of the Water Innovation Lab's Agricultural Greenhouse Gas Program now available!
1. Role of water table management to increase crop yield and enhance environmental benefitsNovem
2. Results of Research on Intensive Vegetable Production on Mineral Soils and Organic Soils
More info on the AGGP here.
60th Anniversary Celebrations of the Chinese Institute for Water and Hydropower Research
October 15-19, 2018: Beijing, China
Professor Chandra Madramootoo was one of 11 international water experts who were recognized for their contributions to global water research and collaborations in China. The presentation was made by China's Minister of Water Resources, H.E. Mr. E Jingping, during the Academic Week of the 60th anniversary celebrations of the China Institute for Water and Hydropower Research. During the week, Professor Madramootoo also gave a talk on the Sustainable Development Goals and Water Innovation and Governance, and he participated in a Roundtable Forum of International Water Leaders.  
FAO WASAG Steering Committee
The Global Framework on Water Scarcity in Agriculture (WASAG) is an FAO off-shoot designed to bring together key players across the globe and across sectors to tackle the collective challenge of using water better in agriculture to ensure food security for all. Professor Chandra Madramootoo was elected in August 2018 to the Steering Committee of WASAG, serving WASAGs priorities and general course of its operations. More information on WASAG can be found here.
ASABE (American Society of Agricultural and Biological Engineers) 2018 Annual International Meeting
July 29 – August 1, 2018. Cobo Center, Detroit, Michigan
ASABE 2018 presented a forum to expand awareness of current industry trends, promoted and acknowledged innovations in design and technology, and provided opportunities for professional development – all with a focus on the economic, political and societal impacts facing the industry. Samuel Ihuoma, Ph.D Candidate with the WIL, attended the conference to present his research on remote-modelling. His poster is available here: 
ihuoma_asabe.pdf
Annual General Meeting of the Canadian Society for Bioengineering (CSBE) / La Société Canadienne de Génie Agroalimentaire et de Bioingénierie (SCGAB)
July 22-25, 2018: Guelph University, Ontario
This years theme was"Greening the Globe: Sustainability though Innovation",  and the successful conference hosted a total of 18 technical sessions covering areas such as clean/green energy, food safety & quality, waste water treatment & reuse, greenhouse gas emissions, soil & water management, precision agriculture, biotechnology, and process & product development. Naresh Gaj, Ph.D Candidate with the WIL, attended the CSBE's Annual conference to present his research on finite element modelling of entrance resistance for perforated HDPE subsurface drainage pipes. His poster is available here: 
naresh_csbe.pdf
International Association of Great Lakes Research Conference
June 18 - 22, 2018
Genevieve Grenon, Aidan De Sena, and Bhesram Singh, Ph.D candiadtes with the Water Innovation Lab, all attended the International Association of Great Lakes Research (IAGLR)'s 61st annual conference in Scarborough Ontario, themed "Great Science for Tomorrow's Solutions". They all presented their current research with the Holland Marsh alongside over 580 other research presentations, a Poster Social with 140+ posters, and several workshops and discussions spread out over the 4 days. 
Joint Society Meetings
June 10 – 14, 2018
Aidan De Sena and Naeem Abbasi, Ph.D candidates from the Water Innovation Lab, both attended the 2018 Joint Meeting for the Canadian Geophysical Union (CGU), Canadian Soil Science Society (CSSS), Computational Infrastructure in Geodynamics (CIG), Eastern Section of the Seismological Society of America (ES-SSA) and the Canadian Society for Agricultural and Forest Meteorology (CSAFM), hosted in Niagara Falls, Ontario. The conference included plenary lectures, poster sessions, and sharing of ongoing research projects from the participants. More information can be found here.
Mac Campus Convocation
June 6th, 2018
Aidan De Sena, current Ph.D student with the Water Innovation Lab, was presented with his Master's Degree at the graduation ceremony being held at the MacDonald Campus. Congratulations!
Symposium on Climate Change, Agriculture, Water and Livelihoods
On April 4th (2018), the Water Innovation Lab organized a symposium in conjunction with the Global Framework for Water Scarcity in Agriculture (WASAG) and hosted experts from the FAO, MIT and IDRC to discuss the relationships between climate change, agriculture, water and livelihoods. The presentations can be found
here
 while the symposium proceedings can be found below:
McGill WASAG Proceedings
JPondE Wins Third in Dobson Cup's Small/Medium Enterprise Track
February 28th, 2017
The McGill Dobson Cup, the university's flagship startup competition, has announced this year's winners  and among them are Brace's own Samuel Ihuoma and his business partner Okenna Obi-Njoku (pictured left), who earned third place in the small-medium enterprise track with their food company named JPondE. This startup produces, processes and delivers African Catfish (Clarias gariepinus) products mainly for African Cuisine in Canada. These catfish products are delivered fresh, smoked and dried, or mashed.
This valuable seed money will help JPondE bring African catfish to market and enhance Montreal's African cuisine. Congratulations!
Students Receive Chandra Madramootoo Scholarship
November 8th, 2017
Established in 2015 in honour of Professor Chandra Madramootoo, BSc(AgrEng) 1977, MSc 1981, PhD 1985, by colleagues and friends, to thank him for his services and recognize his many accomplishments during his tenure as Dean of the Faculty of Agricultural and Environmental Sciences from 2005 to 2015. Awarded by the Faculty of Agricultural and Environmental Sciences Scholarships Committee to one or more outstanding students who have completed at least one year of undergraduate studies in the Faculty on the basis of academic merit. Preference will be given to students who have demonstrated outstanding leadership and community engagement.
Two U2 students, Jade Corriveau (Dietetics) and Sandrine St-Pierre-Lepage (Animal Production and Professional Agrology) were presented with the Chandra Madramootoo Scholarship this fall. The image is also available here. Congratulations! 
Water Innovation Lab Students Receive Scholarships
November 6th, 2017
The following 3 Ph.D students with the Water Innovation Lab have received scholarships for their respective research pursuits and academic merit: (as pictured) Aidan De Sena, Kosoluchukwu Ekwunife, and 
Samuel Ihuoma
. The image is also available 
here
, and student 
profiles are available
here
Congratulations to all the recipients!
World Food Day Panel Event
October 16th, 2017
Vimlendra Sharan, director of the FAO office for North America, and Jean Lebel, President of the IDRC, were both hosted at Mac Campus on World Food Day to speak on behalf of the 2017 State of Food Security and Nutrition FAO report, drawing out the Nexus between Conflict, Food Security and Nutrition. They were joined by Arlette Saint Ville, a post-doc in Food Security, and Ana Portillo, an undergraduate student in Food Security, for an interactive panel spanning topics ranging from building resilience in refugee camps to political corruption to gaps in the value chain of humanitarian aid. The panel entertained lengthy discussion and, from it, a more nuanced understanding of how conflict and migration tie into issues of food insecurity and vulnerability. A recording of the panel is available here, and pictures are available here. 
Press Release on Agricultural Greenhouse Gas Emissions Research
June 12th, 2017 - Macdonald-Stewart Building MS2-022 (Faculty Lounge)
Two McGill-led projects, one of which managed by Dr. Chandra Madarmootoo, intend to investigate novel ways in which emissions can be reduced through improved water and biosolids management. The funding is being provided under the Agricultural Greenhouse Gases Program, which supports projects that will create technologies, practices and processes that can be adopted by farmers to mitigate greenhouse gas emissions. Dr. Madramootoo's project will receive more than $1.6 million to study the effects of different water management systems in Eastern Canada. The project aims to provide information on water-management practices that reduce greenhouse gas emissions while increasing agricultural productivity. Follow links to the Press release and Project description.