Funding Partners
In 2016, Mitchell was granted TD FEF funding, which sparked the expansion of our existing community garden at McGill, installing two additional garden boxes (in part thanks to taking on a knowledgeable volunteer student) and choosing a variety of plants to add to these new boxes and our existing garden beds. These plants were chosen specifically to enhance our opportunities to foster an environment that encourages community members to teach around art, food security, and outdoor learning. Thanks to this funding, we were able to hire Angelo Bachtad and Khaleem Curtis of Studio No Bad Sound over the summer of 2016. Furthermore, we have now organized two separate events in the garden to encourage cross-curricular and community-based learning through gardens within and outside of the university. 
About TD Friends of the Environment Foundation:
From schoolyard naturalization and energy conservation, to tree plantings and environmental education, TD Friends of the Environment Foundation (TD FEF) is proud to provide funding to help sustain an incredible array of grassroots environmental programs across the country. In 2015, TD FEF supported over 1,000 projects with $4.6 million in funding. Thousands of donors give to TD FEF on a monthly basis, and TD Bank Group contributes in excess of $1 million annually. TD also covers the management costs of running TD FEF, which guarantees that 100 per cent of every dollar donated funds environmental projects in the community in which the donation was made. For more information on how to donate and get involved in your community, visit tdfef.com.
In 2016, Mitchell was awarded a grant from The Home Depot. Using education and training as a preventive measure for homelessness, the purpose of this project is twofold. First, working with homeless and disadvantaged youth, we aim to expand our community garden while providing access to a post-secondary campus and education. With the youth and partner organizations (Maison des Jeunes, Benedict Labre House, TD Bank, McGill) we aim to engage in co-learning activities with youth to gain knowledge about what is taking place regarding access to food and education on the streets of Montreal. Part two of this project will match youth with garden team members at McGill. Working with local partners, we will work closely with youth to co-organize workshops that focus on: gardening, carpentry, food sourcing and security, budgeting, website construction, social justice, and digital media workshops all while expanding the garden/outdoor space. More broadly, our project addresses making food and learning more accessible for homeless, and marginalized youth. We aim to provide a bilingual space where we can learn with youth how to effectively implement food security awareness, and how homelessness is presented in pedagogy and curricula. Through the provision of a Home Depot gift card, we were able to select and purchase plants thoughtfully, to provide both a variety of edible plants to stimulate discussions about food security (and provide many delicious meals to our team as well as community partners), and other additions which we have used in art and education projects. As Indigenous people are overrepresented among homeless youth, important to this project is acknowledging the Indigenous traditions and therefore garden plots have been already developed with Mohawk knowledge holder, Sandra Deer, and McGill professor Dawn Wiseman. In light of the 2015 Truth and Reconciliation Commision, we would like to open the garden to include voices from a range of community members to maximize impact.
Mitchell was awarded the Solidarity Grant in 2016. The funding allowed for the hiring of Jayne Malenfant who has been integral in expanding McGill's garden space, advancing the website, and establishing community relationships with organizations across the city. In 2019, both Mitchell and Jayne were awarded the EGSS Solidarity Grant, which supported both the garden and the Free Skool. 
In 2015, the McGill Office of Sustainability supported the initial creation of the outdoor learning space, which allowed for the installation of the first two garden beds. To learn more about their involvement in the project, check out the project page. 
Community Partners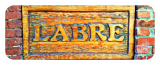 Thanks to Alix Petter, we began our collaboration with the Benedict Labre House in July 2017. Our work together has involved supporting the upkeep and harvesting of their beautiful on-site garden. Along with Labre House members, we have discussed how best to cultivate and grow different plants, as well as how food we harvested from both the Labre House and the McGill Education garden could be incorporated into recipes in their kitchen program. In 2018, we have continued to collaborate with the Labre House through a shared Canada Summer Jobs grant. Over the summer of 2018, Mitchell hired six employees to support the Labre House garden, kitchen, their digital media and online presence, and with other miscellaneous tasks around the house. Each week, we harvest several pounds of produce for use in their kitchen. For information on how to get involved in their garden or other ongoing projects at the house, please visit their website. 
Maison-des-Jeunes de la Côtes-des-Neiges
This garden partnership first began as a community-based research project with Maison des Jeunes de la Côtes des Neiges (MDJ) established by Dr. Naomi Nichols and Dr. Jessica Ruglis. The garden work at MDJ was youth-led and coordinated by Mitchell McLarnon, who provided funding received from the TD Friends of the Environment Foundation. The garden project was originally discussed in the spring of 2016 but was conceived in early July during a discussion facilitated by Mitchell. During one of the many breaks we took, we wandered into the narrow outdoor space on the side of the building and noticed that it had great sunlight and potential for gardening. The purpose of the MDJ garden was to: a) encourage outdoor learning and learning for sustainable development; b) promote awareness around food sourcing and food security; and c) community building. At MDJ, we also thought that in developing the garden, additional space would be created at the studio for users to create art and relax on down-time. The construction of the garden at MDJ took place over two days. The first day consisted of conversations lead by the youth participants about how the space could be best used. The outdoor space available had been unused for many years and, as a result, had accumulated many discarded items from the studio (see images). What is potentially most interesting about the garden project is not just the promotion of outdoor learning, sustainable development, or the conversations around the importance of food sourcing and security, but is how the outdoor space has now been used in the artistic practices of the youth project participants. Before we converted the studio space, the youth mentioned never going out there. Without little deliberation over political act of setting up a garden in a concrete urban area like MDJ, it was amazing to see them using the space for artistic purposes.