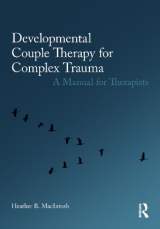 Dr. MacIntosh developed Developmental Couple Therapy for Complex Trauma to address the specific challenges faced by couples who have a history of trauma or victimization. DCTCT offers a different approach to working with couples, who may have not benefitted from more traditional couple therapy in the past. This evidence-based model of therapy, focused on attachment, is organized into 4 stages which help couples learn to better contain conflict, regulate emotions and develop mentalizing skills. The stages are not rigid, as every couple is different and moves at their own pace. Please head to our Resources page to get more details, including definitions, infosheets and exercises!
Psychoeducation
This first part involves exploring the impacts of trauma and childhood trauma on adults and on their couple relationships, looking at what trauma is, how it impacts the individual, how its impact is different when it happens in childhood. Taking a closer look at how it can affect a couple relationship: its impact on trust, closeness, sex and sexuality, emotion regulation and empathy, and communication. The learning done in this module focuses on attachment, shame, exploring the negative cycle in the couple, externalizing trauma, mentalizing and emotion regulation skills, and containing conflict.
Building Capacity in the Attachment Relationship Context
In this module, the therapy focuses on mentalizing and emotion regulation, which involves exercises to help with relaxation, expressing feelings, dissociation. 
Dyadic Processing
The focus is more on the couple and their bond, on the process rather than on psychoeducation and skills-building- the skills focused on in the first two stages are built upon and practiced.
Consolidation
The couple practices and deepens their ability to use the skills they have worked so hard to gain, and, more and more, turn towards each other when they need support.
Dr. Macintosh's book (shown just above), Developmental Couple Therapy for Complex Trauma: a Manual for Therapists​​​​​​, was published in 2019. Here is an excerpt from Ruth Koelling's (2020) review:
MacIntosh's willingness and courage to spotlight her therapeutic style through her transcripts reveals a humble and wise clinician. Her style of writing conveys a warmth and generosity to her audience that also conveys a respect and caring for the clinician reader. This manual has benefit for both new and seasoned clinicians. MacIntosh's treatment model is grounded in research but also makes intuitive and clinical sense. Her treatment model may seem painstakingly slow, especially in the skills building stages, but after reading this book I am convinced that treating couples' complex trauma can't be done any other, or quicker, way.The tenacity of the human heart to be attached and loved despite devasting trauma can be humbling to clinicians. This excellent book provides a roadmap for how to work with couples as they navigate the process of repairing their intimate relationships.
Ruth Koelling (2020) Developmental Couple Therapy for Complex Trauma: A Therapist's Manual, Journal of Sex & Marital Therapy, 46:1, 99-100, DOI: 10.1080/0092623X.2019.1690738