Environmental Innovation News...
Arctic Change Eye-opener
Close to 30 Environmental Innovation graduate trainees attended Arctic Change 2017 in Quebec City and participated in an intensive 1-day training, including a round-table discussion on engaging hunting and fishing stakeholders in environmental research and a workshop on using infographics to communicate science.
Landuse Planning Eye-opener
Jan., 2017
Over 25 Environmental Innovation graduate trainees participated in this eye-opener course, including a 1-day professional development training activity, Land the Job You Want (LJYW) offered through the Transition to Career (T2C) program of UofA Career Center, and 2 days of exposure to the reality of landuse planning and management involving multiple stakeholders on regional and provincial scales.
---
Leadership and Indigenous Engagement Eye-opener
Apr., 2016
Environmental Innovation students got together at Tadja Hall for a successful 3-day profesional development training activity, including a 2-day leadership retreat and a 1-day workshop on Indigenous engagement in research.
---
CSEE and Environmental Innovation in Saskatoon
May, 2015
Most of the Environmental Innovation student cohort attended the annual conference of the Canadian Society for Ecology and Evolution (CSEE) on the Ecology and the Evolution of Managed Landscapes. During the conference, we held an Environmental Innovation student-researcher ice-breaker meeting for students to know more about the program's structure and expectations, to learn about each other's thesis and internship work, and to interact with the co-researchers. We also organized a 1-day workshop presented presented by Matt Carlson from ALCES Landscape & Land-Use Ltd on strategic land-use planning and cumulative effects modeling tools.
---
QCBS Environmental Innovation Panel
Dec., 2014
Environmental Innovation panelists Murray Humphries, Aynslie Ogden, and Corey De La Mare shared their professional experience with QCBS students at the 2014 QCBS Symposium.
---
Officical NSERC CREATE Results Announcement
May, 2014
Results from the latest NSERC CREATE competition were announced by the Honourable Ed Holder, Minister of State for Science and Technology, at an event held at McGill. Murray Humphries was proud to attend and represent the Environmental Innovation program among the recipients of over $14.8 million in funding announced that day.
Learn more by visiting McGill Newsroom...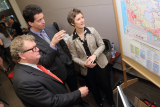 ---
Environmental Innovation Opportunities...
Program Recruitment
The graduate research and training program Environmental Innovation is currently recruiting and receiving admission package. 
Click here for more information...
---
Internship Offers
Jan., 2018
We offer and support multiple internship opportunities with various government, private, and indigenous organizations across northern Canada.
Before each internship, the student, supervisor, and mentor should complete and return the form below to manuelle.landry-cuerrier [at] mcgill.ca.
create-ei_intership_application.docx
---
Funding provided by the NSERC CREATE program.