Event
Three Minute Thesis / Ma Thèse en 180 Secondes Competition Final 2023
Wednesday,
March
29,
2023
15:00
to
17:00
Faculty Club
3450 rue McTavish, Montreal, QC, H3A 0E5, CA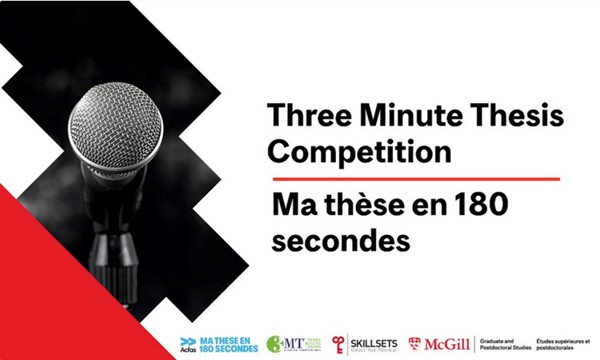 Participants in this training program have successfully developed and presented an engaging, structured, and easily-understandable 3 minute presentation about their thesis research and were one of 15 students selected by a panel of judges to move forward to the 3MT/MT180 competition final.
Prior to the final competition, these students have the option to participate in up to 2 small group coaching sessions to help them prepare. The final competition offers each of these 15 finalists a chance to present their 3MT/MT180 talk in front of another judging panel as they compete for 1st, 2nd, and 3rd prizes as well as the people's choice award.
Learning Outcomes:
1. Refine your 3-minute presentation and slide through small group coaching
2. Maximize your ability to communicate your research to a non-specialist audience
3. Present in a high pressure competition setting for a judging panel and live audience