Event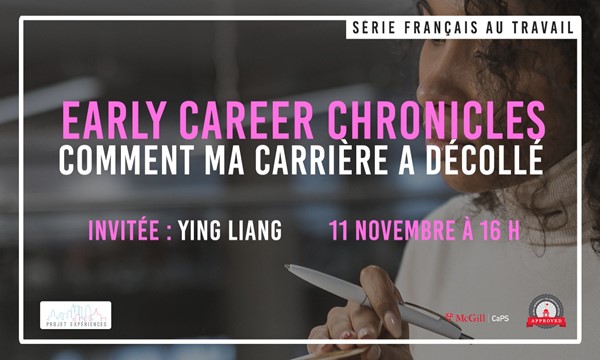 Une collaboration du Centre d'enseignement (CEF) et du Service de planification de carrière (CaPS). Cette conférence, avec période de questions, est en français et reconnue dans votre dossier parascolaire (co-curricular record). 
Vous étudiez en droit ? Venez rencontrer Ying Liang, une ancienne étudiante du Centre d'enseignement du français, et lui poser toutes vos questions en français, sur la façon dont elle a fait décoller sa carrière à Montréal !  
Ying Liang a obtenu un baccalauréat spécialisé en droit civil et en Common Law de l'Université McGill en 2020. Elle a réussi l'examen du Barreau du Québec en mai 2021 et suit actuellement son stage de 6 mois au sein du cabinet Kalman Samuels, un cabinet d'avocats de Montréal spécialisé dans le droit familial local et international et en litige civil. Avant de venir au Canada, Ying avait déjà une expérience de la pratique du droit à Guangzhou, en Chine. Avant ses études à McGill, elle a également obtenu une maîtrise en droit commercial international et un certificat de français langue seconde à l'Université de Montréal. 


RSVP through myFuture.
****
This event is in French and recognized on your official McGill co-curricular record (CCR). 
If you are curious about careers in law and need some tips on getting started and building your network in this industry, join Ying Liang, a former student at the French Language Centre, for a conversation about kickstarting your career in Montréal.  
Ying Liang graduated from McGill University in 2020 with a joint Bachelor of Civil Law/Juris Doctor degree. She passed the Quebec Bar Exam in May 2021 and is currently attending her 6-month internship in Kalman Samuels, Attorneys, a Montreal law firm focusing on local and international family law and civil litigation. Before coming to Canada, Ying already had legal practice experience in Guangzhou City, China. Prior to her studies at McGill, she also obtained from the University of Montreal a master's degree in International Commercial Law and a Certificate of French as a Second Language. 
Online Event Instructions
Students must register with their McGill emails.