Event
Mission Bon Accueil Macaulay Pavillon, 1490 rue Saint-Antoine, Montreal, Quebec, CA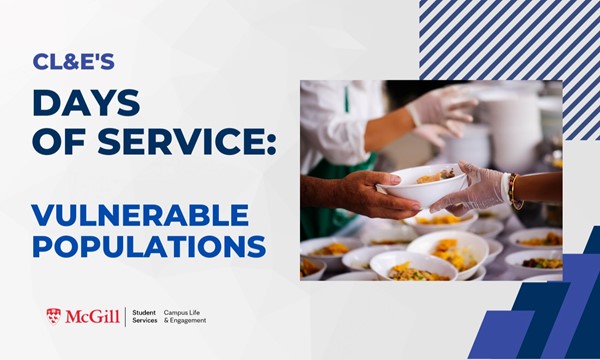 Looking to gain hands on experience serving the community while also forming meaningful connections with your peers? Our Days of Service Meal Service event at Mission Bon Accueil is aimed at providing opportunities for purposeful service and intentional connections between McGill students. Meal service consists of serving meal that were prepared by the kitchen crew to people experiencing homelessness that are visiting the Macauly Pavillon and Mission Bon Accueil's emergency centers. Participants will learn teamwork, professionalism, work-ethic and interpersonal skills.
Once you sign up, you will receive an email with additional information including our meeting time and location to travel together to the venue. 
Registration will close 48 hours before the event.
When a minimum of 4 hours of volunteering for Mission Bon Accueil has been completed, you can request a copy of your Co-Curricular Record (CCR), an official document recognizing your involvement in out of classroom learning experiences. 
Please refrain from bringing any valuables, as personal items will be stowed in a separate room during volunteer hours. Please avoid wearing any jewelry and wear closed toed shoes to avoid accidents or injuries.