If New York is the city that never sleeps, Montreal is the city that never stops eating.
Quebec's biggest city is famed for its food—and for very good reason. A lot more than poutine, smoked meat and bagels (although these are all definitely worth lining up for!), Montreal's food scene is creative, accessible and endlessly diverse.
More than 120 cultures influence the city's culinary offer, which boasts everything from tried-and-true Quebec fare to world-class international eats including Portuguese, Mexican, Haitian, Syrian, Singaporean, Vietnamese, Caribbean and any other kind of cuisine you might be craving. The city is also leading the way in locally and sustainably grown ingredients—not least in McGill's own food operations.
A rich and diverse culinary culture
Alex O'Neill, a second-year Political Science student, hosts tours of the McGill campus. A Montréal native, Alex tells visitors that the city is like a smaller version of Manhattan, where "you can go to any neighbourhood and find nooks and crannies of cuisines from all over the world."
Montreal bagels, poutine and smoked meat are the "big three" dishes first-timers want to try, Alex says. For poutine, he recommends two Plateau-Mont-Royal institutions: La Banquise, a 24-hour spot serving up countless poutine variations, and the smaller, diner-style Chez Claudette.
When it comes to bagels, Alex avoids taking sides in the age-old Montreal debate over who makes the better version: Fairmont or St-Viateur. But he notes that La Fabrique de Bagel on Parc makes an excellent breakfast.
And for a great smoked meat sandwich close to campus, he suggests two downtown hotspots: Dunn's and Reuben's.
Beyond the McGill bubble
While the area surrounding campus has no shortage of eateries, Alex recommends exploring options elsewhere, too. "Get out of the McGill bubble and you'll see how much Montreal has to offer."
Thanks to the city's extensive public transport system, eating your way around Montreal neighbourhoods is easy. "Definitely go to the Mile End, where you'll find a lot of up-and-coming bars and restaurants, a lot of which are run by younger people," Alex says.
The Parc-Ex district, a convenient bus ride from campus, has some "really great Greek and Punjabi restaurants." Little Italy and Chinatown are home to "a slew of restaurants." And the historic Old Port has plenty of eateries with a view that are "good for date night" (though they can be pricey).
Maude Laroche, who recently completed her Geography degree, recommends exploring rue Notre-Dame in the St-Henri neighbourhood. "It's full of great places to eat, as well as pubs and bars. It's a fun place to see because you also get that historical sense." The nearby Atwater market, a popular food hub famous for its seasonal food stands, meat and cheese shops, and outdoor pop-up restaurants, is "one of my favourite places to go."
Outside of the city, visiting one of Quebec's many cabanes à sucre (sugar shacks) is a must during maple syrup season, which runs from February through April. Known for serving copious quantities of Quebec comfort food, they're "definitely something to experience," Maude says.
Planting seeds of change
While taking a course at the Faculty of Agricultural and Environmental Sciences, Maude began developing the seeds of a business idea: an online food market providing a direct link between local producers and consumers to help stimulate growth in Quebec's agricultural sector.
Under the supervision of her course instructor, Dr. Caroline Begg, Maude turned the idea into a for-credit school project that gave her the time and opportunity to turn it into a real-world venture—one that draws on both her academic training and upbringing. "My grandparents are farmers, my parents are entrepreneurs and I'm a geographer," says Maude, who grew up in Beauharnois, Quebec.
While wrapping up her undergrad degree, Maude launched the platform called Les fermes du marché, and now works on it full time. Starting this fall, the company also plans to sell food to students. "I'm very proud of the student branch of the business," which aims to help students cope with inflation.
Cultivating a culture of sustainability
Another sustainability initiative led by McGill students is the Macdonald Student-run Ecological Gardens (MSEG), a student organization dedicated to growing nutritious food for the campus and local communities.
Leda Perdriel-Arons, a third-year Environmental Studies student, is one of the organization's three managers. Founded in 2009, MSEG has grown substantially thanks to the support of McGill's Sustainability Projects Fund, which aims to build a culture of sustainability on McGill's campuses.
The MSEG farm feeds hundreds of members of the McGill, Ste-Anne-de-Bellevue and Montreal communities, both at local markets and through 70 weekly Community Supported Agriculture (CSA) basket subscriptions.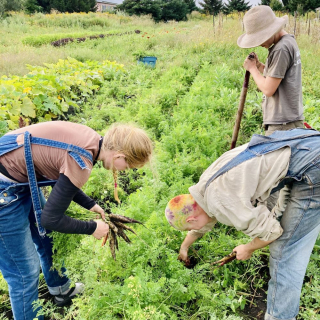 Each employed student commits two growing seasons to the farm: the first as an apprentice and the second as a manager who trains new apprentices.
"Since late February and early March, we've been growing seedlings in the greenhouses," explains Leda. Just after final exams in early May, the six-member team started putting in 40 hours a week cultivating close to 50 different crops over three acres of land.
From June to October, the team packs the CSA baskets with a variety of fresh and seasonal produce (lettuce, kale, tomatoes, beans, squash, leeks, garlic and more). Twice a week, they also sell their vegetables at local market stalls, spreading their food sustainability mission and message beyond campus.