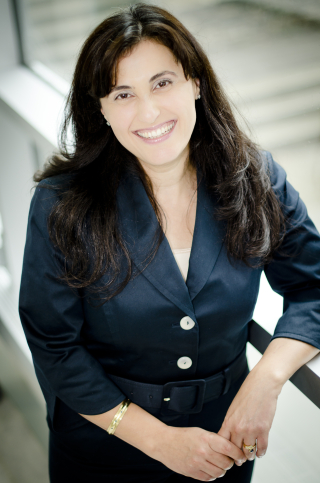 Dr. Mariam El-Zein is Associate Director for Research here in the Division of Cancer Epidemiology at McGill University in Montréal, Canada, managing the division's four ongoing studies: TRAP-HPV, CATCH, CASSIS, and LIMIT-HPV. Formerly, she was a Research Associate at the INRS-Institut Armand-Frappier (2011-2014), at Centre Hospitalier de l'Université de Montréal (CHUM) (2007), and Sainte-Justine Hospital (2003-2005) research units. From 2007-2008, she consulted for Sacré-Cœur Hospital as an Epidemiologist.
Dr. Mariam El-Zein obtained a bachelor's degree (B.Sc.) in Environmental Health (1993) and a M.Sc. in Public Health (1995) from the American University of Beirut. In 2003, she earned a Ph.D. in Occupational Health from McGill University in the joint departments of Epidemiology, Biostatistics and Occupational Health. As part of her postdoctoral training at the INRS Institut Armand Frappier University du Quebec (2007-2011), Dr. El-Zein contributed to the design and implementation of studies investigating the link between immune stimulation at an early age and the development of inflammatory and autoimmune diseases such as childhood asthma and type 1 diabetes using administrative socio-demographic and medical databases in Québec. She also developed an expertise in conducting systematic reviews and meta-analyses. Her current interests are in cancer epidemiology and clinical trials with a special focus on HPV infections and prevention of cervical cancer.
Other Research Interests:
- Occupational health and exposure assessment
- Epidemiology of inflammatory and auto-immune diseases (asthma, allergic diseases, diabetes, cancer)
- Cancer etiology (lifestyle and environmental exposures)
mariam.elzein [at] mcgill.ca (Email Dr. El-Zein)                       View Dr. El-Zein's PubMed References
Other publications:
Book chapter
Gautrin D, Hannu T, El-Zein M. Chapitre 33: Asthme des soudeurs. L'asthme professionnel, 2012. Éditeurs: Pauli G, Bessot J-C, Vandenplas O. 2e édition, Éditions Margaux Orange, Paris.

Report
Truchon G, Cloutier Y, Hallé S, Dolez P, Gautrin D, Lara J, Tardif R, Dufresne L, Morency F. In collaboration with Nöel A, Laoué T, Bodila N, El-Zein M, Emond Claude, Maghni K, Bahloul A. Nanoparticles- Current situation and avenues for research. Réseau de recherche en santé et en sécurité du travail du Québec (RRSSTQ), 2008.

French version: Nanoparticules- Situation actuelle et pistes de recherche.

Article by invitation
El-Zein M, Infante-Rivard C. Évaluation de l'exposition environnementale dans le cadre d'études épidémiologiques. Institut National de Santé Publique du Québec. 2004 Nov-Dec; 15(6):1-8.